'Mission: Impossible Rogue Nation' with Tom Freaking Cruise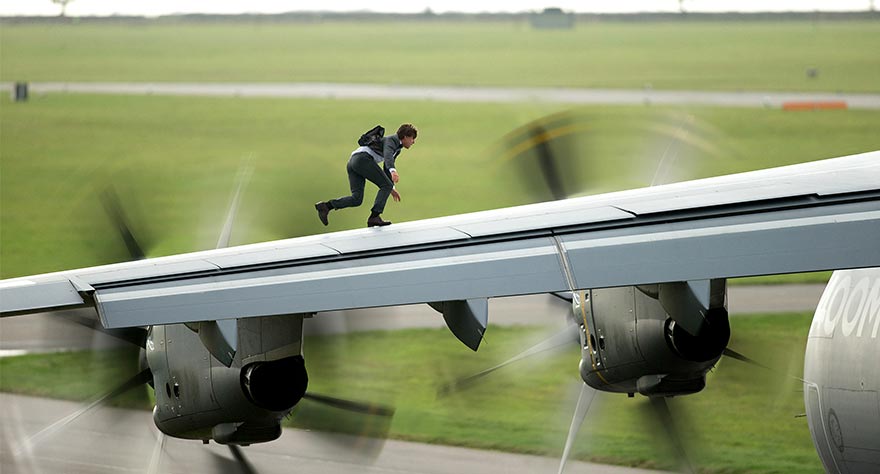 There are more major blockbusters this year than anyone really cares to count. Almost every franchise worth two pennies is pumping out some form of sequel/reboot/spin-off, save for Indiana Jones (and even that is gearing up for a restart, while also having a documentary based around a shot-for-shot remake opening later this year in the form of Raiders!). No studio wants its property to fade from the minds of ticket buying audiences world wide.
Thus, today comes the first official trailer for the new Mission: Impossible film, with it's vague new subtitle Rogue Nation.
The plot, at this point, is still deeply under wraps, though adventure, espionage, masks, jumping off of high things, and Tom Cruise running really fast can be expected. What we do know so far though, is that the Impossible Mission Force (still a great name) has been dissolved, leaving the world defenseless against The Syndicate–that is until Ethan Hunt (Tom Cruise) rounds up the old gang to save the planet (or something).
Christopher McQuarrie (the Cruise vehicle, Jack Reacher) directs, while most the faces from the previous two installments return: Jeremy Renner, Simon Pegg, Ving Rhames. Joining them this time around are Alec Baldwin, Rebecca Ferguson, and Sean Harris.
Rumors of production trouble sprouted up a couple weeks back, with word being that the film needed a new ending, but, by the looks of the trailer, this thing is going to be the mindless fun its meant to be. As long as Tom keeps staying the same age, we'll keep buying the popcorn.