Mill Valley Film Festival: Days 6-9 Recap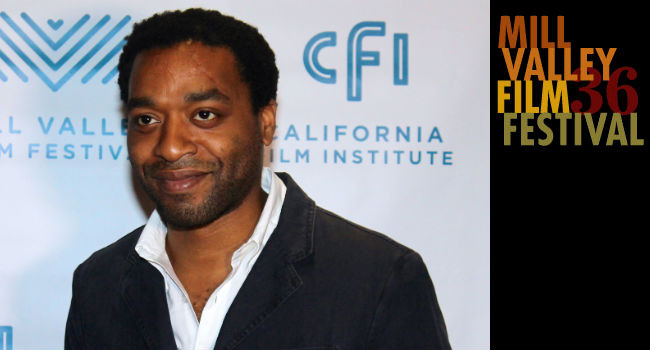 Steve McQueen, 12 Years a Slave, and the Unexpected Guest
Of all the films in the exceedingly strong MVFF lineup, none have generated the momentum and near-universal acclaim of Steve McQueen's 12 Years a Slave, based on the autobiography of Solomon Northup, a free black man who was kidnapped and sold into slavery in 1841. McQueen and stars Chiwetel Ejiofor (who plays Northup) and Lupita Nyong'o took the stage in front of a full house at the Christopher B. Smith Rafael Film Center to answer the questions of the audience, who were still reeling after seeing the gut-wrenching film.
"I wanted to make a film about slavery because I felt, within the cannon of film, this particular subject hadn't been tackled," professed a straight-faced McQueen. "Everybody knows Anne Frank's diary. Every school should have 12 Years a Slave (the book) on their curriculum. That's my aim with this film."
During the Q&A session, something very special happened, though few noticed it. The mobile microphone that had been floating around the theater from person to person wound up in the hands of Fruitvale Station director and Bay Area native, Ryan Coogler, one of the brightest young directors in the game. Funny thing is, very few audience members seemed to recognize Coogler, though he didn't seem to pay that any mind at all. With wide-eyed curiosity, eagerness, and humility, Coogler–amongst a sea of weighty questions about slavery–chose instead to ask McQueen about filmmaking technique, specifically his proclivity for doing one-shot takes as opposed to traditional coverage.
"I don't do coverage," McQueen explained to the intently focused Coogler. "For me, it's a waste of time because I know what I want." It's this confident, assertive, no-bull attitude that so many great auteurs share, and in that moment between McQueen and Coogler, I could sense the future of cinema getting just a little bit brighter.
This slideshow requires JavaScript.
A Dark Teen Idol Returns with a Powerhouse Performance
No red carpet arrival at MVFF could match the energy of Jared Leto's. The most likely explanation for the fervor is that he's one of the dreamiest cinema dreamboats of the past 20 years, but in his new film, Dallas Buyers Club (his first film in four or five years), he proves once again that he's much too talented to be reduced to just another pretty face.
Based on a true story, the film (you know, the one Matthew McConaughey lost a bunch of weight for) follows Ron Woodruff (McConaughey), a bull-riding man's man who was diagnosed as being HIV positive and subsequently waged pharmaceutical war on the FDA and other companies in the '80s in hopes to make alternative treatments available for HIV-positive patients. Leto plays Rayon, a transsexual, HIV-positive business partner of Ron's who's got sass and hustle for days. Though McConaughey is likely to get an Academy Award nomination for his turn as Woodruff, Leto is equally deserving of a supporting nod, with a performance so lived-in and remarkable it'll make you wish he'd quit 30 Seconds to Mars (that rock band of his) and come back to acting for us full-time.
Leto stayed in character even when off-set, walking around with Rayon's leggings, lipstick, and clothes on. "It was interesting how people treated me differently," Leto said in the post-screening Q&A session. "Every glance somebody gave me, every time I had an encounter, every time a grip offered his hand when I stepped out of the van…it ultimately helped me deliver a much better performance."
John Wells Turns the Tables
One of the best things about film festivals are the Q&A's; everyday people like you and me get to pry the brains of some of the most talented filmmakers in the business. Director John Wells, however, flipped the script on the MVFF Q&A crowd–who had just finished watching his new film, August: Osage County–by asking them questions.
"Did you think it was funny?" Wells asked, earnestly, which was met by an emphatic, unanimous "yes" and a smattering of applause from the smiling festival-goers. Wells was likely concerned whether the film's humor came through or not because the film–based on the Pulitzer Prize-winning play of the same name by Tracy Letts, who also wrote the screenplay–revolves around a family tragedy and crises. The feuding women of the Weston family–played by Meryl Streep as the drug-addled matriarch, and Julia Roberts, Julianne Nicholson and Juliette Lewis as Streep's daughters–are brought together after years of separation to their old Oklahoma home after receiving devastating news about their father, Beverly (Sam Shepard).
Wells went further with his questioning, asking the audience members who were familiar with the play if there was something they missed from the stage version that he cut from his screen adaptation. When several audience members voiced their preference for the play's ending (which is only slightly different), Wells admitted their feedback could have an effect on the final cut of the film. "I actually have to lock the film by Monday or Tuesday next week, which is why I'm asking these questions!"
When asked about the on-screen relationship between Streep and Roberts and how they approached their roles as mother and daughter, Wells explained just how significant their mother-daughter chemistry is to the story. "One of the themes of the film is, for better or for worse, we become our parents. We reach a moment in our adult lives at which we have to decide what we're going to use and what we're not going to use."
Blues Bad-Asses Rock Sweetwater
In celebration of late Blues guitar legend Mike Bloomfield and the new film detailing his life, Sweet Blues (which played at MVFF), music fans piled into Mill Valley's historic Sweetwater Music Hall to listen to some of the baddest Blues on the planet played by some veteran virtuosos and some old friends of Bloomfield's. Amongst the music marvels were Conan O'Brien cohort Jimmy Vivino, Bay Area Blues veteran Elvin Bishop, and harmonica master Charlie Musselwhite. The tiny, excellent-sounding venue was packed shoulder to shoulder with elated music lovers swaying as one, a perfect way to unwind and a perfect lead-in to what's sure to be a killer final two days at the festival.
Stay tuned to Way Too Indie for all the news coming out of the festival this weekend, including coverage of the directors panel (Ryan Coogler, Steve McQueen, JC Chandor, Scott Cooper, John Wells), capsule reviews, interviews, photo galleries, and much more!