Mill Valley Film Festival: Day 2 Recap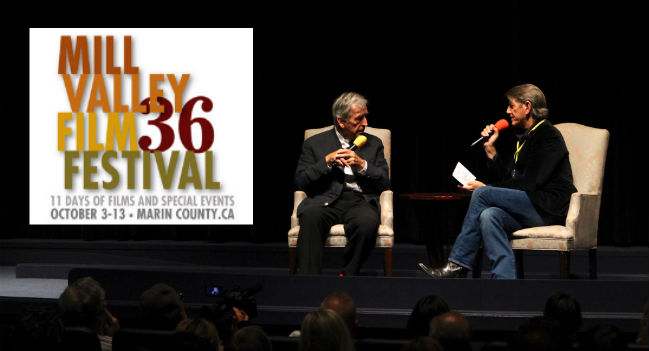 After a jam-packed opening night full of excitement and energy, day two of the Mill Valley Film Festival was a day of more narrowed focus. At the Christopher B. Smith Rafael Film Center (long name, but a simple, pristine little theater) in San Rafael, a packed house paid tribute to a beloved auteur known for making bold, inspiring political statements, Greek director Costa Gavras.
Wowing the Crowd With…Politics?
Gavras, has garnered international acclaim over his 45-plus year career, melding perfectly overt political themes with high-intensity, crowd-pleasing action. Putting international issues in the form of a commercial action-thriller, Gavras' films are both politically critical and pulse-pounding.
1969's Z, his third film and arguably his most lauded work, follows a judge (Jean-Louis Trintignant) as he attempts to uncover the truth about the assassination of a leftist politician. As the judge delves deeper into the murder, the police and government officials involved do everything in their power to cover up their tracks–and cover their asses. The film was one of the highest-grossing films in France and the United States of that year, and also went on to win the Oscar for Best Foreign Language Film. "My feeling is not to start telling negative things about [people in power]. It's important to explain to people that their propositions are not good."
Following Z, Gavras kept fighting the good fight, making films like Missing, starring Jack Lemmon as a father looking to uncover the truth (sense a theme here?) about the disappearance of his Journalist son, and State of Seige, based on the killing of U.S. Embassy official Dan Mitrione in Uruguay in 1970. Most recently, Gavras stuck his finger in the chest of Catholicism with 2003's Amen, a film that asserts Pope Pius XII was aware of the horrible acts the Nazis were committing, but did and said nothing to condemn the Holocaust.
This slideshow requires JavaScript.
A Tribute to the Man
The crowd at the San Rafael Film Center burst into warm applause as Gavras–introduced by veteran actor Peter Coyote, who was introduced by festival executive director Mark Fishkin–made his way to the stage. Mediated by Coyote, Gavras reflected on his illustrious career, exploring the works that made him a legend in the cinema world.
Though his films do often call attention to controversial or scandalous international issues, Gavras makes fair characterizations on both sides of the fence, always aware that people can't be deduced to simply pawns of government. "I never separate people as left or right," Gavras said about his filmmaking and personal philosophy. "I believe there are good people everywhere, and there are bad people [on the left] as there are on the right."
His new film, Capital, which he brought to the festival, takes aim at the dangers of greed and power, following a young investment banker (Gad Elmaleh, Midnight in Paris) as he wades through the treacherous shark tank of international finance, pressured by the amorality of an American financier, Gabriel Byrne. "All of the bankers I've seen, their justification is, if we do something more human, the American [banks] will eat us," Gavras says. "[American] banks are so big, so huge, that they can, really, eat everybody."
To elaborate on the themes of Capital,Coyote recalled something Italian stylist Nino Cerruti said to him that he'll never forget. "[Cerruti] said, [the Euro has] to stand. If it doesn't stand, the only model for capitalism will be the American model, and that will be a disaster." Gavras confirmed that that notion does live in the movie, but didn't care to delve into the details before the movie began, wanting the movie to speak for itself. Coyote and Gavras left the stage, the lights dimmed, and the audience of long-time fans were treated to another riveting work by a filmmaker who hasn't missed a beat in nearly 50 years.
Along the Roadside
Also screening at the film center (in a theater just above the Gavras tribute) was Along the Roadside, a philosophical road trip movie by first time director Zoran Lisinac. It follows a cynical San Franciscan named Varnie (Iman Crosson) and an Australian tourist named Nena (Angela Hantsch), paired together by fate, as they drive to the biggest music festival in California. Lisinac, Producer Vladimir Lisinac, and actor Daniel Grozdich (a charming, goofy fellow, as you can see in the photo above) were on hand to introduce the film.
Be sure to come back tomorrow for all the news from Day 3 of the festival!