Hot Docs 2015: Mavis!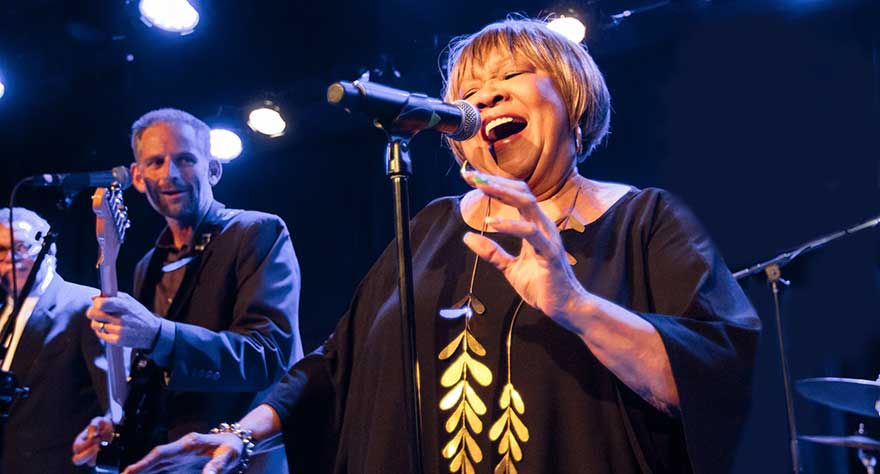 After dealing with a multitude of uninteresting "musical discovery" documentaries, along comes Jessica Edwards' Mavis!, a giant celebration of an amazing singer's successful career. And there's absolutely nothing wrong with using a documentary to show off someone's incredible talent, especially when it's profiling someone like Mavis Staples. She was one of the more prominent members of The Staple Singers, a band started by her father Roebuck "Pops" Staples. Both Pops and Mavis, along with other Staples family members (the lineup would switch around frequently), started out as a gospel group before successfully transitioning into the mainstream with hits like "I'll Take You There." Edwards delves into the history of Mavis' life and career, starting with her 40+ years as part of the Staple Singers before going solo after the death of her father.
Edwards doesn't seem too interested in talking about any dramas or conflicts in Mavis' life, and the documentary's relentlessly positive tone may disappoint viewers expecting any sort of juicy backstage stories. But the doc's upbeat nature is entirely representative of Mavis herself. She's an incredibly charismatic figure, and so down-to-earth that every time she speaks it's obvious to see she knows how lucky she's been in life. And Edwards offers plenty of great information about Mavis and her family, especially Pops Staples, who gets properly recognized as one of the more progressive and groundbreaking musicians of his time. The film is both an interesting history lesson about The Staple Singers, and a portrait of a truly likable subject. And once the unexpectedly moving finale rolls around, it's hard not to see Mavis! as a great how-to on making a good heartwarming music documentary.