Lily Tomlin Gets a Tattoo and Scores Cash in 'Grandma' Trailer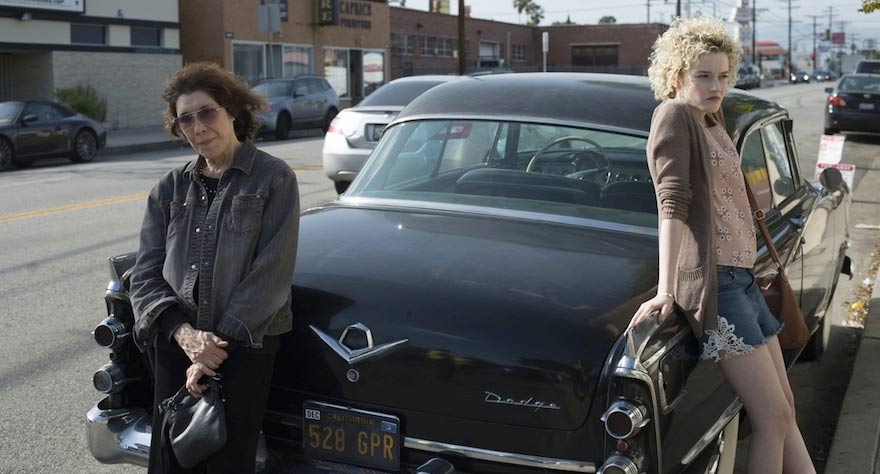 Is it really possible that Lily Tomlin has gone this long without a starring vehicle of her own? The iconic actress has decades of perfectly timed, naturalistic punchlines under her belt, yet for years her parts have been largely reduced to limited arcs on TV shows or small, supporting roles in middling movies. Writer/Director Paul Weitz clearly saw the enormous potential in this market gap. Following his 2013 Tina Fey comedy Admission, in which Lily Tomlin played Fey's mother, Weitz wrote an entire movie with Tomlin in mind.
Grandma premiered at this year's Sundance Film Festival to slew of praise for Tomlin (Way Too Indie caught up with it at Tribeca and had glowing things to say, too). Despite its title, Tomlin's character is far form a withered, weakened old lady. In Grandma, Tomlin plays Elle Reid, a misanthropic lesbian poet, whose granddaughter Sage (Julia Garner) shows up broke and in need of an abortion. Together, the two journey to collect cash, confront their pasts, and hit Nat Wolff in the balls with a hockey stick.
Grandma also stars a collection of familiar faces, many of them in the trailer, including Sam Elliott, John Cho, Marcia Gay Harden, Judy Greer and Laverne Cox. While New Zealanders will get a early chance to see Grandma at the New Zealand International Film Festival in July, Americans everywhere will have to cope with Granmda's August 21st release date by watching and re-watching the pleasant new trailer below: