Uncertain Terms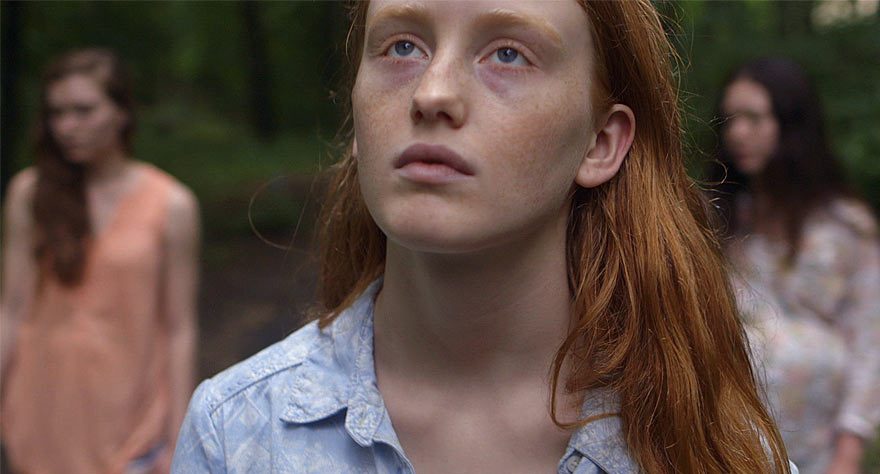 Uncomfortable situations abound in Nathan Silver's latest film, Uncertain Terms. His earlier films Exit Elena and Soft in the Head also seem to focus on characters making unwise choices. In this film that character is Robbie (David Dahlbom), a 30-year-old man who comes to stay with his aunt Carla (Cindy Silver, the director's mother) in the Hudson Valley while he and his wife sort out their marital problems. Carla runs a home for pregnant teens and Robbie's new role as sole male in a house of 6 women, 5 of them hugely pregnant and remarkably young, makes him an object of interest. The girls vie for his attention, but it's the quiet yet sharp Nina (India Menuez) who gets his attention. Nina is in the midst of her own relationship troubles with her baby's father, Chase (Casey Drogin), who can't seem to hold a job and who wants Nina to move to his parents' house with him. As Nina and Chase grow rockier, Robbie starts to insert himself as Nina's savior, finding himself protective of the young mother-to-be. Robbie's continued phone calls reveal that his wife cheated on him and he can't seem to decide whether to divorce her. It all leads up to a painful end where Robbie's misplaced affections land him in deserved trouble.
The film plays like a slow motion car crash. The pregnant teens are predictably immature, house-mother Carla is maddeningly naïve at the real danger facing her wards, and Robbie is another innocently predatory man who tries to fix his frustrations toward his own failed relationship by engaging in one where he's the de facto lead due to his age and gender. It's unclear if Silver is trying to make Nina appear to have control over her decisions with these men. India Menuez gives a natural and innocent performance, but Nina's age and situation make her an oblivious victim to the two men trying to decide what's best for her. In the end it's sad that these girls seem to have no real advocate truly looking out for them.
It may not be what Silver intended, but Uncertain Terms is just another movie about the egos of men and the minimization of their selfish manipulations. And while a happy ending was never in the works, at the very least any sort of lesson learned would have made this morally ambiguous tale more interesting.
Originally published on June 16th, 2014 as part of our LAFF coverage