LAFF 2014: Libertador: The Liberator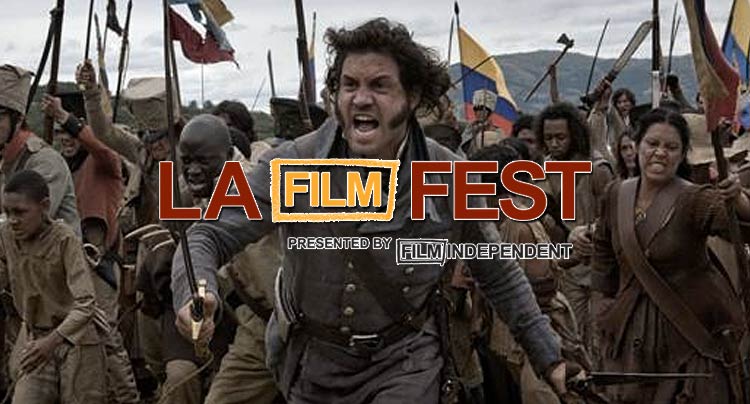 As a vast majority of the world tuned in to the World Cup Sunday, I was treated to an equally lively South American production. Libertador, or The Liberator, is a large-scale saga portraying the early years and successful liberation campaign of Simón Bolívar. Known as the key player in Latin America's quest for independence from the Spanish Empire, the film begins at the end. Bolívar is being hunted down by those who would rather see the hard-won independent nations of Gran Colombia separated into their own governing parts and the quickest way to form their own order is by assassinating Gran Colombia's legendary leader. Bolívar runs from his pursuers as the film transports us back years before this moment, where a younger Bolívar is in Spain and asked to play tennis with a young Prince Ferdinand. And he doesn't lose well.
Bolívar, born to wealth, is well-traveled and debonaire, so when he begins a flirtation with María Teresa, a young woman at the court, it's unsurprising that he arrives back in Venezuela with her as his wife. The film spends a fair amount of time on what was a relatively short amount of Bolívar's life before he began his campaign, director Alberto Arvelo attempting to provide the spark of Bolívar's passion. In the short amount of time he had with his wife before her untimely death and his spiral of grief after, the film shows a man who must choose where to direct the powerful devotion he has as the land of his birth struggles against oppression.
Édgar Ramírez (The Bourne Ultimatum, Domino) carries the heavy burden of portraying such a well-known and well-debated historical figure with absolute precision and a charismatic performance. While the film has much ground to cover, the struggle for autonomy played out over the course of almost 20 years, it picks up steam once Bolívar gets to the heart of the campaign, rallying the divided people of such a huge continent into an organized army. It slows somewhat as it delves into the political aspect of Bolívar's tenure, his time as President and Dictator, but paints the picture of a man who fought his entire life with the interest of his people always at the forefront of his actions. There are some liberties taken with how Bolívar may have died, which is debated, and the film opts for glorifying him rather than erring on the side of historical documentation. Which it also does in downplaying his dissidents' complaints about some of his political decisions.
Excellent supporting roles abound, especially Erich Wildpret (The Zero Hour) as Bolívar's right-hand man Antonio José de Sucre and Iwan Rheon (Game of Thrones, Misfits) as Daniel O'Leary, one of the Irish who came to aid the Venezuelans in their efforts. The score, by beloved Los Angeles Philharmonic director Gustavo Dudamel, reflects the spirit of those fighting on-screen with heavy drums and showcases the beautiful tradition of music based in South America. Cinematographer Xavi Giménez expertly manages the scope of multiple battle scenes, and highlights the varied landscapes of South America, from tropical beaches to the tip of the Andes, with beautiful detail.
The length of a film could never be enough to summate the life of so accomplished a man. So there's no way not to feel somewhat short-changed when the film ends. But Libertador still earns its place easily among other war and revolution behemoths like Braveheart or Saving Private Ryan. The film is an enjoyable slice of narrative history about a man whose name in history is written beside Cromwell, Napoleon, and Washington, and is finally getting cinematic recognition worthy of his legacy.