LAFF 2014: Lake Los Angeles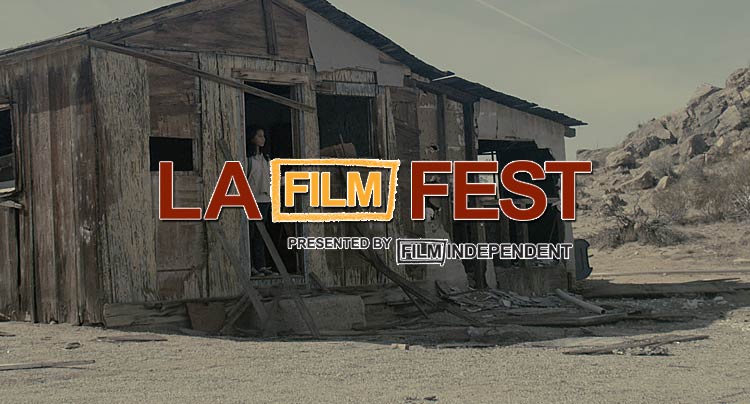 The gap between the allure of American refuge and the actual plight of those who immigrate here empty-handed is movingly portrayed in Mike Ott's Lake Los Angeles. Entirely in Spanish, the film is slow and intentional, with breakout performances by its two leads. The film follows Francisco Fumero (Roberto 'Sanz' Sanchez), a Cuban exile as he houses undocumented immigrating Mexicans. When one such immigrant, a young girl named Cecilia (Johanna Trujillo) comes across the border alone and has to stay longer than most, Francisco finds someone with whom to share his solitary existence, if only briefly. With steely reserve at first, it takes a while for Cecilia to allow Francisco to connect. His own wife and children are back in Cuba, where it's been many years since he left in the hopes of establishing a better place to bring them from communist Cuba. When the immigrant mover, Eduardo (René Mena), comes to collect Cecilia in the guise of reuniting her with her father, Francisco returns to his limbo-like existence once again. But Cecilia soon discovers her father is not coming for her and she takes off on her own rather than risk what the questionable Eduardo may have in store for her. In the desert of Lake Los Angeles, she wanders on her own. She tells stories to the snow globe that is all she has of her mother and the life she lived in Mexico. Her careful whisper opens and closes the film, telling stories that provides the perfect narrational backdrop to her situation. Subsisting on what she can steal, Cecilia manages to keep herself alive, always hoping that her father will still come and eventually allowing herself to believe that there may be someone out there who cares for her, if only she can find her way back to him.
Touching on the inherent need in all people for companionship, Ott has weaved a story that's ruthlessly slow-paced and achingly touching. Francisco speaks eloquent love letters into a recorder to his wife in Cuba, displaying all the yearning of man who has only his dreams and memories to keep him company. Cecilia's time in the desert instills mortal fear for such a young girl who must somehow make it on her own in a new country. Johanna Trujillo, with her direct, wise-beyond-her-years gaze is an absolute marvel in her first major role, and manages to carry the film expertly.
Staying within a similar purview of his previous films of Littlerock and Pearblossom Hwy, Mike Ott continues to show a growing maturity in his work. His simplistic and naturalistic approach to tackling heavy subjects shows delicacy and tact and makes for an emotive film. A definite stand out at this year's LA Film Fest and a director we can continue to expect great things from.