LAFF 2014: Frank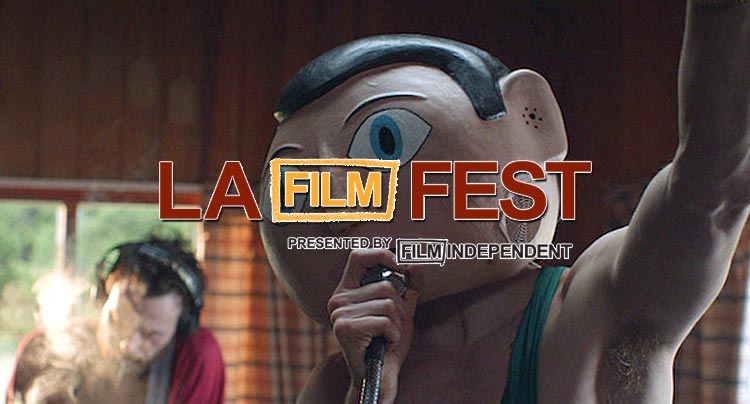 Saturday at the Los Angeles Film Festival has been full of laughers, but the quirkiest among them is likely Lenny Abrahamson's Frank. The film first premiered at Sundance in January and will get a limited release in August. Following musician wannabe Jon (Domhnall Gleeson) as he randomly connects with a bizarre pop group called Soronprfbs (don't worry, no one in the film knows how to pronounce it either) playing one random show with them before they quickly adopt him to be their keyboardist and whisk him away to a remote cabin in Ireland to record their album. Led by the eponymous Frank (Michael Fassbender), who at all times wears a large cartoonish head in the style of Frank Sidebottom (writer Jon Ronson played in Frank Sidebottom creator Chris Sievey's band and based the script on some of his experiences), Jon is thrown into the oddest of circumstances.
He observes the off-beat musical styles of his bandmates. Clara (Maggie Gyllenhaal) and her electronic frequency manipulator, Nana (Carla Azar) the drummer, Baraque (Francois Civil) the guitarist, and the most mental of them all, the band's manager Don (Scott McNairy). Frank's unusual music methods put the band members in awkward and hilarious situations as they wait for inspiration to strike before they begin recording their album. A door opening and closing is music to Frank's ears, drills up and down the lawn inspire musical expression, hours and hours of non-stop playing for Frank's high standard of perfection. Jon documents their endeavors with YouTube videos and Twitter updates, to the point where without having much to show for themselves, the band has a small cult following. The band finally records their album and though Jon's blown through his inheritance to fund the band, he feels on the verge of a personal musical breakthrough. When the band is asked to take part in the SXSW music festival, Jon argues against the fiercely protective Clara to get Frank and his band to enter the mainstream world and play in America. Inspired at the thought of others loving their music, Frank agrees and they set out for Texas. However, when Jon encourages last-minute changes to their music to appeal more to the masses, his egotism costs them greatly as Frank becomes derailed from being true to himself.
The film is charming and at parts laugh out loud funny. Despite having any sort of face to work with, Fassbender creates a likeable if disturbed portrayal of Frank. Maggie Gylenhaal is guaranteed to shine when allowed some venom in her characters and she can be truly frightening with her mania. The film's juxtaposition of pop culture and indie culture and the fine line between them makes for humorous irony. Audiences will laugh at the ridiculousness, but may not be moved in the end when it attempts to infuse a little humanity into the absurdity. While it ends poignantly, the film loses its steam by insulating Frank's world and marking it unapproachable to outsiders. The song he sings at the end, mostly repeating his love for all, feels somewhat false, as catchy as it is. And considering the gravity Abrahamson choice to infuse in the end, the friendships Frank has seemed based on all around denial.
Whether audiences are able to live in that same land of denial is entirely subjective, but anyone wanting to laugh at the creative process at its quirkiest will enjoy Frank immensely. At its essence the film does show creating for oneself before others is a truer path to happiness, and with great performances all around, that theme is doubly felt.