LAFF 2014: Eat With Me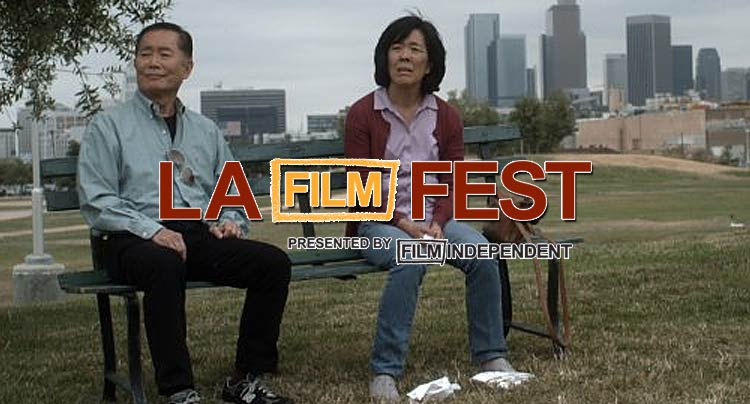 Sunday at the Los Angeles Film Festival was a gorgeous day, so it's fortunate that this year's LA Muse category at the festival has afforded viewers a way to enjoy the city despite being inside a theater all day. Eat With Me, a first feature from director David Au, is one such entry in this category. The film stars Sharon Omi as Emma, a middle-aged wife and mother who decides to walk out on her neglectful husband and goes to stay with her son. Teddy Chen Culver is Elliot, her son, a cook at the family's Chinese restaurant. Emma's arrival disrupts Teddy's life and he and his mother must sift through the awkwardness of their relationship as Teddy faces foreclosure on his restaurant and Emma comes to terms with her son's homosexuality. A free-loving nosey neighbor, Maureen (played by TV's Nicole Sullivan), encourages Emma to not only talk with her son but explore what else life has to offer (including her first drug trip). Teddy begins a new relationship that may have staying power, but only if he's honest with himself and his mother and starts to truly fight for what's good in his life.
There are good elements included in this film. Food has often played successful middle ground for characters needing to connect. However, the stiff and formulaic dialogue of the script makes for a film teeming with awkward and entirely flat performances. Perhaps due to some editorial failing, or a director whose greenness makes for misdirected actors, the film has a hard time breathing life into its characters or any heart into its message. George Takei makes an uninspired cameo, clearly in support of anything portraying acceptance for a gay Chinese-American. Nicole Sullivan, known for her over the top comedy in MAD TV, overshadows her co-stars with the energy she's putting out, but sidled next to such restrained characters her comedic relief is off-putting.
It's regrettable a film with a decent premise and an admirable mission is so ineffective. Despite the delicious looking food being cooked in the film, Eat With Me is unfortunately quite bland.