Cut Bank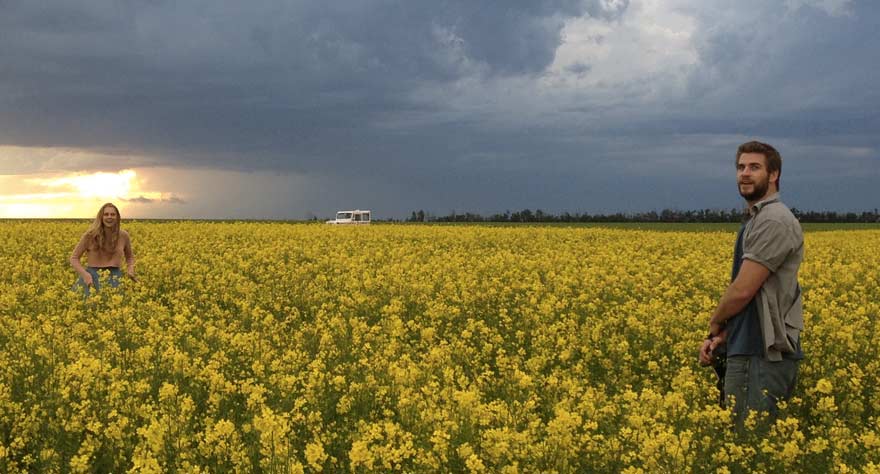 Director Matt Shakman has worked a lot in television, most recently on FX's television adaptation of the Coen brothers' film Fargo, which is no surprise when watching his first foray into filmmaking, Cut Bank. Walking the line between thriller and dark comedy, the film boasts an all-star cast who can't completely make-up for some misdirection and whose side characters completely outshine the film's star, Liam Hemsworth.
Literally using the words "if I have to stay another day in this town," discontented Dwayne (Hemsworth) dreams of a life outside Cut Bank, Montana (the "coldest spot in the nation") with his girlfriend Cassandra (Teresa Palmer). One evening, when filming an amateur tourist video with Cassandra in a field outside of town, Dwayne accidentally captures the murder of a postal worker, Georgie Wits (Bruce Dern), on camera. Immediately taking the video to Cassandra's father, and Dwayne's boss, Mr. Steeley (Billy Bob Thornton) calmly calls in Sheriff Vogel (John Malkovich) to determine what to do next. The weak-stomached Sheriff starts his investigation as Dwayne looks into the huge reward he is apparently eligible for now that he's provided information on the untimely death of a U.S. postal worker. Twists abound and are revealed in turn as we discover that not all participants in this crime are as innocent, or dead, as they first appeared. Turns out that providing the mailman's dead body to a U.S. postal investigator (Oliver Platt) is the least of these small-time crooks' worries as they unforeseeably piss off local recluse Derby Milton (Michael Stuhlbarg), who was expecting a package from the mailman that he's bound and determined to track down.
Cut Bank clearly strives for the same dark comedic energy that Fargo has in abundance, but its inability to balance its dark situations with its humorous characters makes it hard to comfortably enjoy. The plot is fantastic, its actors equally so, but they are too reined in, with not enough vitality to engage. John Malkovich is especially unbelievable, his timid Sheriff played with too much subtlety. In fact, the only actors allowed to effectively shine are Oliver Platt's fast-talking suit-wearing Inspector Barrett, Dern's sassy "dead" man, and Stuhlbarg's stuttering and intriguingly-motivated murderous outsider. Hemsworth just isn't able to build sympathy, and Palmer is incredibly abused as the only character who is actually as shallow as she appears.
A sharply written script by Robert Patino, featured on 2009's Black List, where all the elements exist but just aren't quite fully realized. Seeing James Newton Howard's name in the end's musical credits was surprising as the muted music of the film did nothing to heighten tension or encourage the edge it's sorely lacking in. While Fargo takes advantage of its snowy location, allowing it to serve as an instrumental element of the film's themes and mood, the bleakness of Cut Bank is never explored, nor the wide expanses or back woods of Montana. Cut Bank is a mimicry of better films, which begs the question that if put into the hands of a more capable filmmaker, could it have lived up to the script's potential?
A version of this review was first published in our 2014 Los Angeles Film Festival coverage. Cut Bank is out in limited release Friday, April 3.