Tribeca 2015: Jackrabbit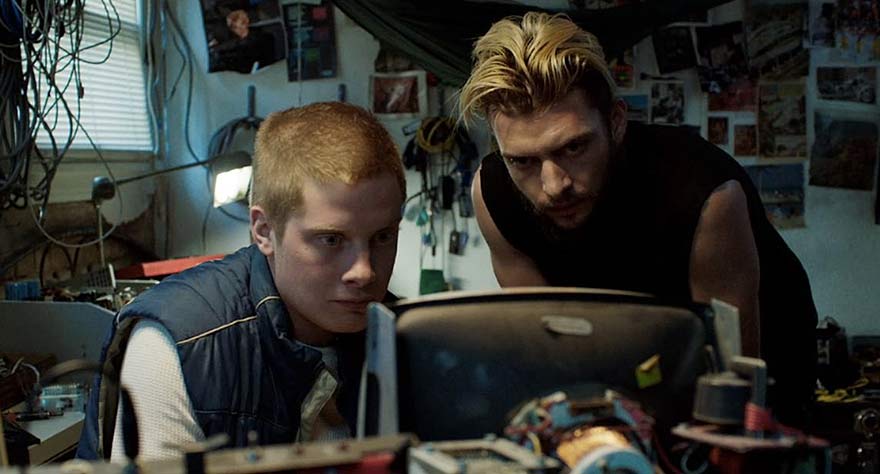 25 years after "The Reset" left most of the world without power, Max (Ian Christopher Noel) receives a mysterious hard drive from a friend who recently committed suicide. Max is a hacker who lives on the fringes of the rebuilt society in Sector 6; however, when he's unable to hack his friend's hard drive, Max must recruit the law-abiding computer technician Simon (Josh Caras) to help him uncover nefarious hidden truths. Together in Jackrabbit, set for its World Premiere at the Tribeca Film Festival, Simon and Max seek the answers to a dead friend's riddle while under the watchful eye of a mysterious, new world government.
First-time feature filmmaker Carleton Ranney establishes a retrofuturistic look to his film that blends modern technological advancements with DOS interfaces, VHS tapes, and bulky monitors. Both aesthetically and in its narrative, Jackrabbit raises a series of unanswered questions that make the story increasingly intriguing when it begins to unfold. Unfortunately, when the movie attempts to reveal its intentions, Jackrabbit becomes a nonsensical and tedious look at life in a surveillance state.
Scene after scene delivers sparing details as the characters interact slowly, and deliberately articulate as little as possible. The technique wouldn't grow so tiresome if these scenes contained any tonal variety (the same can be said for Noel and Caras' one-note performances). Max and Simon discover a minor clue about the hard drive left to them by their dead friend, only to follow that clue to another small clue in an endless investigation into nothing. There are vague allusions to an overreaching, corporate-run government and a group of rebels outside the city's walls, but Jackrabbit leaves its enemies and the protagonists' obstacles ambiguous enough to render them boring.
Jackrabbit moves through its story at such a lethargic pace it may lull you to sleep, desperately waiting for a third act revelation. Individual details are compellingly weird, but it would take the most attentive of audience members to parse meaning from many seemingly pointless actions. Despite its potential, and the film's impressive production design, Jackrabbit is irritatingly dull and ends with a shrug.