Hot Docs 2014 Lineup Announced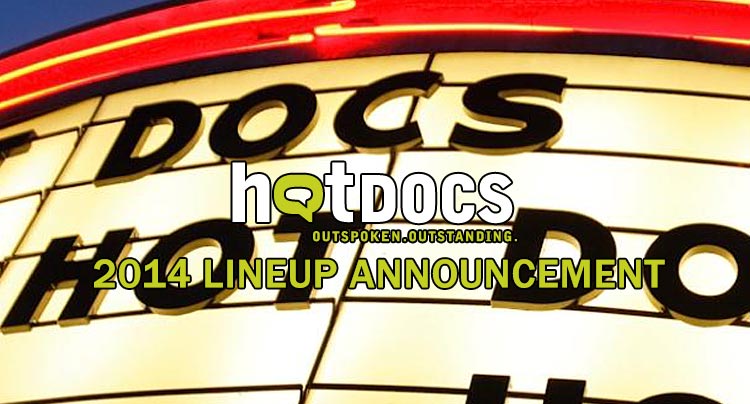 The Hot Docs film festival finally unveiled its line-up today, revealing plenty of exciting new titles along with screenings of documentary classics and undiscovered gems.
The festival announced 197 titles from 43 countries that will screen over 11 days. Some of the (many) titles that will screen have already received much acclaim from other festivals over the last year. One of the more notable picks is Sacro GRA, the winner of last year's Venice film festival. Sundance documentary winner Rich Hill and recent SXSW winner The Great Invisible are also set to screen.
The festival will also screen The Internet's Own Boy: The Story of Aaron Swartz which we enjoyed at SXSW earlier this year. Read the full press release below to get descriptions on the plethora of notable titles playing, and be sure to check out more at www.hotdocs.ca.
Hot Docs will run from April 24th to May 4th, 2014 in Toronto, Ontario
Toronto, March 18, 2014 – Hot Docs Canadian International Documentary Festival announced its full film line-up for the upcoming 21st edition, April 24–May 4, at a press conference this morning at the Bloor Hot Docs Cinema in Toronto. From 2,435 film submissions, this year's slate will present 197 titles from 43 countries in 12 screening programs.

"We are so proud to be showing these incredible films and combining them with amazing live events and experiences." says Hot Docs director of programming Charlotte Cook. "We truly hope it will be a festival of ideas, discussion and amazement and we're looking forward to bringing the best filmmaking in the world to the world's greatest audience."

In addition to the opening night international premiere of Brian Knappenberger's THE INTERNET'S OWN BOY: THE STORY OF AARON SWARTZ, an inspiring and emotional portrait of a young Internet visionary, other notable films in the Special Presentations program include: Pavel Loparev and Askold Kurov's CHILDREN 404, a firsthand account of LGBT youth in Russia; Anthony Baxter's A DANGEROUS GAME, an explosive tale of everyday heroes battling against Donald Trump's development plans; Chad Walker and Dave LaMattina's I AM BIG BIRD: THE CAROLL SPINNEY STORY, a big-hearted tale of the man behind Big Bird and Oscar the Grouch; Jesse Moss' THE OVERNIGHTERS, depicting a local pastor risking everything to welcome the desperate men migrating to a small North Dakota community; Cynthia Hill's PRIVATE VIOLENCE, a beautifully crafted story exploring the fact that the most dangerous place for a woman is her home; Igal Hecht's THE SHEIK, a personal and emotional tale of Olympic wrestler and pop culture icon the Iron Sheik; and Joe Berlinger's WHITEY: UNITED STATES OF AMERICA V. JAMES J. BULGER, which strips away the myths surrounding infamous Boston gangster and FBI informant James "Whitey" Bulger.

In the competitive Canadian Spectrum program, notable films include: Thomas Wallner's BEFORE THE LAST CURTAIN FALLS, a stunning portrayal of the tumultuous off-stage lives of six aging Belgian transvestites and transsexual performers; Vic Sarin's THE BOY FROM GEITA, the story of a young Tanzanian boy with albinism surviving a brutal attack and given hope with the promise of surgery in Canada; Ray Klonsky and Marc Lamy's DAVID & ME, following a tenacious filmmaker's quest to prove a man's innocence 28 years after his incarceration; Julia Kwan's EVERYTHING WILL BE, a heartwarming and cinematically stunning ode to a Vancouver community in transition; Tony Girardin's MARINONI, the story of Canada's most revered bicycle craftsman attempting a world cycling record at 75 years old; John Kastner's OUT OF MIND, OUT OF SIGHT, which follows the filmmaker's return to the Brockville Mental Health Centre to capture patients struggling for control of their lives; and Amar Wala's THE SECRET TRIAL 5, the shocking story of five Muslim men imprisoned without charge under Canada's controversial security certificates policy.

In the competitive International Spectrum program, notable films include: Robert Greene's ACTRESS, a present-tense portrait of The Wire's Brandy Burre trying to balance the demanding roles of mother, lover, wife and performer; Gabriel London's THE LIFE AND MIND OF MARK DEFRIEST, a look at the legendary Florida jailbreaker who is determined to escape the violence and despair of prison; Helen Simon's NO LULLABY, a powerful film about three generations of a family that are silenced by a horrific secret; Adam Weber and Jimmy Goldblum's TOMORROW WE DISAPPEAR, the story of Delhi's famed "tinsel slum" performers who use every trick in their arsenal when their neighbourhood is illegally sold; and Eliza Kubarska's WALKING UNDER WATER, a magical look at the last compressor diver from the Badjao tribe in Malaysian Borneo imparting his wisdom to a young student.

In the World Showcase program, notable films include: Ryuji Otsuka's THE BEIJING ANTS, a cautionary tale about capitalism and customer service in modern China; Ryan Murdock's BRONX OBAMA, the story of a true doppelgänger of Barack Obama who finds that life as the president isn't always easy; Tony Shaff's HOTLINE, an intimate portrait of the strangers who connect to save lives, predict futures and satisfy lust via telephone hotlines; David Alvarado and Jason Sussberg's THE IMMORTALISTS, about two free-thinking biologists on a quest to find the cure for mortality and reverse the aging process forever; Andrea Kalin and Oliver Lukacs' RED LINES, the story of two unlikely activists who struggle to create one free, democratic Syrian village; Stephanie Wang-Breal's TOUGH LOVE, a rare glimpse inside the American child welfare system; and Ibtisam Mara'ana Menuhin's WRITE DOWN, I AM AN ARAB, a heart-breaking film about the rich life of Palestine's national poet Mahmoud Darwish.

The Made In Denmark program includes: Karen Stokkendal Poulsen's THE AGREEMENT, an undiplomatically comic exposé in which Serbia and Kosova representatives face off over a co-existence agreement; Ulrik Wivel's A DIFFERENT KIND OF BOY, the story of an autistic 18-year-old and his brother on a road trip to Barcelona and independence; and Elvira Lind's SONGS FOR ALEXIS, about a talented transgender musician and his girlfriend navigating their love story and its place in the world.

The Next program includes: Lina Plioplyte's ADVANCED STYLE, an invigorating portrait of New York's most stylish elderly women; Andrew Napier's MAD AS HELL, about Cenk Uygur's rise from public access TV to being the creator of the most popular online news show in the world; and Dennis Mohr's MUGSHOT, a fascinating investigation into how mug shots have been repurposed as art and historical evidence.

The Nightvision program includes: Adam Rifkin's GIUSEPPE MAKES A MOVIE, a portrait of the ultimate independent filmmaker completing his 30th feature in just two days; and William Westaway's THE WRITER WITH NO HANDS, the story of a propaganda expert discovering the US military's involvement in Hollywood.

The Love, Factually program includes: Doug Block's 112 WEDDINGS, a revealing look into what keeps couples together after marriage; Philip Cox and Hikaru Toda's LOVE HOTEL, an intimate glimpse into the unique world of love hotels in Japan; and Geeta V. Patel and Ravi V. Patel's MEET THE PATELS, the story of a first-generation Indian-American letting his parents find him a wife.

The Mystery, Myth & Legend program includes: Dave Jannetta's LOVE AND TERROR ON THE HOWLING PLAINS OF NOWEHERE, about the effect a violent death and unsolvable mystery has on a Twin Peaks-esque community; and Jessica Oreck's THE VANQUISHING OF THE BABA YAGA, which reimagines the centuries-old Slavic fable of Baba Yaga within a dreamlike, anthropological portrait of modern-day life.

The Redux program will highlight five films that deserve another outing on the big screen.

Additionally, Hot Docs is pleased to present two retrospective programs: Focus On John Zaritsky, a mid-career retrospective of the filmmaker's work; and the Outstanding Achievement Award Retrospective, honouring the influential work of English documentary filmmaker and journalist Adam Curtis.

Also a premier documentary conference and market, Hot Docs will be welcoming over 2,000 industry delegates who will partake in a wide array of industry events and services, including conferences sessions, receptions and parties, Hot Docs Deal Maker, The Doc Shop and the Hot Docs Forum, April 30 and May 1.