Cannes 2015: Green Room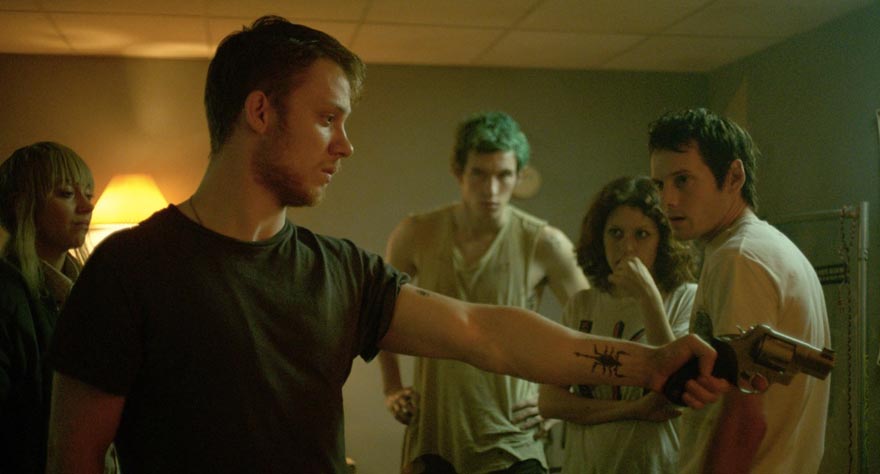 Did somebody say punks versus skinheads?
If you were to randomly select a group of individuals at the 2015 Cannes International Film Festival and ask them what the biggest Out of Competition surprise has been thus far, it's almost guaranteed that at least half of them would answer Green Room without hesitation. The amount of buzz that this film has received on the grounds here has been incredible, and the best part is that it's totally deserved. Nothing could have prepared me for the experience of watching this film. Nothing.
Green Room follows a punk band's journey into an abyss of madness and violence after they accidentally witness a brutal murder committed at an isolated concert venue. Their neo-nazi hosts, of course, do not want to leave any witnesses, and after the punks lock themselves in the titular Green Room, all hell breaks loose. The ensemble cast do a wonderful albeit simple job in their equally minor roles; there aren't really any "main characters" because director Jeremy Saulnier is not afraid to subvert clichés and kill off whoever at any time. The impressive cast includes Imogen Poots, Alia Shawkat, Anton Yelchin, Patrick Stewart, and Mark Webber.
Ultimately, Green Room is an exploitation horror film disguised as a fast paced thriller, only it's actually scarier and more stunning than most of the traditional horror films released lately. It's exploitative in the sense that the gore is gratuitous in a very nasty way, but for me the violence was always more impressive and fascinating than disengaging. For those who appreciated Saulnier's hard-edged film Blue Ruin last year, and for anyone who needed more convincing, Green Room is sure to grab attention and make a splash back home in the States.