Full List of Films Sold at Sundance 2015 (Updated)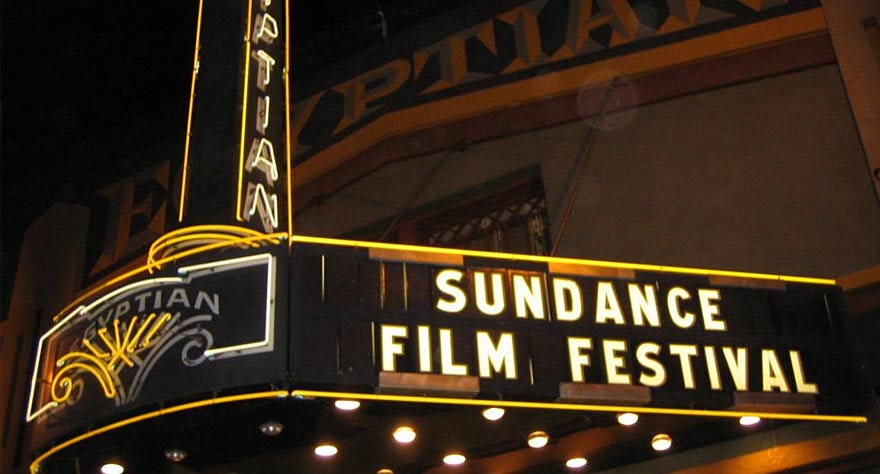 One of the great joys (or miseries, depending on your perspective) of attending a film festival is seeing films that may never be seen by a wide audience. Hundreds of films come to Park City, Utah each January with the hopes of being loved and subsequently picked up by one of the major indie film companies—without being sold at the Sundance Film Festival, there is no real guarantee that your film will ever be seen again.
Check out the up-to-date list of the films that have been sold this year. These are likely the films that will be raved about in 12 months as some of the best of the year, so take note.
A24
The End of the Tour
Director: James Ponsoldt (The Spectacular Now)
Starring: Jason Segel, Jesse Eisenberg, Anna Chlumsky
A magazine reporter recounts his travels and conversations with author David Foster Wallace during a promotional book tour.
Mississippi Grind
Director: Anna Boden & Ryan Fleck (Little Miss Sunshine)
Starring: Ryan Reynolds, Ben Mednelsohn, Sienna Miller
Down on his luck and facing financial hardship, Gerry teams up with younger charismatic poker player, Curtis, in an attempt to change his luck. The two set off on a road trip through the South with visions of winning back what's been lost.
The Witch
Director: Robert Eggers (Debut)
Starring: Anya Taylor-Joy, Ralph Ineson
William and Katherine lead a devout Christian life, homesteading on the edge of an impassible wilderness, with five children. When their newborn son mysteriously vanishes and their crops fail, the family begins to turn on one another.
Alchemy
Strangerland
Director: Kim Farrant (Naked on the Inside)
Starring: Nicole Kidman, Hugo Weaving, Joseph Fiennes
A family finds their dull life in a rural outback town rocked after their two teenage children disappear into the desert, sparking disturbing rumors of their past.
Zipper
Director: Mora Stephens (Conventioneers)
Starring: Lena Headey, Dianna Agron, Patrick Wilson
A family man who has it all until he risks losing everything due to his inability to fight off his obsessive temptation for other women.
Bleeker Street
I'll See You in My Dreams
Director: Brett Haley (The New Year)
Starring: Blythe Danner, Martin Starr, Sam Elliott
Carol, a widow in her 70's, is forced to confront her fears about love, family, and death. After her routine is rattled she decides to start dating again and falls into relationships with two very different men.
Broad Green
A Walk in the Woods
Director: Ken Kwapis (He's Just Not That into You)
Starring: Robert Redford, Nick Nolte
After spending two decades in England, Bill Bryson returns to the U.S., where he decides the best way to connect with his homeland is to hike the Appalachian Trail with one of his oldest friends.
Film Arcade
Unexpected
Director: Kris Swanberg (Empire Builder)
Starring: Gail Bean, DuShon Monique Brown, Anders Holm
An inner-city high school teacher discovers she is pregnant at the same time as one of her most promising students and the two develop an unlikely friendship while struggling to navigate their unexpected pregnancies.
Focus Features
Cop Car
Director: Jon Watts (Clown)
Starring: Kevin Bacon, Shea Whigham
A small town sheriff sets out to find the two kids who have taken his car on a joy ride.
Fortissimo
Songs My Brothers Taught Me
Director: Chloé Zhao (Post)
Starring: Irene Bedard, Dakota Brown
High school senior Johnny is fixing to leave the Pine Ridge Reservation when the unexpected death of his rodeo-cowboy father complicates things.
Fox Searchlight
Brooklyn
Director: John Crowley (Boy A)
Starring: Saoirse Ronan, Domhnall Gleeson
In 1950s Ireland and New York, young Ellis Lacey has to choose between two men and two countries.
Me, Earl and the Dying Girl
Director: Alfonso Gomez-Rejon (The Town That Dreaded Sundown)
Starring: Jon Bernthal, Nick Offerman, Connie Britton
A teenage filmmaker befriends a classmate with cancer.
Mistress America
Director: Noah Baumbach (Frances Ha)
Starring: Greta Gerwig, Lola Kirke
A lonely college freshman's life is turned upside down by her impetuous, adventurous soon-to-be stepsister.
Gravitas Ventures
Being Evel
Director: Daniel Junge (Saving Face)
The real story behind the myth of American icon Robert 'Evel' Knievel and his legacy.
HBO
3 1/2 Minutes
Director: Marc Silver (Who Is Dayani Cristal?)
Black Friday, the day after Thanksgiving November 2012, four boys in a red SUV pull into a gas station after spending time at the mall buying sneakers and talking to girls. With music blaring, one boy exits the car and enters the store, a quick stop for a soda and a pack of gum. 3 1/2 minutes and ten bullets later, one of the boys is dead.
IFC Films
The D Train
Director: Andrew Mogel & Jarrad Paul (Writers, Yes Man)
Starring: James Marsend, Kathryn Hahn, Jack Black
The head of a high school reunion committee travels to Los Angeles to track down the most popular guy from his graduating class and convince him to go to the reunion.
Sleeping with Other People
Director: Leslye Headland (Bachelorette)
Starring: Alison Brie, Jason Sudekis
A good-natured womanizer and a serial cheater form a platonic relationship that helps reform them in ways, while a mutual attraction sets in.
IFC Midnight
The Hallow
Director: Corin Hardy (debut)
Starring: Bojana Novakovic, Michael McElhatton, Joseph Mawle
A family who move into a remote milllhouse in Ireland find themselves in a fight for survival with demonic creatures living in the woods.
Reversal
Director: Jose Manuel Cravioto (El Mas Buscad)
Starring: Richard Tyson, Amy Okuda
A young girl, chained in the basement of a sexual predator, escapes and turns the tables on her captor.
Kino Lorber
The Forbidden Room
Director: Guy Maddin (My Winnipeg)
Starring: Roy Dupuis, Udo Kier, Louis Negin
A never-before-seen woodsman mysteriously appears aboard a submarine that's been trapped deep under water for months with an unstable cargo. As the terrified crew make their way through the corridors of the doomed vessel, they find themselves on a voyage into the origins of their darkest fears.
Lionsgate
Don Verdean
Director: Jared Hess (Napoleon Dynamite)
Starring: Sam Rockwell, Amy Ryan, Jemaine Clement
Biblical archaeologist Don Verdean is hired by a local church pastor to find faith-promoting relics in the Holy Land. But after a fruitless expedition he is forced to get creative in this comedy of faith and fraud.
Knock Knock
Director: Eli Roth (Hostel)
Starring: Keanu reevs, Lorenza Izzo
A pair of femme fatales wreak havoc on the life of a happily married man.
Magnolia
Best of Enemies
Director: Robert Gordon & Morgan Neville (Twenty Feet from Stardom)
Documentary about the legendary series of nationally televised debates in 1968 between two great public intellectuals, the liberal Gore Vidal and the conservative William F. Buckley Jr.
Results
Director: Andrew Bujalski (Computer Chess)
Starring: Guy Pearce, Cobie Smulders, Kevin Corrigan
Two mismatched personal trainers' lives are upended by the actions of a new, wealthy client.
Tangerine
Director: Sean Baker (Starlet)
Starring: Kiki Kitana Rodriguez, Mya Taylor
A working girl tears through Tinseltown on Christmas Eve searching for the pimp who broke her heart.
The Wolfpack
Director: Crystal Moselle (Debut)
Locked away from society in an apartment on the Lower East Side of Manhattan, the Angulo brothers learn about the outside world through the films that they watch.
Netflix
Hot Girls Wanted
Director: Jill Bauer and Ronna Gradus (Sexy Baby)
A documentary about young women who have been drawn into the sex trade – and how easy it is for a web-savvy generation to end up making porn.
Open Road
Dope
Director: Rick Famuyiwa
Stars: Zoe Kravitz, Forest Whitaker, Tony Revolori
A coming of age comedy/drama for the post hip hop generation. Malcolm is a geek, carefully surviving life in The Bottoms, a tough neighborhood in Inglewood, CA filled gangsters and drugs dealers, while juggling his senior year of college applications, interviews and the SAT.
Orchard
Digging for Fire
Director: Joe Swanberg (Drinking Buddies)
Starring: Jake Johnson, Rosemarie DeWitt, Orlando Bloom, Brie Larson
The discovery of a bone and a gun send a husband and wife on separate adventures over the course of a weekend.
Finders Keepers
Bryan Carberry and J. Clay Tweel (Print the Legend)
Shannon Whisnant has a nose for a bargain. But when he bought a used grill at a North Carolina auction, the severed human foot he found among its ashes was not part of the deal. Soon the gruesome discovery becomes the toast of the infotainment world, and the new owner spies a golden opportunity to cash in on the media frenzy, until struggling addict and amputee John Wood recognizes his missing member and demands his own foot back.
The Overnight
Director: Patrick Brice (Creep)
Starring: Judith Godreche, Adam Scott, Taylor Schilling
Alex, Emily, and their son, RJ, are new to Los Angeles. A chance meeting at the park introduces them to the mysterious Kurt, Charlotte, and Max. A family "playdate" becomes increasingly interesting as the night goes on.
Oscilloscope
The Second Mother
Director: Anna Myulaert (Smoke Gets in Your Eyes)
Starring: Regina Casé
When the estranged daughter of a hard-working live-in housekeeper suddenly appears, the unspoken class barriers that exist within the home are thrown into disarray.
Relativity
The Bronze
Director: Bryan Buckley (Debut)
Starring: Melissa Rauch, Gary Cole
A foul-mouthed former gymnastics bronze medalist must fight for her local celebrity status when a new young athlete's star rises in town.
Relativity Sports
In Football We Trust
Director: Tony Vainuku & Erika Cohn (Debut)
Presenting a new take on the American immigrant story, this feature length documentary transports viewers deep inside the tightly-knit Polynesian community in Salt Lake City, Utah.
Samuel Goldwyn Films
Fresh Dressed
Director: Sacha Jenkins (debut)
Fresh Dressed chronicles the history of Hip-Hop | Urban fashion and its rise from southern cotton plantations to the gangs of 1970s in the South Bronx, to corporate America, and everywhere in-between.
Screen Media Films
Ten Thousand Saints
Director: Shari Springer Berman and Robert Pulcini (American Splendor)
Starring: Hailee Steinfeld, Ethan Hawke, Asa Butterfield
Set in the 1980s, a teenager from Vermont moves to New York City to live with his father in East Village.
Showtime
Dreamcatcher
Director: Kim Longinotto (Sisters in Law)
For twenty-five years Brenda Myers-Powell called herself 'Breezy' and she dominated her world, or that's what she thought. It was a world that had turned her into a teenage, drug-addicted prostitute. After a violent encounter with a 'john,' Brenda woke up in the hospital and decided to change her life.
Sony Pictures Classics
Dark Horse
Director: Louise Osmond (Deep Water)
An inspirational true story of a group of friends from a working men's club who decide to take on the elite 'sport of kings' and breed themselves a racehorse.
The Diary of a Teenage Girl
Director: Marielle Heller (Debut)
Starring: Bel Powley, Alexander Skarsgard, Kristen Wiig
A teen artist living in 1970s San Francisco enters into an affair with her mother's boyfriend.
Grandma
Director: Paul Weitz (About a Boy)
Starring: Lily Tomlin, Julia Garner, Marcia Gay Harden
Self-described misanthrope Elle Reid has her protective bubble burst when her 18-year-old granddaughter, Sage, shows up needing help. The two of them go on a day-long journey that causes Elle to come to terms with her past and Sage to confront her future.
Sundance Selects
City of Gold
Director: Przemyslaw Reut (Paradox Lake)
As the unabashed cradle of Hollywood superficiality and smoggy urban sprawl, Los Angeles has long been condemned as a cultural wasteland. In the richly penetrating documentary odyssey City of Gold, Pulitzer Prize-winning food critic Jonathan Gold shows us another Los Angeles, where ethnic cooking is a kaleidoscopic portal to the mysteries of an unwieldy city and the soul of America.
Tribeca Film
Misery Loves Comedy
Director: Kevin Pollak (Actor, The Usual Suspects)
Over fifty very famous American and Canadian funny people (filmmakers, writers, actors and comedians) share life and professional journeys and insights, in an effort to shed light on the thesis: Do you have to be miserable to be funny?