First Look at Shakespeare Adaptation 'Cymbeline' Starring Ethan Hawke & Dakota Johnson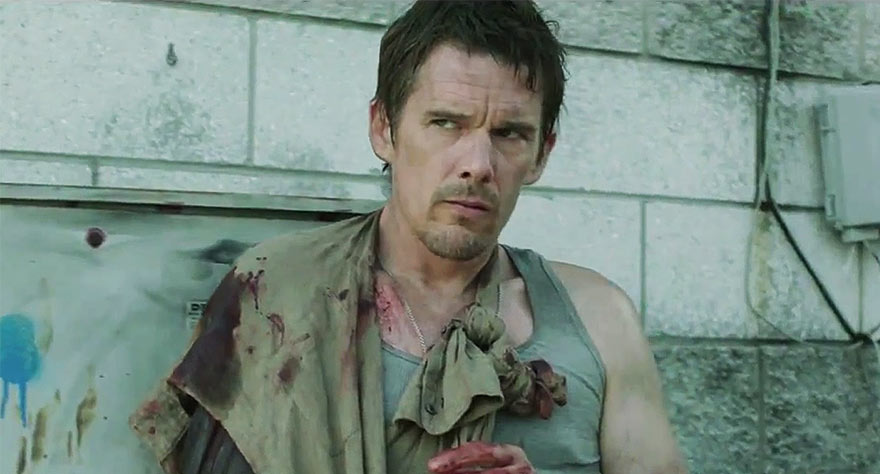 Since the birth of film, Shakespeare has been adapted up, down, and sideways. Not only have his plays been filmed, but they have been reworked to better exploit the possibilities of the silver screen; rewritten, retitled, and subtly masked; and thrown, Shakespearian language and all, into the modern era–all to mixed results. The most recent attempt to prove the Bard's relevance in the 21st century is Cymbeline.
The film, based on the play of the same name and adapted and directed by Michael Almereyda, finds a band of dirty cops fighting an all out war with Cymbeline (Ed Harris) and his pals, reimagined here as a ruthless biker gang. From the looks of the trailer, things seem to go from bad to worse (or if you've read the play perhaps you already know). And while the visuals here really do pop, the film scurried out of Venice 2014 with some less-than-positive notices.
The thing that can't be ignored here though is the incredibly stacked cast. Joining Harris are the familiar faces of Ethan Hawke (fresh off his Oscar nom for Boyhood), Anton Yelchin, Dakota Johnson, (filmed pre-50 Shades Of Grey), Milla Jovovich, Penn Badgley, and John Leguizamo. Color us intrigued.
Cymbeline trailer