TIFF 2013: Midnight Madness program announced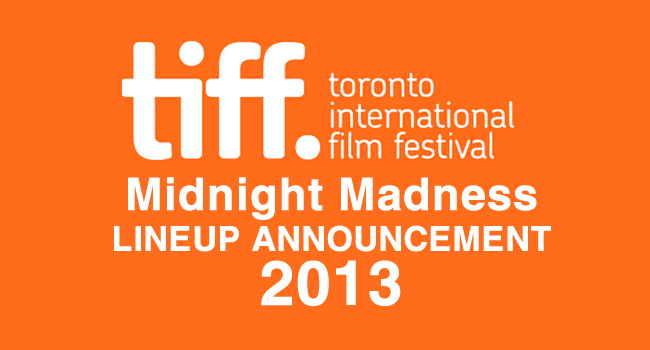 Another week, another batch of announcements from TIFF. This time it's one of the fests' staples, Midnight Madness. Celebrating its 25th anniversary this year, Midnight Madness has dedicated itself to premiering a different horror/comedy/sci-fi/fantasy/you-name-it film each night of the festival. And for its 25th anniversary, programmer Colin Geddes has made sure to pull out some big guns.
The opening night film goes to All Cheerleaders Die, a film by Lucky McKee (May, The Woman) and Chris Silverston. Also joining the festivities is director Eli Roth, who is premiering his newest cannibal horror film The Green Inferno. Other TIFF and worldwide festival favourite Sion Sono (Cold Fish, Love Exposure) has also gotten a film in this year, the curiously-titled Why Don't You Play In Hell?
Personally, the film I'm looking forward to the most is Mike Flanagan's Oculus. Based off his short film, Flanagan has quietly proven himself to be a director to watch with his terrific film Absentia. His last film showed a lot of potential, and with a bigger budget and cast here's hoping he can make something truly scary.
The rest of the line-up is below, but only 9 of the program's 10 titles have been released as Geddes has been having trouble locking down one more film. We'll give you the latest updates as they come in, and expect to see us cover TIFF later on this year.
Afflicted [Derek Lee and Clif Prowse] Canada/USA – World Premiere
Best friends Derek and Clif set out on a trip of a lifetime. Their plan: travel to the ends of the earth, see the world, and live life to the fullest. But the trip soon takes a dark and bloody turn. Just days in, one of the men shows signs of a mysterious affliction which gradually takes over his entire body and being. Now, thousands of miles from home, in a foreign land, they must race to uncover the source of his illness before it consumes him completely. Footage of their travels meant to document pleasant memories may now become evidence of one of the most shocking discoveries ever captured on film…and may be their only postcard home.
All Cheerleaders Die [Lucky McKee, Chris Sivertson] USA – World Premiere
When tragedy rocks Blackfoot High, rebellious outsider Mäddy Killian shocks the student body by joining the cheerleading squad. This decision drives a rift between Mäddy and her ex-girlfriend Leena Miller — a loner who claims to practice the dark arts. After a confrontation with the football team, Mäddy and her new cheerleader friends are sent on a supernatural roller coaster ride which leaves a path of destruction none of them may be able to escape.
Almost Human [Joe Begos] USA – World Premiere
Mark Fisher disappeared from his home in a brilliant flash of blue light almost two years ago. His friend Seth Hampton was the last to see him alive. Now a string of grisly, violent murders leads Seth to believe that Mark is back, and something evil is living inside of him.
The Green Inferno [Eli Roth] USA – World Premiere
How far would you go for a cause you believe in? In horror master Eli Roth's terrifying new film, a group of college students take their humanitarian protest from New York to the Amazon jungle, only to get kidnapped by the native tribe they came to save: a tribe that still practices the ancient rite of cannibalism, and has a healthy appetite for intruders.
Oculus [Mike Flanagan] USA – World Premiere
Oculus is a spine-chilling supernatural tale of two damaged siblings (Karen Gillan and Brenton Thwaites) who, as children, witnessed their parents' harrowing descent into madness and murder. At long last, brother and sister reunite as adults to expose and destroy the paranormal entity they believe is responsible: the Lasser Glass — a legendary mirror their family once owned.
R100 [Hitoshi Matsumoto] Japan – World Premiere
An ordinary man with an ordinary life joins a mysterious club. The membership lasts for one year only and there is one rule: no cancellation under any circumstance. The man enters into an entirely new and exciting world which he has never before experienced.
Rigor Mortis [Juno Mak] Hong Kong – North American Premiere
Juno Mak's debut feature Rigor Mortis is an eerie and chilling, contemporary action- and special effects-laden homage to the classic Chinese vampire movies of the 1980s. Starring Chin Siu-Ho, Kara Hui, Anthony Chan, Lo Hoi Pang and Richard Ng.
The Station [Marvin Kren] Austria – World Premiere
At a climate research station in the Alps, the scientists are stunned as the nearby melting glacier is leaking a red liquid. It quickly turns to be very special juice — with unexpected genetic effects on the local wildlife.
Why Don't You Play in Hell? [Sion Sono] Japan – North American Premiere
Two men, Muto and Ikegami, hate each other. Muto desperately wants to help his daughter Mitsuko star in a movie. Meanwhile, Ikegami falls in love with Mitsuko, knowing that she's the daughter of his foe. Hirata, a filmmaker, and Koji, a young movie-lover, get dragged into this complicated situation that heads into an unexpected direction.