Hot Docs 2015: Double Happiness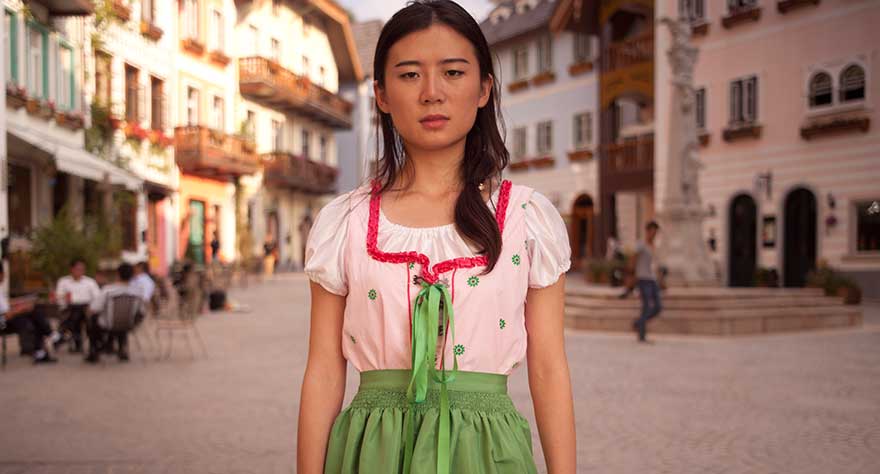 What an odd piece of work is Double Happiness! It's a documentary about a small enclave in China that's artificially designed and planned to replicate a small village-town in Austria called Hallstatt. We're talking down to the shapes of the windows and the curves of the gables. It's such a surreal stranger than fiction story, and that strangeness even carries over to the stylistic and abstract way Ella Raidel chooses to present it. Eschewing the use of traditional talking heads, the handful of interviewees are mostly there to share in the perplexity of the project, or justify its existence as the art of imitation. What makes Double Happiness so peculiar, though, is how it rebounds and evolves in its perspectives. Urban planners talking about how impressed they are with Hallstatt as a creation of something so beautiful on such a small scale eventually evolves into a philosophical quandary on the concept as applied to huge urban cities, and the consequences that would have on national identity and civilization. These things are merely mentioned, however, and left for the viewers to think about and explore.
As the documentary rolls on it becomes increasingly more bizarre, with Chinese ladies singing lullabies about the moon and monologues dedicated to explaining the duality of a traditional deity, and its relationship to modern culture. What saves the somewhat disheveled structure and random shifts in tone is how absolutely stunning the images are, often made more appealing by shallow depth of field. Whether the camera is pointing at the real picturesque Hallstatt, its replica in China, or a montage of splendorous nighttime shots in the concrete jungle of Shenzhen, with its frightfully Blade Runner-esque aesthetic, it's impossible to look away. Even the mise-en-scène of the interior shots permeates with the hard work and creative thought put into them. Thanks to this wondrous cinematography work by Martin Putz and Raidel, and the overall refreshingly unique visual approach that doesn't shy away from using silence to its advantage, Double Happiness overcomes its messy flow, and propensity for going on major tangents, and comes highly recommended.