2013 Sundance London: Emanuel and the Truth about Fishes, A.C.O.D, Mud
Emanuel and the Truth about Fishes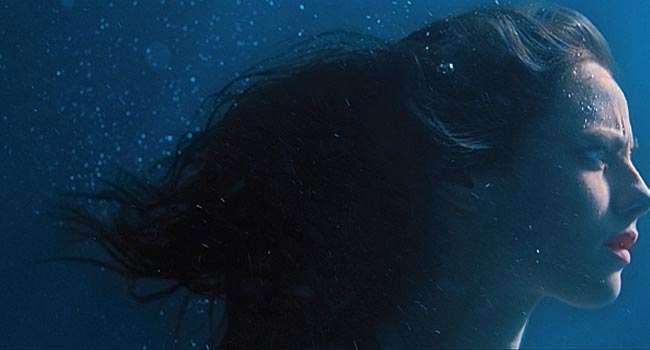 Sitting in the 9am screening of Francesca Gregorini's Emanuel and the Truth about Fishes, I was surrounded by sleepy film fans and people uncertain of what to expect from what they were about to see. Myself, I had taken an interest in Gregorini's film as soon as I saw the synopsis hit the Sundance web page late last year. I then watched the interview with her on the Sundance YouTube channel and became increasingly eager to see her story.
Emanuel and the Truth about Fishes was an incredible artistic, poignant and heartfelt tale drawing upon Gregorini's personal issues about loss, guilt and pain whilst focusing on the courage to overcome individual trauma. The narrative also highlights the strong emotional connection humans can hold for each other, and in Emanuel's case (portrayed by Kaya Scodelario), the effects on a troubled child longing to find a mother figure in her life.
Emanuel meets Linda (Jessica Biel), the mysterious lady who moves in next door, she is a new mother it would seem and Emanuel is instantly intrigued by this woman. Their relationship grows when Emanuel volunteers to babysit Linda's newborn baby, and develop an affectionate bond towards each other.
Kaya Scodelario is the heart of this story, her emotion is so unbelievably real throughout the entire film – if not lead astray by Hollywood, her career will only continue to progress and her performances, excel. Many closed-minded men may disagree as the film was extremely feminine and focused on trauma only women can really relate to. Others that may focus more on dialogue could find faults within the screenplay as some criticized it as being very "written after attending a screenwriting seminar" feel. However, Emanuel and the Truth about Fishes is overall a fantastic achievement for Francesca Gregorini and an absolute pleasure to watch.
RATING: 9.4
A.C.O.D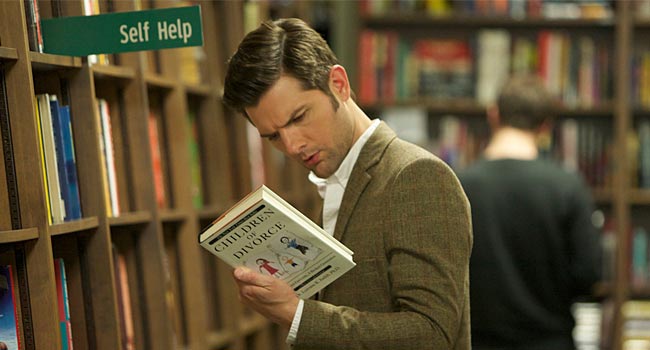 Going into this film I undoubtedly had expectations in regards to it being a comedy, as the chosen cast were renowned for their humour. Adam Scott and Amy Poehler work as such an amazing comedic couple in Parks and Recreation that knowing their characters were the complete opposite of that in A.C.O.D, where Poehler is now Scott's stepmother – I expected hilarity to ensue. Ultimately I was very disappointed with the lack of overall chemistry of the cast. That said however, I did enjoy A.C.O.D as it was a 'good' comedy; it just didn't utilize the actors' comedic potential enough.
Carter (Adam Scott) was unknowingly part of a research study focusing on observing Children of Divorce when he was younger; in fact the woman investigating this study, Dr Judith (Jane Lynch) wrote a book about him and other children involved. As Carter's brothers wedding in announced and the preparation commences, Carter is responsible for getting his parents to be civil towards each other ready for the 'big day'. This results in extremely comedic scenes and Carter eventually getting in touch with his old therapist, Dr Judith.
Scott was the perfect guy to represent the awkwardness of Carter's character as his blunt and dry self-conscious sense of humour really highlights the effects of the trauma he is undergoing through his parents messy relationship.
Although A.C.O.D was not my favourite film of the day, nor is it one likely watch again – I'd certainly say it's worth seeing at least once. It gives you the chance to see the diversity of Adam Scott's abilities as an actor as they really shine through, and there are some real classic comedic moments that shouldn't be overlooked.
RATING: 7.6
Mud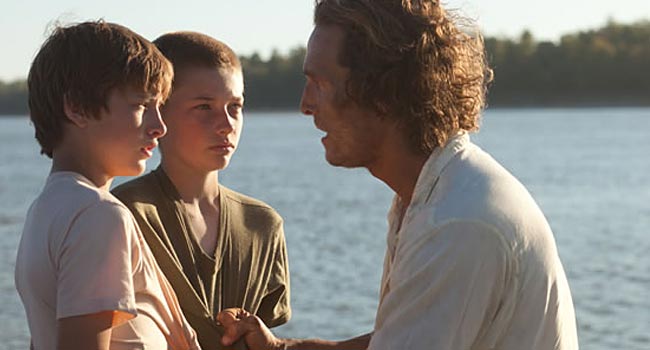 Mud is a story focused on a compassionate fugitive deserted on a lonely island surrounded by the Mississippi Rivers. This is until two adventurous young boys stumble across this rugged man whilst trying to salvage a lost boat. The two boys, Ellis (Tye Sheridan) and his best friend Neckbone (Jacob Lofland) are hesitant when they first meet Mud, as he is an unkempt looking man, whose sun dyed skin and worn out appearance gives them reason for caution – that and the fact he has a pistol tucked into his trousers. Mud introduces himself and tells the boys that he is waiting for a woman to meet him and asks if they could bring him food the next time they visit the island.
Tye under the impression that Mud is undergoing this hardship for love wants to help him and Neckbone being his best friend agrees to assist Tye in doing so. There are certain scenes that highlight the personalities of these two young boys and these are what made the film – their chemistry and on screen relationship has been likened to the young boys in Stand by Me.
Illustrating immersive imagination and extracting impeccable performances from all members of the cast, Jeff Nichols did a fantastic job representing a carefully constructed Deep South dramatic feature. Mud will do extremely well through it festival experiences, and will, without a doubt make it onto the big screen with huge success.
RATING: 8.6