2013 SFIFF Wrap-Up and Top 5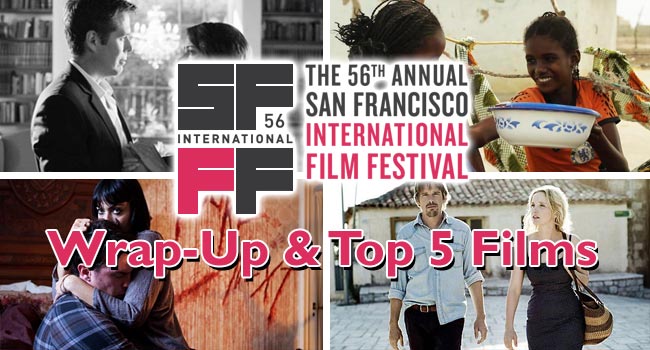 The thing I'll remember most about this year's San Francisco International Film Festival were the amazing conversations I had with some of the talented filmmakers in attendance during the festival's two-week stretch. Everybody was open and willing to share their enthusiasm about film and filmmaking, and all of the good vibes were fueled by the festival's exceedingly strong program. Film after film, I was thoroughly entertained and excited.
The list below is my top 5 films from the festival, but only spots 1 and 2 were a lock for me. The other three spots could have easily gone to a number of other films at the festival. John Vogt-Roberts' The Kings of Summer showcases three of the most promising young actors in the game right now standing toe to toe with some of the funniest people on earth. Morgan Neville's Twenty Feet From Stardom was a sleeper for me, packing more emotional punch than I expected from a documentary about backup singers. Atiq Rahimi's achingly gorgeous The Patience Stone is a force of nature that grows on me more and more as I sit with it. Prince Avalanche is flat-out one of David Gordon Green's best films. And the list goes on.
I encountered a few clunkers at the festival, but there were too many excellent films for the bad ones to sour the experience. Overall, SFIFF 2013 was an excellent two weeks at the movies, and I highly recommend you make the trip out here next year. It's a big festival with a lot of buzz and fantastic guests, but with none of the stressful chaos or hectic energy of other, more popular festivals. It was a complete blast, and I look forward to next year.
Though the festival is over, make sure to stay tuned to Way Too Indie in the coming weeks for tons of amazing content coming out of the festival. We've got a FLOOD of great interviews from SFIFF coming your way in the coming weeks—
Michael Cera & Sebastian Silva—Crystal Fairy
Richard Linklater & Julie Delpy—Before Midnight
Sarah Polley—Stories We Tell
David Gordon Green—Prince Avalanche
Alexis Denisof & Amy Acker—Much Ado About Nothing
Nick Robinson, Gabriel Bassos & Moises Arias—The Kings of Summer
Onata Aprile, David Siegel & Scott McGehee—What Maisie Knew
Atiq Rahimi—The Patience Stone
Jeremy Teicher—Tall as the Baobab Tree
PJ Raval & Dennis—Before You Know It
Way Too Indie's Top 5 Films at the San Francisco International Film Festival
#5 – Much Ado About Nothing
What I found impressive about Joss Whedon's Shakespeare adaptation of Much Ado About Nothing was that it felt more 'Joss' than 'William'. Whedon and his merry band of thespians do what they do best—tell a story with uncanny wit, sass, silliness, and humanity. Shakespeare's play is timeless, and Whedon respects this. Modernity plays no role here, and the focus is squared solely on the ever-shuffling relationships of the marvelously acted characters.
I hesitate to say that there is a standout in the cast—everyone has moments of greatness. The film's leads, Alexis Denisof and Amy Acker, are prime examples of how Whedon extracts every bit of potential out of his actors. They transition from brutally disdainful to drunkenly flirtatious on a dime, effortlessly, and they pull off hilarious slapstick gags that would be cringe-worthy in the hands of most. These physical bits are Chaplin-funny. By the end of the film, I felt great—completely satisfied and wholly content. I hope this isn't the last we see of Mr. Whedon on the independent scene.
#4 – Tall as the Baobab Tree
Jeremy Teicher's Tall as the Baobab Tree explores the transitional social climate of a small village in Senegal where the recent introduction of education into the village by way of a newly constructed school has shaken up old traditions. Previously, girls had commonly been forced into early marriage, but with education now accessible to them, the prospect of early marriage has become far less appealing. A new, fortuitous future is now within their grasp, but the old ways of the village can't be undone so easily.
Teicher, only 24, depicts Senegal and Africa in a refreshingly optimistic and respectful light in his narrative feature debut, eschewing the heart-wrenching, pitying depictions seen in most films about the community. He shows his characters happily sitting and sharing a meal with one another, laughing and teasing, making plans for the future and enjoying the present. This is universal stuff, a family story. Few things excite me more than when a young filmmaker finds his voice early, and Teicher's staggering potential shines bright like the sun in Baobab.
#3 – You're Next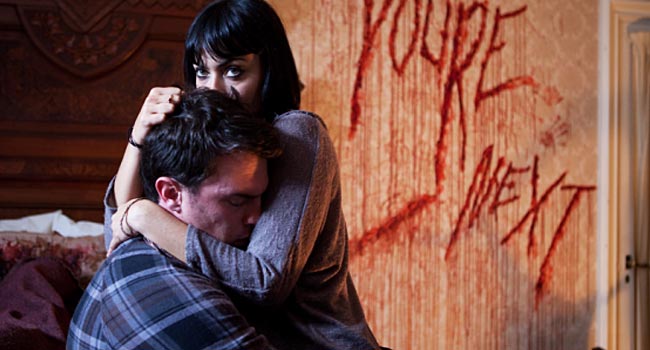 Festivals like SFIFF are often inundated with weighty films that can leave you mentally and emotionally exhausted, so it's an absolute treat when a film can leave you physically exhausted—You're Next had everybody who watched it at the festival breathing heavy, jumping, screaming, and occasionally running. Seriously. The guy sitting next to me literally leaped over his seat and darted for the exit. It was hands down the most fun I had at the festival.
Adam Wingard's gorefest—in which a rich white family taking a vacation is terrorized by crossbow-wielding freaks—deserves its spot on the list because it's the best example of the genre in years. Not only does Wingard instill fear with style and cinematic inventiveness, he does it with a sharp intellect—nothing is dumbed down here. None of the kills in You're Next are revolutionary, but they feel revolutionary because they're filmed so freakin' well. The when you see an axe kill, it feels like your first time seeing an axe kill—brutal, brutal, brutal. Also, the hero that emerges from the group of victims is one of the baddest butt-kickers since Sigourney Weaver's Ripley. Ladies, prepare to feel empowered.
#2 – Before Midnight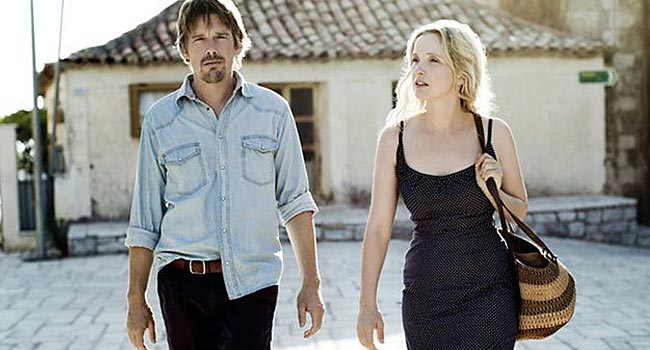 One of the first films I saw at SFIFF this year was Richard Linklater's third installment in his wonderfully improbable 'Before' romance series, Before Midnight. It set the bar sky high for the rest of the festival, enchanting me with stars Ethan Hawke and Julie Delpy's effortless, impassioned performances and Linklater's silently spectacular direction.
Set (and filmed) 18 years after Jesse (Hawke) and Celine (Delpy) met on a train in Vienna in Before Sunrise, and 9 years after their fateful reunion in Before Sunset, Before Midnight follows the duo, now parents of twin girls, as they find their youthful affection for each other battered by the stresses of reality. Hawke, Delpy, and Linklater have all upped their game to unbelievable heights here—an almost 15-minute-long shot of Jesse and Celine driving down a winding road while having an immaculately acted conversation is simply breathtaking. It's the best film in the series, and I'm completely aware of how bold that statement is. Just watch it—you'll understand.
#1 – Stories We Tell
Though I find Richard Linklater's Before Midnight to be virtually flawless, Sarah Polley's Stories We Tell feels just a hair more special to me right now, in this moment. Linklater's romance saga has been moving me for nearly two decades, but Polley's film touched me deeply and swiftly, in a way that no other film did. For this festival, in these two weeks filled with dozens of films, Stories We Tell was my favorite film.
In an intrepidly naked and personal documentary, Polley skillfully weaves together a tapestry of memories of her late mother Diane, contributed by members of her family and old friends. We walk beside Polley as she doubles back on her family's history, uncovering life-altering secrets as she conducts breathtaking—and sometimes heartbreaking—interviews with her subjects.
The immediacy of the film is what makes it so engaging—there wasn't a single moment where I wasn't completely glued to the screen. I hung on every word, every image, and marched to every single beat of Polley's drum. You can't ask for much more from a film or a director. It's got everything—suspense, laughter, tears, betrayal, heartache, and one of the most richly textured voice-overs I've ever heard, provided by Polley's father, Michael. I wouldn't dare to delve into what makes this film truly special, as I'd be robbing you of one of the most thrilling movie experiences of the year. It was a close race between spots one and two on the list, but Polley's willingness to graciously invite us deep into her personal life solidified her top spot.