2013 SFIFF: What Maisie Knew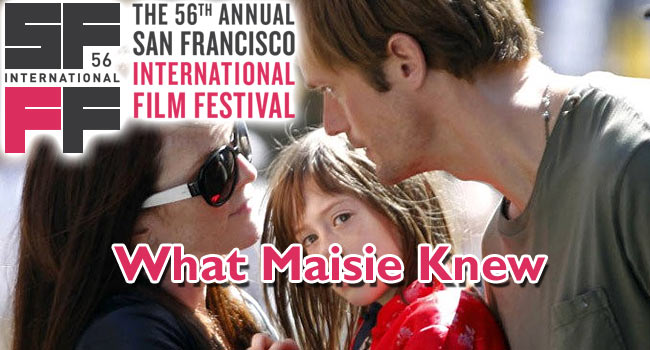 The San Francisco International Film Festival is the biggest festival of the year in the Bay Area, and my SFIFF experience got off to a great start. My festival activities began at the gorgeous Fairmont hotel where I conducted an interview with the team of Scott McGehee and David Siegel (Bee Season) directors of SFIFF's opening night film, What Maisie Knew, and Maisie herself, the adorable 7-year-old Onata Aprile. It was a pleasure to speak with them, and Onata handled the interview with the poise and experience of a pro. Scott and David were fantastic as well, and it was a blast to get to talk to such talented filmmakers. Stay tuned to Way Too Indie for the full interview in the coming weeks.
Next up was the opening night screening of What Maisie Knew at the Castro Theater, which is quickly becoming one of my all-time favorites in the Bay. Before the screening, SFIFF executive director Ted Hope addressed the large audience with a warm and appreciative introduction to the festival. Next, Ted made the surprise announcement that the recipient of the 2013 Peter J. Owens Award for Acting goes to…Han freaking Solo! Harrison Ford will be in esteemed company, with previous recipients like Sean Penn, Robert Redford, Annette Bening, and Kevin Spacey.
The film was followed by a Q&A with my old friends, McGehee, Siegel, and tiny Miss Onata, conducted by SFIFF director of programming, Rachel Rosen. Onata was asked of her four co-stars—Alexander Skarsgard, Julianne Moore, Steve Coogan, and Joanna Vanderham—which she liked the best. She paused for a while, not sure of how to answer the question, when Siegel suggested that we all knew it was a "tall Swedish man." Onata paused for a while longer, and finally answered she liked "all of them." Priceless.
After the Q&A, the celebration continued down by the water at Temple Night Club. I stuffed my face with delicious mung bean salad, artichoke bites, beer, and gelato. Needless to say, there's a rumbly in my tumbly, and it's not a pleasant one…
Anyway, on to my impressions of What Maisie Knew…
What Maisie Knew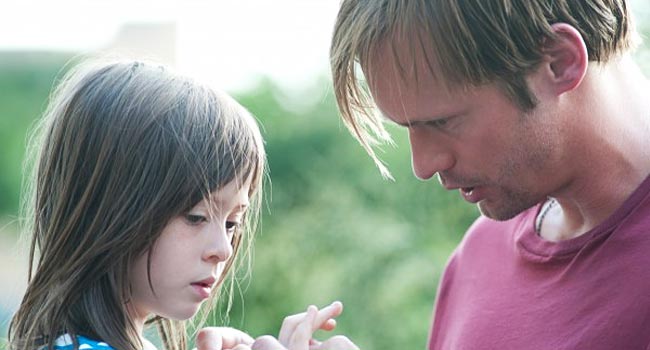 The film tells the story from the perspective of Maisie, a six-year-old girl whose parents—now separated—constantly bicker and fight over and around Maisie as if she was some sort of trophy. The parents (Moore and Steve) each find light-haired, young hard-bodies (Skarsgard and Vanderham) and marry them, in hopes of winning sole custody over Maisie in court. As her parents' war rages on, Maisie finds that her step-parents may be the parents she's deserved all along.
Aprile positively makes this film. It wouldn't have worked without her. All of the dramatic material works because she's so darn cute and lovable. You just can't help but want her to be happy. When her parents spit and curse around her, she simply observes with a straight face, turns around, and goes to her room to play. Aprile seems more comfortable and natural in her scenes than any of her cast mates, including Moore. It's incredible to watch. Her chemistry with Skarsgard feels so genuine it's startling.
The four adults do very good work as well (Moore's final scene is a showstopper), but Aprile handily outshines them. The story the actors have to work with isn't particularly interesting, but they do their best. What elevates What Maisie Knew are the excellent performances put forth by the actors and quality camerawork by the co-directors. Above all else, Maisie provides an early look at one of cinema's future superstars.
RATING: 7