2013 SFIFF: Much Ado About Nothing
On Saturday night, SFIFF was all about the screening of Joss Whedon's much buzzed-about Shakespeare adaptation, Much Ado About Nothing, and the excitement emanating from the gorgeous Sundance Kabuki Cinema was infectious. There was a line stretching down the block of excited Whedon-ites (and Shakespeare…um…heads?) who were itching to pile into the theater to watch the highly-anticipated film.
The film's stars, Amy Acker and Alexis Denisof, were in attendance, and I was waiting for them on the red carpet, shaking with anticipation. Why the shaking, you ask? The two also starred in Angel, Whedon's Buffy the Vampire Slayer spin-off, which is one of my favorite television shows of all time. I'm a huge Joss Whedon fan (my wedding invitations were Buffy-themed), so it was a special (and surreal) moment for me to take their picture as they posed in front of the SFIFF banner.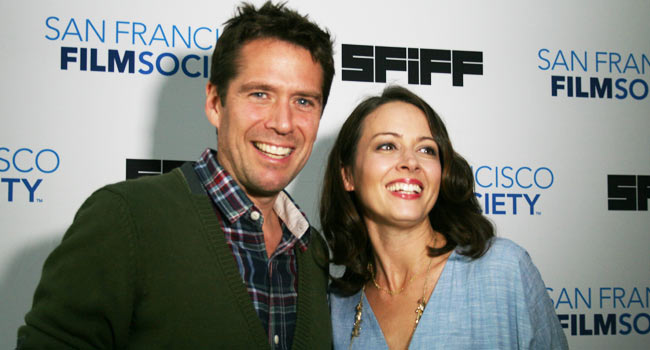 Before the screening, Acker and Denisof were asked to introduce the film and thought out-loud that they wished Mr. Whedon were there to help, as he is better at this kind of thing. So, naturally, they called his cell, put him on speakerphone, and had a hilariously awkward conversation in which Whedon seemed to have absolutely no idea what was going on. It was one of the most bizarre film introductions I've seen, but it was fun and entertaining nonetheless. They held a Q&A after the film and spoke at length about their previous roles together on Angel, much to my excitement.
Now, on to my impressions of the film.
Much Ado About Nothing
Contrary to what you may have read about Joss Whedon's take on Shakespeare, Much Ado About Nothing isn't simply a 'contemporary' interpretation—it's a purely Whedon interpretation. It's full of his playful wit, his best friends (who happen to be fantastic actors), and gorgeous views of his home, in which the entire film was shot. The film feels personal because of its history—Whedon and his friends have been holding Shakespeare readings at his house for years, and this film had always been a dream project for him.
Benedick (Denisof), Claudio (Franz Kranz) and Don Pedro (Reed Diamond) arrive at the home of Leonato (Clark Gregg). During their visit, Beatrice (Acker), Leonato's neice, and Benedick engage in a biting war of words (it's revealed in the opening scene that they'd had a one-night-stand) while Claudio finds himself falling for Leonato's daughter, Hero (Jillian Morgese). The two pairs flaunt, taunt, and flirt with each other until calculated deceptions by the malevolent Don John (Sean Maher) introduce deadly implications into the game.
Whedon's take on the story is as timeless as the source material, which can be mostly attributed to Whedon's uncanny ability to create on-screen magic with his actors. Denisof is simultaneously dashing and bumbling, and Acker is a silver-tongued vision in a summer dress. Their wordy quarrels are as engaging and vicious as a fight scene, but when they fall for each other, they morph into juvenile, giddy sweethearts. The duo's charming, Chaplin-esque physical performances are highlighted by Whedon. There are almost too many noteworthy performances to mention, but Kranz is a surprising standout, with his impassioned delivery and ability to handle any mood or tone thrown at him.
Shot in classy black and white, Whedon's photography is super-smooth, and he proves that he knows how to use his camera wisely (an eavesdropping scene with Denisof is spotless.) Much Ado About Nothing is the perfect alternative to the modern 'rom-com', and is a joy to watch with an audience. Whedon handles the cherished source material with finesse and makes it look like he was born to do it.
Stay tuned to Way Too Indie for our full review and an interview with Alexis Denisof and Amy Acker!