2013 San Francisco IndieFest Coverage Introduction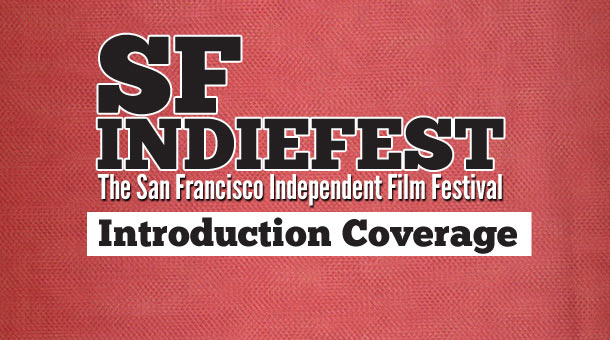 From February 7-21, a giant celebration of independent film will be running wild across the San Francisco Bay Area in the form of SF IndieFest, an independent film festival which will be celebrating its 15th anniversary this year, and Way Too Indie will be there to give you comprehensive coverage of the festivities. San Francisco exhibits an open-mindedness, advocacy of cinematic experimentation and innovation, and general artistic acceptance that no city in the world can match, making it the ideal environment for a festival like SF IndieFest to thrive in.
San Francisco hosts a slew of film festivals throughout the year, but what makes SF IndieFest unique are its special events, which include a The Big Lebowski -themed party (to be followed with a 35mm midnight screening of the film), a Roller Disco party (because, why not?), a Valentine's Day 80's Power Ballad Sing-Along, a Quinceanera-themed opening night party, and much more. These events are sure to provide a hell of a time for the thousands of festival-goers, but it's the stellar lineup of films that has attracted independent filmmakers and enthusiasts from around the world to the city by the bay since 1998.
Our coverage will include: Film reviews and impressions, photos, video blogs, and coverage of the various special events and parties.
The films on deck this year are phenomenal; any and all lovers of independent film (that means you) should be getting very, very excited. Here are some films from the festival to keep an eye on, with reviews to follow as the festival commences.
The We And The I
(Director Michel Gondry)
In the festival's big opener, the endlessly imaginative Michel Gondry (Eternal Sunshine of the Spotless Mind, Be Kind Rewind, The Science of Sleep) plants us on a bus sitting shoulder-to-shoulder with a group of mischievous Bronx teenagers on their last day of school and watch as their relationships evolve, or perhaps dissolve. It will be interesting to see what kind of imagery and situations Gondry, with his surrealist visual style and mad-scientist flare, will offer up with such a small, cramped space to play with. We watch Gondry's films to see just how far he can stretch his imagination, and The We And The I looks to be an inventive, humorous, emotional, and wholly unique showcase of his one-of-a-kind creativity.
The We And The I trailer:
Days of Grace
(Director Everardo Valerio Gout)
Set in Mexico City, Days of Grace follows the intertwining destinies of three men, who fight for their lives inside the vicious, corrupt, wicked environment that envelops them. Jumping between the years 2002, 2006, and 2010, Everado Valerio Gout tells a relentless tale of deception and vengeance that puts its characters through hell to see who comes out in one piece.
Days of Grace trailer:
All The Light In The Sky
(Director Joe Swanberg)
In All The Light In The Sky, the festival's closer, Joe Swanberg invites us to spend time with Marie (Jane Adams), an actress in her 40's who lives on a house by the sea in Malibu. Marie feels there is something missing in her life, and we watch as she contemplates which direction to go in to find what she's looking for.
(No trailer yet for All The Light In The Sky)
Antiviral
(Director Brandon Cronenberg)
In this gruesome, thrilling take on body-horror, director Brandon Cronenberg delivers a fantastic feature debut that channels his father's legacy while successfully establishing his own cinematic style. Antiviral follows Syd March, played by the gifted Caleb Landry Jones, as he uses his own body as a vehicle to smuggle viruses harvested from celebrities to sell to rabid fans who want to make a connection with their favorite stars on a biological level.
Antiviral trailer:
Wrong
(Director Quentin Dupieux)
Dolph Springer (Jack Plotnick) wakes up to find he has lost the love of his life: his dog, Paul. He embarks on a strange, wacky, comical quest to reunite with his beloved canine friend, and uncovers an unexpected spiritual conspiracy along the way. In Wrong, the follow-up to the outrageously absurd Rubber, director Quentin Dupieux creates a weird, nonsensical world where it rains indoors, dog sh*t has memories, and clocks read "7:60."
Wrong trailer:
There are a lot more wonderful films to look forward to at the festival. Here is the rest of the lineup.
SF IndieFest 2013 Lineup:
28 Hotel Rooms (Matt Ross)
Be Good (Todd Looby)
Berberian Sound Studio (Peter Strickland)
Blue Dream (Gregory Hatanaka)
Born Innocent (Donald Wrye)
Bound By Flesh (Leslie Zemeckis)
Days of Grace (Everado Gout)
Faceless (Tristan Albrecht)
Faces in the Mirror (Boyd Tinsley)
Funeral Kings (Matt & Kevin McManus)
The Ghastly Love of Johnny X (Paul Bunnell)
Ghosts With Shit Jobs (Chris McCawley)
Iceberg Slim: Portrait of a Pimp (Jorge Hinojosa)
I Declare War (Jason Lapeyre & Robert Wilson)
Inside Lara Roxx (Mia Donovan)
It's a Disaster (Todd Berger)
The International Sign for Choking (Zach Weintraub)
The Last Elvis (Armando Bo)
The Legend of Kaspar Hauser (Davide Manuli)
The Life and Times of Paul the Psychic Octopus (Alexandre Phillippe)
Manborg (Steven Kostanski)
Not in Tel Aviv (Nony Geffen)
The Other Side of Sleep (Rebecca Daly)
The Revisionaries (Scott Thurman)
Sightseers (Ben Wheatley)
Simon Killer (Antonio Campos)
The Story of Luke (Alonso Mayo)
Sun Don't Shine (Amy Seimetz)
Toys Are Not For Children (Stanley Brassloff)
Video Diary of a Lost Girl (Lindsay Denniberg)
Shorts Program
An Animated World
Bouquet of Pleasures & Pains
Cults, Manholes & Slide Rail Riders
Defying the Limits
Hilarious & Entertaining Adventures
Innocence Bursting
Uncanny Shorts-Past & Present