2013 CAAMFest: Seeking Asian Female, Old Romances, Mekong Hotel and more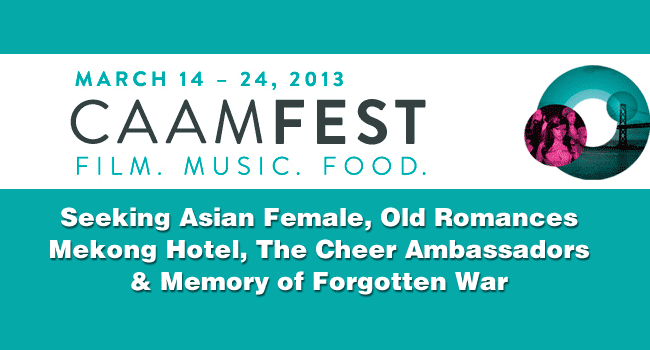 Seeking Asian Female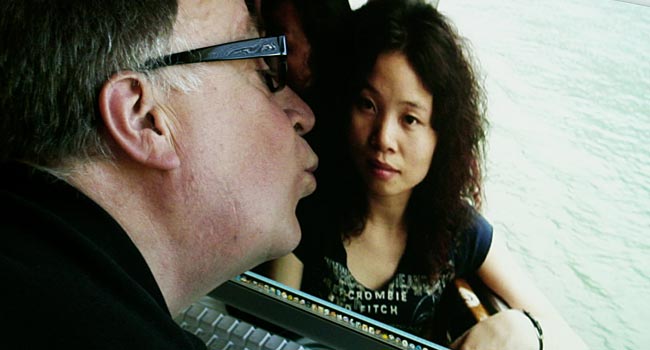 Director Debbie Lum set out to make a documentary about "yellow fever"—the infatuation some older white men have with younger Asian women that can border on fetishism. What she got instead was something extraordinary, something she couldn't have planned for. In the film, she interviews an array of men who are afflicted with the "fever", but partway through the process, makes the decision to focus her story on Steven, a 60-year-old, creepy, off-puttingly enthusiastic man who loves his Asian women (including, to her chagrin, Debbie.) In his online search for a mail-order bride, Steven finds Sandy, a 30-year-old small town girl from China who, upon only meeting Steven twice, agrees to move to California and marry him. Debbie films the fledgling couple through their growing pains and emotional outbursts and reluctantly gets dragged into their plight, acting as their translator and surrogate marriage counselor. Ethically compromised as a filmmaker, Debbie finds herself stuck in the middle of a volatile culture clash that she doesn't know how to escape.
Seeking Asian Female is an endlessly surprising film that's as enlightening as it is entertaining. The taboo subject matter is sure to elicit moans, groans, cynicism, and perhaps even disgust, but Lum's decision to focus exclusively on one couple elevates the story, transcending the original premise. This is a love story, and a fascinatingly dark and unique one at that. It's as engaging a documentary as I've seen in a long time; there are peaks and valleys, twists and turns, moments of dire conflict, and moments of revelation. The ending is unexpected, a complete wake-up call.
RATING: 9
Old Romances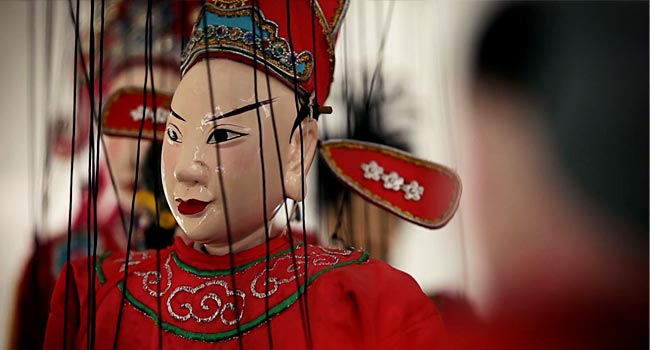 Unbridled nostalgia fuels Old Romances, a warm-hearted homage to Singapore by a native, the infamous Royston Tan. A sort of sequel to Tan's 2010 film, Old Places, Old Romances follows the same simple and straightforward format as its predecessor: Tan shows us footage of various public meeting places in Singapore—cafes, shops, parks, etc.—and accompanies it with audio of people sharing their fondest memories of the local spots. It's a cinematic time capsule, capturing these places as they were before they inevitably vanish (several of the locations from Old Places are now gone.)
Tan chose to have the different members of the public share their memories over the phone and use that audio in the film, a brilliant decision that gives the sense that we're having an informal chat with the Singaporeans about their beloved haunts. The soundtrack is eye-rollingly generic and often unnecessary; the ambient sound from the locations is as much a part of the story as the images and would serve as the perfect sonic backdrop for the film. Old Romances is an earnest, pleasant film that's also somewhat underwhelming.
RATING: 6.9
Mekong Hotel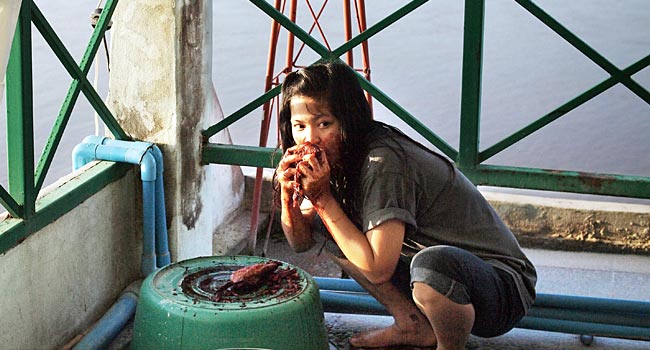 A fourth wall-breaking experimental film from Apichatpong Weerasethakul, Mekong Hotel has a few thoughtful and resonant moments, but is ultimately flat, indulgent, and doesn't provide enough to chew on for it to be worthwhile. The film makes shifts from an existential love story about a boy and girl, to scenes of an intestine-eating, soul-possessing ghost mother, to footage of the actors not acting at all, speaking about their real life experiences. The only constant throughout the film is the titular hotel and the ever-present Mekong River.
Part fiction, part documentary, Mekong Hotel's experimental shifts in reality, reminiscent of Abbas Kiarostami's work, would be exciting if only there were something more to latch on to. There is some interesting symbolism going on here—the ghost mother eating her daughter's intestines illustrate Thailand's desperation—but the impact of the symbolism is stifled by Weerasethakul's lingering…lingering…lingering camera and the tiresome, overused guitar songs that are plastered over nearly every moment. There's something interesting going on under the hood here, but it's a chore to watch.
RATING: 4.8
The Cheer Ambassadors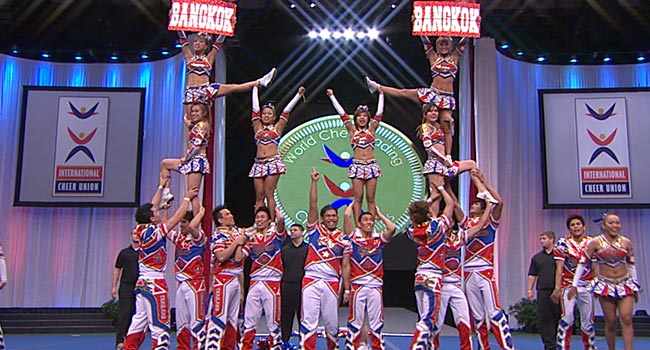 A slightly above-average underdog sports documentary, The Cheer Ambassadors provides everything you expect from the subgenre; an undersized, underrated, hard working team with a dream, their battle through obstacles and hardships on their rise to the top, and of course, the team's nail-biting, exhilarating performance on the biggest stage in the world. Following the cheerleading squad from Bangkok University in Thailand on their journey to the cheerleading world championships in Orlando Florida, The Cheer Ambassadors tells a remarkable story in an all-too-familiar fashion. You won't find anything unexpected here, but it's a well made film that succeeds in endearing its subjects to us—you will undoubtedly feel compelled to get up and…ahem…cheer the kids on by the film's climax. Team Thailand's story is extraordinary, but as a film, The Cheer Ambassadors is nothing special.
RATING: 6.1
Memory of Forgotten War
We often forget how devastating and life-changing war can be on a personal level for the individuals involved. The broader world implications are typically given all the attention, but Memory of Forgotten War puts a spotlight on how the aftermath of the Korean War changed the lives of Korean families forever. The 38th parallel, the resulting division of Korea into North and South after World War II, literally split families in half, forbidding them from making any contact with each other. Director Deann Borshay Liem interviews Korean civilians who immigrated to the United States following the war as they share their harrowing memories and mourn the lost time with their families that they will never get back. It's a heartbreaking situation that is sadly still relevant today, and Memory of Forgotten War is an important and well-constructed insight into the issue.
RATING: 7.2