Fantasia 2015: Experimenter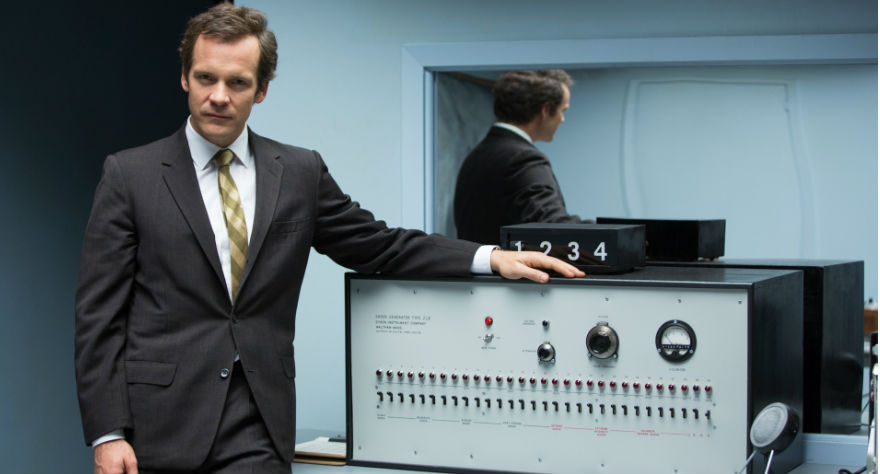 The name Stanley Milgram might not ring a bell for a lot of people, but his work as a social psychologist might. Milgram had a hand in creating some of the most fascinating social experiments in the 20th century (one of his experiments helped introduce the concept of "six degrees of separation), with his most famous study being the obedience experiments he conducted at Yale in the 1960s. His obedience experiments revealed a disturbing truth about society and people's willingness to obey authority figures even if they don't want to. Milgram helped expose a fundamental flaw in humanity's own construction of itself, and even today some people turn a blind eye towards Milgram's findings. Taking a cue from Milgram's work, writer/director Michael Almereyda has crafted a brilliant biopic of Milgram with Experimenter, one that's playful, enlightening and subversive from beginning to end.
Taking advantage of the fact that his subject spent a living experimenting with confronting societal norms, Almereyda continually messes around with the norms and structures of biopics and filmmaking in general. Milgram narrates and addresses the camera directly, frequently breaking the fourth wall and discussing his life with an omniscient tone, while the film frequently embraces artifice in its form: rear projection, theatrical sets, blending in documentary footage, asides detailing other social experiments from Milgram's colleagues, and at one point making the term "elephant in the room" more literal than metaphorical. Almereyda's direction is nothing short of brilliant here in the way it channels the spirit of Milgram into its own conception.
Peter Sarsgaard plays Milgram, and even he seems aware that this is his best role in years, relishing in his character's charm and playfulness. Winona Ryder also does a great job playing Milgram's wife Sasha, turning what could have easily been a thankless role into one that carries the film's emotional weight. Both actors are part of a strong, eclectic ensemble (including John Leguizamo, Jim Gaffigan, Taryn Manning and Anton Yelchin), but this is really Almereyda and Sarsgaard's show. It will be hard to imagine any other biopic topping Experimenter this year.