Comic-Con: What's Ahead for 'The Walking Dead'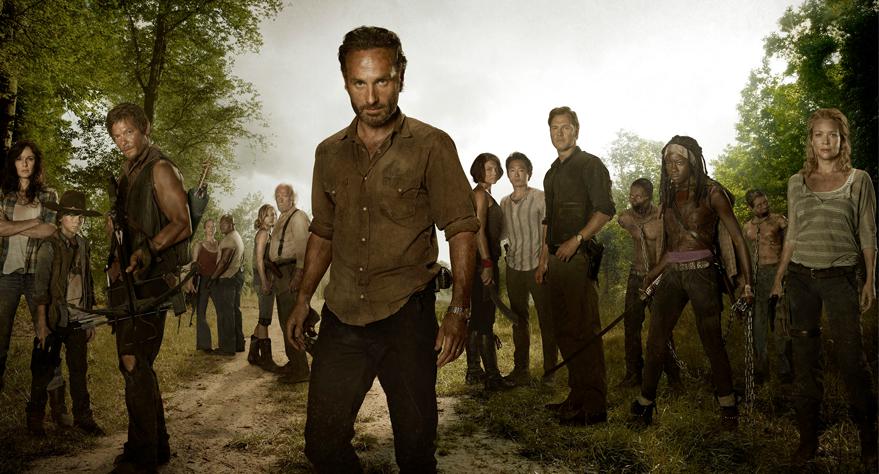 The Walking Dead panel gave fans a good idea of what to expect for season 6, beginning almost immediately with a trailer for the upcoming season—premiering in a 90-minute episode on Sunday October 11 at 9pm—that opens with lead character Rick Grimes running, and running hard. Not a new sight after five seasons of the show.
Most notable from the trailer is Morgan (Lennie James) joining the clan at Alexandria after having trailed Rick throughout last season. The trailer alludes to some tension between Rick and Morgan but showrunner Scott Gimple, immediately after the trailer played, admitted to the show's notorious tendency to spin previews into misleading audiences from clues to what is upcoming.
The most interesting part of the trailer, for fans, was at the very end, where fan-favorite Darryl (Norman Reedus) is seen bound with a gun to his head by the leader of the Wolves, the menacing group we've only begun to see introduced as a threat to Rick and co. Interesting to note, Ethan Embry was featured as a new cast member in the trailer and Gimple revealed Merritt Wever would also be joining the cast.
Panel moderator Chris Hardwick led most of the cast of the show, Gimple, and executive producers Gale Anne Hurd and Greg Nicotero through questions around upcoming story and character development.
Gimple did say there would be more flashbacks in the new season, saying a whole episode may be entirely in flashback and that they would "definitely be playing with time."
He also said the Wolves will play a part in a way audiences won't expect. Andrew Lincoln, who plays Sheriff leader Rick Grimes was asked about his characters' final facial hair moment this past season. Does he miss the beard? He stated, "My wife doesn't miss it" and joked about how co-star Steven Yeuen remarked after the shave that he looked like he had a shrunken head.
Hardwick asked Yeuen about Glenn—his character—and one of his storylines this past season: Glenn's frustrating decision not to kill Nicholas. Yeuen spoke about Glenn's desire for Nicholas's redemption and his own need to save himself. But he did joke he wouldn't trust Nicholas to push any revolving doors.
It was Lennie James's (Morgan) first time on the panel. He spoke about Morgan and Rick's "particular man-love" hinting that maybe things won't be quite so tense between Morgan and Rick next season like the trailer insinuates.
Sonequa Martin-Green spoke passionately about the arc of her character Sasha, saying it was an honor to portray PTSD in honor of those who have suffered and that she thinks Sasha will find hope at the end of the tunnel.
Audience favorite Norman Reedus was initially given some rather bland questions including what he does to get into character—Motorhead and Candy Crush as it turns out—and for the record his favorite emoji is the red balloon. Eventually he was asked his predictions for Darryl next season. He commented that Darryl isn't into suburbia so he's likely to be getting restless.
As has become tradition they played a blooper reel and the cast showed their tightknit comradery and senses of humor. Andrew Lincoln admitted his mother would like Rick and Michonne to get together. Gimple says he'll take note.
The 90-minute season premiere will preview at Madison Square Garden and fans can catch up on all the seasons as AMC shows an entire season every Sunday starting later in July.