Comic-Con 2014 Day 2: The Anti-Harry Potter, Guillermo's Cartoon, & Kevin Smith Swears Up a Storm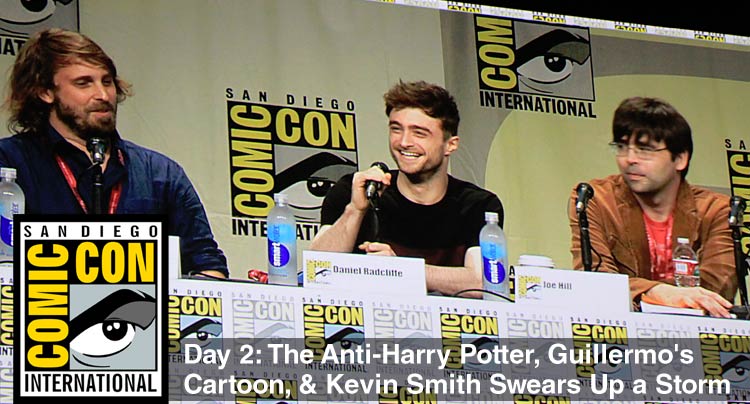 Friday at Comic-Con in Hall H was primarily focused on two of television's hottest shows, The Walking Dead and Game of Thrones. We won't bore you with television news, but… oh, who are we kidding? If you love good films, chances are you watch both of these amazing shows and therefore should know you can check out the new preview of The Walking Dead Season 5 here, and be sure to catch the gag reel from Game of Thrones here.
Alright, on to movie news.
RADiUS-TWC Preview Horns and Everly
The first film-related panel of the day showcased two of RADiUS-TWC's upcoming films, Everly and Horns. To speak on Everly was the film's lead, Salma Hayek, and director Joe Lynch. The film is the story of a woman whose mob boss ex-boyfriend decides he wants her killed. She holes up in her apartment and defends herself agains the would-be assassins one by one. Lynch talked about his excitement to make a film starring a badass woman and "strong female character" which he said shouldn't even be a term any more as a female ought just to be allowed to be a "strong character." No argument here.
Salma talked about the difficulty of making a film shot entirely in one small location, as well as Lynch's decision to shoot chronologically. For good measure she also mentioned that she "barely wear[s] anything at all through the whole film."
The real meat of this panel was when director Alexandre Aja, writer Joe Hill, and star Daniel Radcliffe (and let's be honest, mostly Radcliffe) made their entrance to show off Horns. Based on Hill's novel, the film stars Radcliffe as Ig Perrish, a young man who wakes up one morning to discover he's growing horns. His new accessories are fitting as he's been demonized in his hometown for a year since his girlfriend Merrin (Juno Temple) was murdered and the finger of blame was pointed at Ig. With his horns comes the disturbing gift of getting anyone near him to reveal their darkest secrets and innermost evil desires. At first alarming Ig soon realizes he can use his new gift to track down who really killed Merrin and force them to confess to it.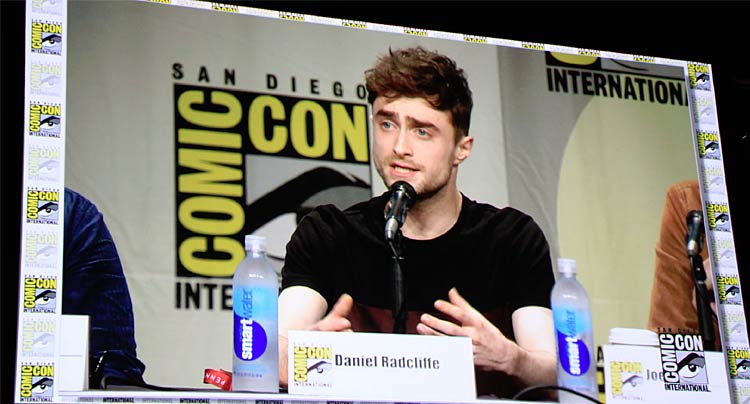 After a full-audience rendition of "Happy Birthday" for Radcliffe, who just turned 25, Hill, who looks plenty like his father Stephen King and has his voice, remarked on the splendor of Hall H saying "Joss Whedon's butt sweat once graced this chair. I can almost feel his essence wafting up to me."
After that weirdness they showed an especially fun clip from the film where Ig convinces some reporters hounding him that they ought to fight each other before doing some investigating at a local bar. The bartender ends up starting the place on fire, and Ig walks coolly out the front door with smoking billowing around him, horns protruding, with a red shirt, yellow hoodie and great brown leather jacket. (Any similarities to Gryffindor colors were exclaimed to be purely coincidental — "I'm too young to be referencing my own past work in my new films" joked Radcliffe.)
Of course the audience got a bit swoony, unable to keep from asking Radcliffe questions that related this role to Harry Potter. He very eloquently spoke highly of his experience with the franchise and explained how much he loved the script for Horns immediately, finding himself quite drawn to the dark anti-hero Ig. Aja chimed in saying "Potter was only the beginning of something great."
Based on what we saw the film has a bit of ridiculousness (how could it not with that premise?) but looks thoroughly enjoyable.
20th Century FOX Presentation
Next up was the two hour jam-packed presentation from 20th Century Fox. First on their slate, The Maze Runner, which they teased by immediately showing an extended look at one of the opening scenes in which teenager Thomas (Dylan O'Brien) finds himself in a fast-moving elevator which opens into a grassy glade surrounding by tall stone walls and filled with many other boys his own age and he himself can't remember his own name.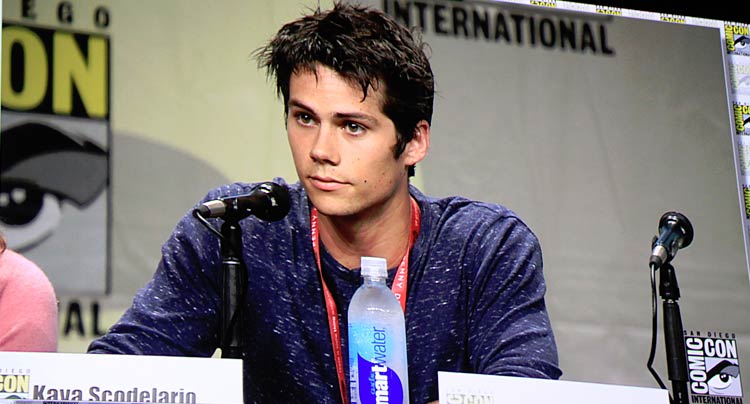 Then out came director Wes Ball along with the author of the novel, James Dashner, followed by cast members Will Poulter, Kaya Scodelario, and Dylan O'Brien. They answered a few questions around the film, while audience questions focused mainly on the book series and Ball revealed they are hoping to complete the entire series, even showing a conceptual poster for The Scorch Trials, the title of the second book. Another long clip was shown of the bug-like creatures that terrorize the boys as they run through the maze. Things got slightly awkward when O'Brien accidentally let slip a spoiler that really wouldn't surprise readers of the book, but was a bit of a giveaway for those who will just be seeing the film.
Next up was Jorge Gutierrez's colorfully vibrant cartoon, Book of Life. Showing a longer trailer for the film, it really does look impressively creative with breathtaking animation. (Here's the first trailer.) Championing on behalf of the film was Gutierrez, producer Guillermo del Toro, Channing Tatum, Rob Perlman, and Christina Applegate. Always a fan favorite at Comic-Con, del Toro received the biggest welcome and was eloquent with his responses to questions regarding the film. The man has always been good in deciphering the difference between being a film's director, and thus owner, and a film's producer, which is when he plays advocate.
While del Toro is always geeky charming, and there were plenty of questions for Channing Tatum, especially one alluding to his best asset being his "visual" ones and not necessarily his voice, the real charmer was director Gutierrez who spoke with childlike enthusiasm about his childhood in Mexico and his deep connection with Dia De Los Muertos, a day when the dead are honored and believed to commune with the living.
The panelists left with the audience chanting "Hellboy 3" and del Toro smiling ear to ear.
Next up was Hitman: Agent 47, based on the video game. The film stars Rupert Friend, who sent in a short video hello introducing the first trailer. Clearly his work on Homeland has prepped him well to be a calm collected super-human assassin. The film looks ho-hum and the brief panel with Hannah Ware and Zachary Quinto didn't inspire much enthusiasm for the film, just a few thank yous from fans to Quinto for his Star Trek work.
Next was a hilarious preview of New Girl co-stars Jake Johnson and Damon Wayans Jr.'s film Let's Be Cops. The extended trailer does indeed look hilarious, albeit completely ridiculous. Jake Johnson sent in a video as he's currently filming Jurassic World (I mean honestly, what is that movie even going to be like with all these comedians?!) that showed him in a hotel with a long-haired, thong clad man. Weird. Funny. Everyone involved, including Nina Dobrev, Rob Riggle, and Keegan-Michael Key, all sounded like they had a lot of fun filming it.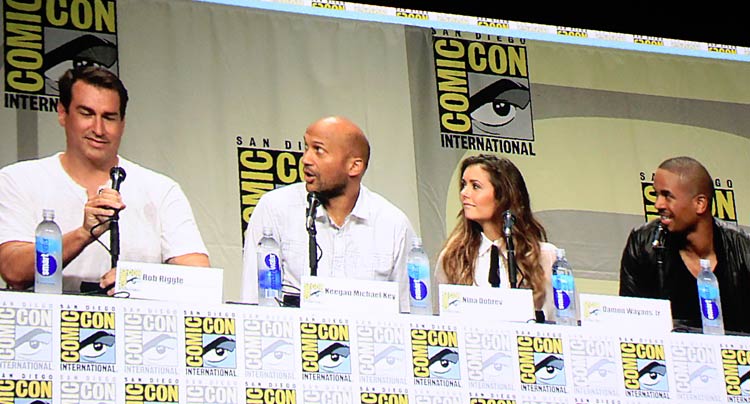 Last in this jam-packed panel was more on Kingsman: The Secret Service. First a video with Mark Hamill, who has a role in the film, introduced an extended scene from the film. In the scene Colin Firth's secret agent character smoothly takes out some local thugs who give main character Eggsy (Taron Egerton) a hard time. The film looks action-packed and surprisingly clean for a comic-book adaptation. Perhaps because the main villain, played by Samuel L. Jackson hates the sight of blood?
At any rate it certainly looks like an interesting addition to the action-packed films on the roster this weekend and seeing Colin Firth and Samuel L. Jackson in the same panel was not something I'd have imagined every seeing.
The Musk of Tusk: An Evening with Kevin Smith
After a jam-packed day an hour and a half listening to Kevin Smith babble on was almost soothing. Known as a yearly frequenter and panel giver at Comic-Con, this year Kevin Smith started by giving Comic-Conners exactly what they'd want to hear: insider info on the new Star Wars film. Smith is one of the privelaged few who had the chance to visit the film's set in London by invitation of JJ Abrams. Smith, while careful not to break his NDA, told an extended story (is anything LESS than extended with him?) about walking onto set and going aboard the Millennium Falcon.  He then segued strangely well into a sex-story concerning his wife. And that's Kevin Smith for you. He got surprisingly more audience questions in than you'd think, considering how long-winded he is. Two of those questions were from children and it was hilarious to watch him try to keep his swearing at a minimum (as if they hadn't JUST heard the sex story).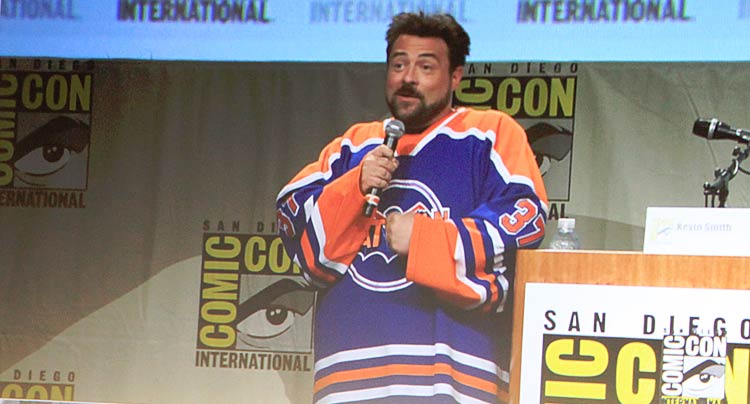 Eventually Smith revealed that Tusk is what he considers to be his best film to date, and he's also working on a film he hopes children, especially girls will love, called Yoga Hosers. Finally Smith gave us the first trailer for Tusk, which he elaborately explained came from an idea developed during one of his podcasts, called Smodcast, where he discussed an ad someone in real-life posted about wanting someone to come stay with them and agree to dress in a walrus suit. Smith began to speculate this would make a great horror film, where the man actually wanted to turn his house guest INTO a walrus. After spitballing the premise, Smith got Twitter to affirm his decision to make the film with the hashtag #WalrusYes, and here we are a year later and his film is coming out in September.
The trailer is fantastic. In it, Justin Long plays a podcaster who travels to Canada to interview his latest subjective for his podcast and discovers the old man (Michael Parks) actually wants to keep him hostage and turn him into a walrus. It's completely bizarre and looks delightfully creepy AND very Kevin Smith-ish, with Justin Long cracking a joke at the end of the trailer that he "doesn't want to die in Canada." It looks great, and you can check out the trailer here. After the trailer, actors Genesis Rodriguez and Haley Joel Osment came out to about their roles in the film.
In closing Kevin Smith assures us that though the trailer doesn't explicitly show it, "We do turn him into a f***ing walrus. And it is f***ed up."
It looks fantastic and it would be wonderful to see a Kevin Smith film we can get behind after all these years.