Coachella 2013 Lineup Announcement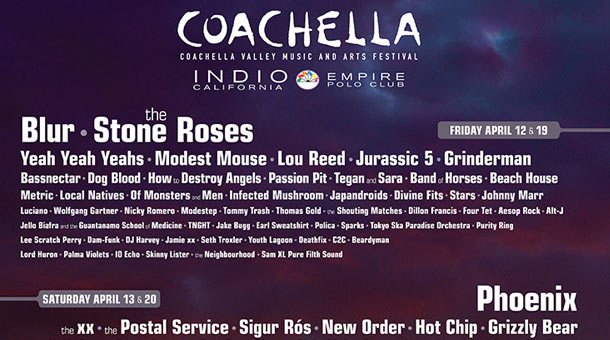 Last night saw the release of the lineup of this year's edition of the Coachella Valley Music and Arts Festival. Headliners are The Stone Roses and Blur for Friday night, Phoenix hold their own on Saturday night and the Red Hot Chili Peppers close out the festival on Sunday night. Some of the notable undercard includes: Yeah Yeah Yeahs, Lou Reed, Modest Mouse, newly reformed Jurassic 5, Grinderman on Friday night. Saturday night's subheadliners are the XX, The Postal Service, Sigur Ros, New Order, Hot Chip and Grizzly Bear. Helping the Chili Peppers close out the fest are Nick Cave and the Bad Seeds, Vampire Weekend, Social Distortion and The Wu Tang Clan.
I'll be sincere, when I first saw the lineup I thought I was being punk'd. First of all, I can deal with The Stone Roses and Blur, but as headliners? I'm not entirely sold. Phoenix is another band that I'm really not that into. I watched part of their set the last time they played Coachella (2010) and it was fine, but again. Headliners? But to be honest, it's the Red Hot Chili Peppers that bothered me the most. This to me feels like a contingency plan. If the Rolling Stones rumor (that Golden Voice, Coachella promoters, were courting them and failed) is true, then they must've called up Kiedis and the boys to fill in. I don't hate the Chili Peppers, but this is their third time headlining now and let's face, they've become kind of boring.
But this was all last night. All the sadness and anger I had for this lineup needed to be slept on. Ironically, I had a dream that the Chili Peppers were doing sound checks at my house. I woke up this morning and looked at the lineup. I'm becoming more open to this lineup as the time wears on.
Enough crying from this writer, what bands am I excited to see? Being a big Trent Reznor fan, I could never contain my school girl giddiness for the debut performance of his newest group How to Destroy Angels. Yeah Yeah Yeahs, Bassnectar, Dog Blood, Beach House, New Order, Knife Party, Moby, Benny Benassi, Simian Mobile Disco, Yeasayer, Spiritualized, Ritchie Hawtin, Major Lazer, Dropkick Murphy's, Bat for Lashes, Nick Cave and the Bad Seeds, Pretty Lights, Tame Impala, The Faint, Paul Oakenfold are the artists I'm looking forward to the most.
Over the course of the next couple of months I'll be dividing my time between Spotify and Youtube, checking out which artists I may want to entertain as well. One of the best parts of Coachella is checking out some random artist in some tent that you've never heard of before and they turn out to be one of your favorite sets.
The festival this year runs over the course of two separate weekends in a row. April 12th-14th is the first weekend and April 19th-21st is the second weekend. I'll be in attendance during weekend two. Expect another article about my "planned" itinerary for the festival a few days before weekend two. I'll do my best to report from the festival on a daily basis, but odds are leaning towards a full festival wrap up when I get back. If you want immediate updates during the festival, you can always follow me on Twitter @WayTooIndie.
See the full 2013 Coachella lineup poster of bands below.