Cinéfranco 2015 Preview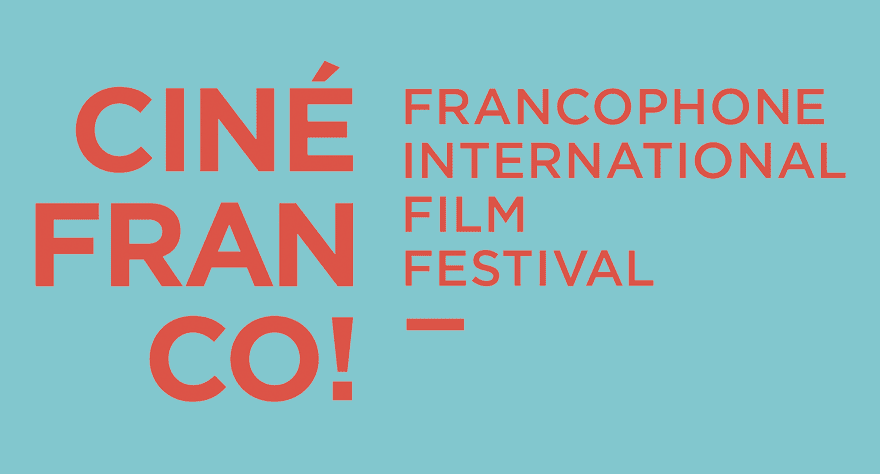 We're all a little festival crazy here at Way Too Indie, but it's hard not to be. Sometimes weekly theatrical releases aren't as enticing as the opportunity to binge on cinema you might never get to see again, and Cinéfranco 2015 has that in spades. Now in its 18th year, Cinéfranco continues to celebrate Francophone cinema from around the world. That means you'll get the chance to see a fair amount of films from France, along with other French-speaking countries like Morocco, Belgium and Tunisia, and many others. It's a celebration of great cinema united by one of the great languages.
Some of us at Way Too Indie were lucky enough to see some of what Cinéfranco is offering this year, including a wide variety of female talent both in front of and behind the camera. Read on below for our thoughts on some of the films playing at the fest, along with a preview of one of Cinéfranco's FREE two short films programs. That's right, both short film programs are free (read on below for more information). It's an opportunity to meet filmmakers, film fans, and watch excellent cinema you might never get the chance to see in a theatre again. Sounds like a pretty good deal to us.
The Cinéfranco 2015 Festival will take place between April 10th and 19th in Toronto, Ontario. To find out more information about all the films playing, the FREE shorts programs, and to buy tickets, visit http://www.cinefranco.com/
Tokyo Fiancée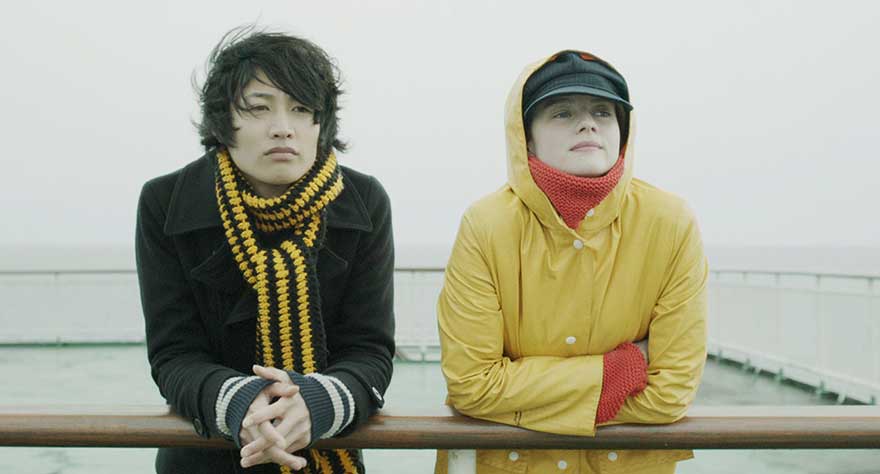 Pauline Etienne plays Amelie, a 20-year-old Belgian writer who heads off to Tokyo after a lifelong love for Japanese culture. Etienne's youthful energy is transfixing in director Stefan Liberski's adaptation of the semi-autobiographical book by the same name.
Once in Japan, Amelie earns her modest wages as a French tutor, quickly meeting and befriending Rinri (Taichi Inoue), an equally outgoing and energetic 20-something Japanese boy. The relationship quickly becomes one of mutual learning—Amelie corrects Rinri's novice French as he takes her on a tour of everything Japan has to offer, from food to a hike up Mount Fuji.
Where the film begins to open up is when cultural rules begin to confine rather than embolden the couple. While never losing its light tone, Tokyo Fiancée manages to be both a lighthearted romantic comedy and a beautifully subtle reminder of a time when childhood illusions of grandeur start fading into the grayscale of reality.
While there's not an incredible amount of action—or come to think of it, a wild amount of laughs—the chemistry between Amelie and Rinri is addictive if just for the energy the leading actors bring on screen. An ultimately satisfying jaunt through a relationship that could only happen at a certain point in a young person's life, Tokyo Fiancée should please as Cinéfranco's opening night film. [Susan]
Screens Friday, April 10th at 7pm
In the Name of my Daughter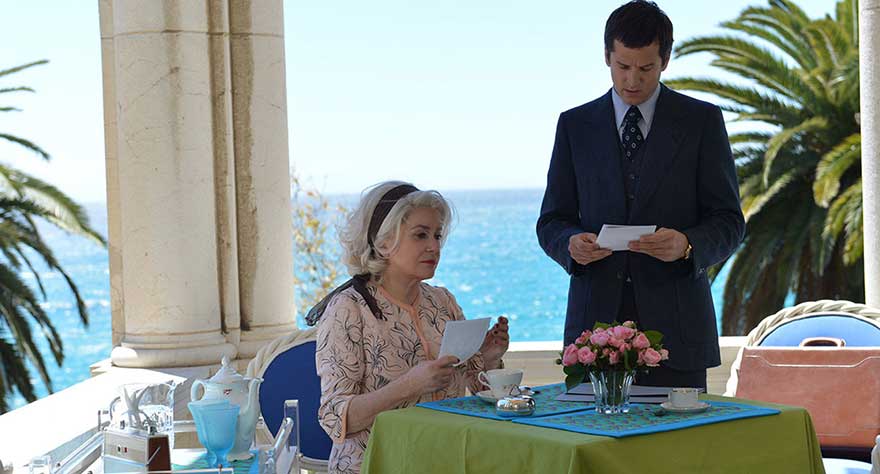 André Téchiné's In the Name of My Daughter will probably surprise audiences once they learn that it's based on the true story of a notorious court case in France. Starting in the 1970s, Agnès (Adèle Haenel) returns home to her mother Renée (Catherine Deneuve) after her marriage falls apart. Agnès is the heiress to a fortune, as her mother is one of the shareholders of a major casino on the French Riviera. With the help of her lawyer Maurice (Guillaume Canet), Renée manages to take over the casino's operations, but she faces hurdles from an aggressive buyer, as well as Agnès and Maurice.
It takes a long, long time before Téchiné gets to the major event: Maurice and Agnès fall in love, Agnès goes mad with passion while Maurice gets more distant, and then one day Agnès vanishes without a trace. The film's first hour spends most of its time half-assedly going through a boardroom drama, with Renée, Maurice and Agnès strategizing to get control of the casino, before focusing entirely on Agnès before her disappearance. Great performances by Haenel, Canet and especially Deneuve keep things afloat, along with some striking scenery of the French Riviera, but for the most part this is a slog. And just when the story seems like it's wrapped up, it gets worse; the last act jumps ahead to the 90s, where the cast gets awful old age makeup plastered on them so they can act out a courtroom drama. The real life case In the Name of My Daughter is based on—which is still going on in court today—is brimming with potential to turn itself into a great film. Unfortunately, In the Name of My Daughter is not that film. [C.J.]
Screens Saturday, April 11th at 2pm
Party Girl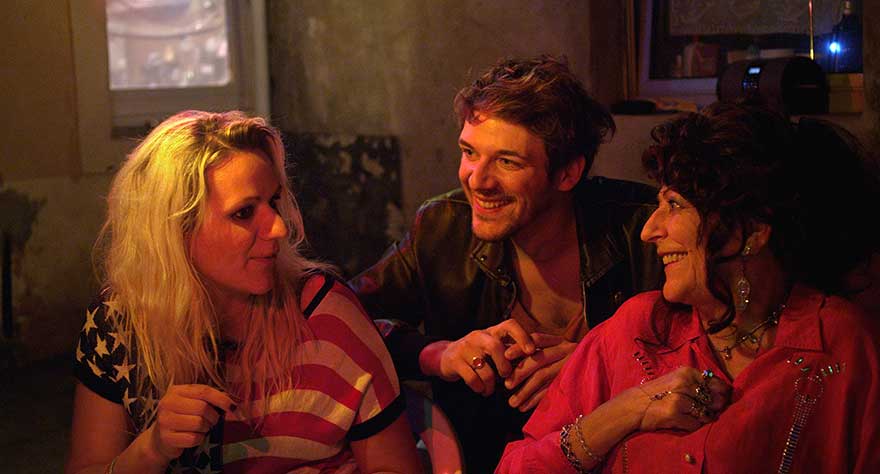 I'm not as down on Party Girl as fellow writer Nik Grozdanovic was when he saw it at Cannes last year, but his review nails one of Party Girl's big problems down perfectly. It doesn't take long to understand that sexagenarian Angélique (Angélique Litzenburger) won't be able to ditch her partying lifestyle for a quieter life, so when regular client Michel (Joseph Bour) proposes to her, it doesn't take a lot of effort to guess where the film will end up. Unfortunately, that means sitting through over 90 minutes of passably entertaining, vérité scenes between Angélique and her friends and family. This isn't a bad thing necessarily. It just gets stale, since the film's three directors (!) keep circling around the same themes up until the predictable conclusion.
But Party Girl does have one trick up its sleeve that makes it hard to dismiss. Litzenburger is one of the co-directors' real-life mother, playing a variation of herself. The story is largely based on her own life, and her four children—including the co-director himself—also play themselves. It's a mix of reality and fiction that never feels cheap or forced (one of Party Girl's strongest parts is its naturalistic tone). There's a scene early on where Angélique reunites with her estranged teenage daughter, who was taken away and put into foster care when she was 6. The reunion scene is not only emotionally affective on a basic level, but the fact that it's between Litzenburger and real-life daughter gets the mind racing about whether or not the scene is fact-based or purely an invention. It's those kinds of moments that help explain why the film ended up walking away with the Caméra D'Or at Cannes. [C.J.]
Screens Sunday, April 12th at 4pm
The Slasher of Tunis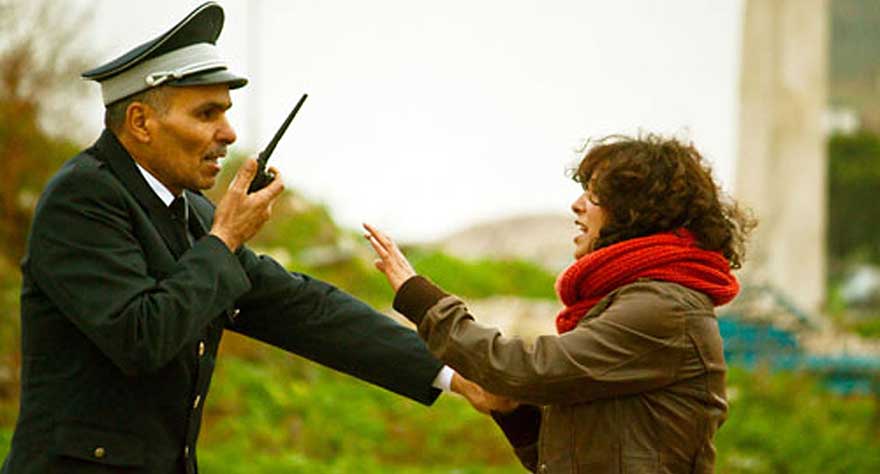 Director Kaouther Ben Hania's documentary The Slasher of Tunis seeks to track down a man that's been allotted to Tunisian myth: the infamous Challat (the blade). In 2003, the unidentified criminal drove through the streets of Tunisia on a motorcycle slashing the backsides of 11 women. As the rumor goes, he hoped to correct the behavior of women wearing inappropriate clothing. What's bizarre about the early parts of Hania's film is not the inflammatory antagonist, but the fact that most of her early interviews seem to empathize with The Challat, not his victims. Not easily deterred, Hania makes her obstacles part of the film, showcasing abuse she receives when trying to enter the prison even with a permit, showing interviewees and even government officials lying directly to her, and having more than one door shut in her face.
Most documentaries would rightly zoom the lens outward to not just focus on the man behind the crimes but to showcase the culture that allowed such a situation to exist. The Slasher of Tunis boldly takes one step even further, laying the blame on the culture itself through interviews with religious figures who seem to condone the action and through her own interactions with interview subjects. It's at times an uncomfortable documentary to watch—but maybe that's a job well done—because for the victims there is no refuge. As one woman says, "I felt as if I'd been attacked by the whole society." The Slasher of Tunis is an important documentary about the power of social injustice and marginalization in a region often underrepresented by film. [Susan]
Screens Monday, April 13th at 9pm
Marie's Story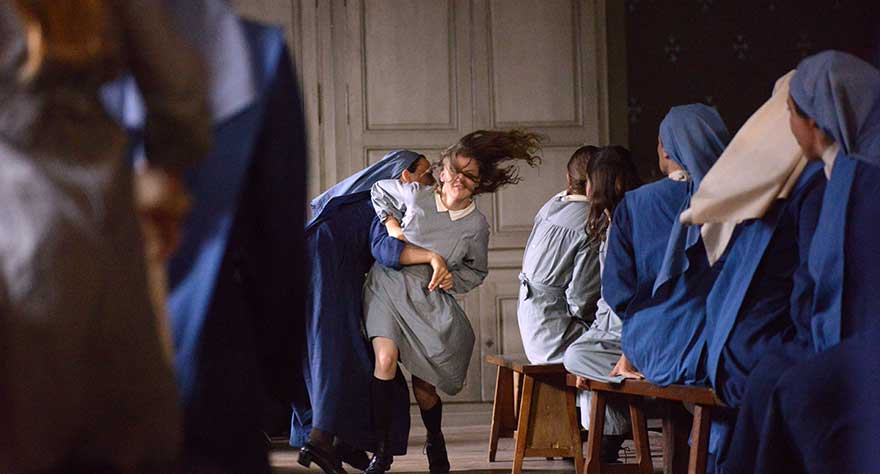 Most people know the story of Helen Keller, the girl born deaf and blind who learned to communicate thanks to her tenacious teacher Anne Sullivan. Keller and Sullivan's story is immortalized in Arthur Penn's 1962 film The Miracle Worker. What most people don't know is that five years after Keller was born in the US, another deaf and blind girl was born in France. That girl had a teacher every bit as tenacious as Ms. Sullivan, except she was a sickly nun. The girl is Marie Heurtin, the nun is Sister Marguerite, and their story is told in Marie's Story.
The film opens with a teenage Marie (Ariana Rivoire) being taken to a convent by her father. The convent specializes in teaching deaf girls, but Marie's wild-child behavior and violent outbursts are too much for the nunnery. However, Marie makes an unexpectedly tender connection with Sister Marguerite (Isabelle Carré), a nun whose specialty is gardening, not teaching. After some coaxing, Marguerite convinces Mother Superior to let her take on Marie as a personal cross to bear.
Director Jean-Pierre Améris crafts a tale that bears a striking resemblance to The Miracle Worker, but more goes on here than first not succeeding and trying again. All of Marguerite's strength is front-loaded in the film, but as her illness takes its toll, her body and faith weaken (a mesmerizing conversation between Marguerite and Mother Superior is well worth the price of admission). This depth provides a rich surprise to an otherwise solid, straightforward story.
The film's stars are radiant. As Marguerite, Carré finds amazing physical strength that belies her petite frame, and amazing emotional depth that belies her perpetually cheerful face. And Rivoire, born deaf (though not blind), turns in a revelatory debut. For every wild-child scene she makes crackle with her physicality, there are quiet scenes where so much subtlety offers so much emotion. Marie's Story—as both story and movie—is a delight. What sets this small French film apart from its Hollywood cousin, though, is how its exercise in willpower and determination gradually transforms into a deeper reflection on faith and mortality. [Michael]
Screens Tuesday, April 14th at 9pm
Not My Type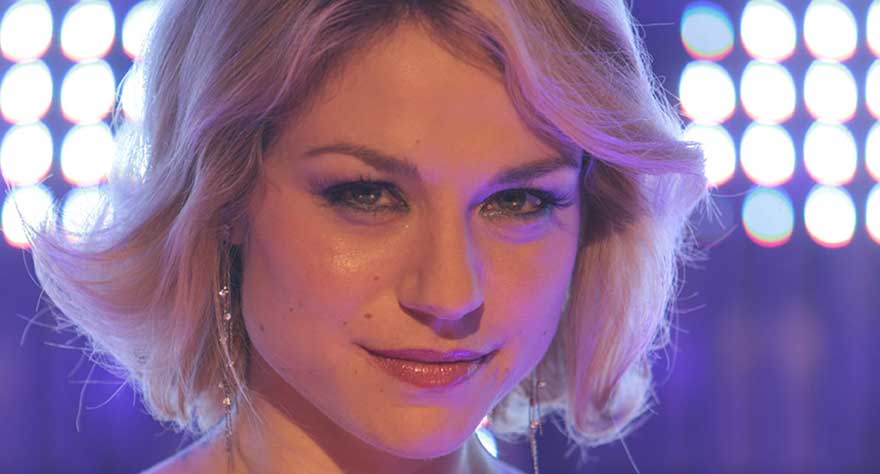 Not My Type sounds like the textbook definition of a Euro romcom. Philosophy teacher Clément (Loïc Corbery) gets transferred from Paris to Arras for one year, a change that sounds like a death sentence to the handsome Parisian. After settling himself in, he meets Jennifer (Émilie Dequenne), a hairdresser in the city, and asks her out on a date. The two have an undeniable chemistry between each other, but their respective backgrounds and upbringings eventually become a hurdle neither are sure they can get over if they want to continue staying together.
Writer/director Lucas Belvaux (adapting the novel from Philippe Vilain), amazingly avoids the kind of high class/low class humour one could easily expect a romantic comedy like this to fall into. Instead, he puts the emphasis on romance over comedy, spending plenty of time developing Clément and Jennifer's relationship before delving into the fundamental differences between the two lovers. It's surprisingly complex, with most of the major turning points relying more on low-key, subtle differences that slowly add up (case in point: one of the film's major catalysts gets triggered by the way one person introduces their significant other to other people). Belvaux also seems to have lucked out with two incredible leads. Corbery perfectly embodies Clément, but the real stunner is Dequenne, who gives one of the best performances I've seen in years. The film's climactic scene, featuring Dequenne singing Gloria Gaynor's "I Will Survive," will go down as one of the greatest sequences I've seen all year. A must-see at the festival. [C.J.]
Screens Saturday, April 18th at 5pm
A Stranger in a Cab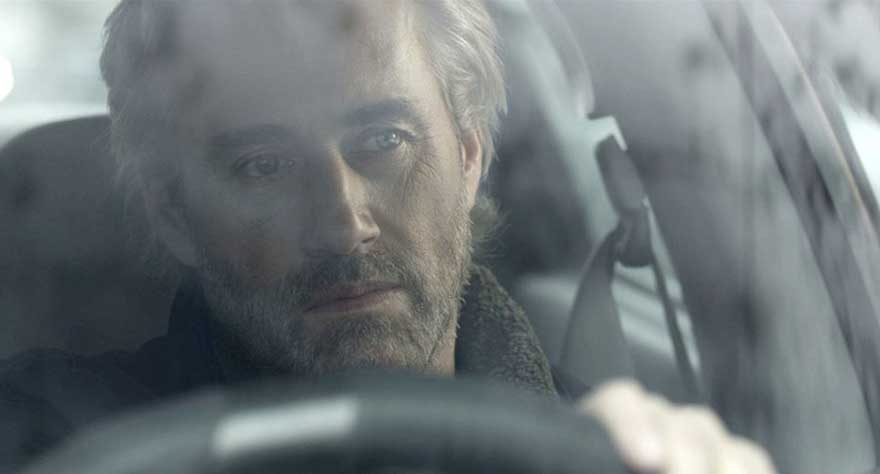 Andre Kosinki (Roc Lafortune) drives a cab in Quebec, a job whose tedium seems almost a refuge from the chaos falling down around him. His sister is terminally ill, he's estranged from his wife, and his 20-something son has the stunning personality allotted to alcoholics. Andre's mostly quiet day-to-day cab duties get disrupted when Marianne (Chrstine Beaulieu), a clearly distraught young female passenger, utters the words "I don't want to be alone." The sentence ushers in a bizarre series of events that finds the two strangers walking into her house and quickly into her bed.
I'm big on character development and motivation, so when the two leads were already shacking up within the first 15 minutes of the movie, I was a bit wary. But director Patrick Gaze's slow-paced film (the plot takes its time to unveil, even if the characters don't take their time to disrobe) doesn't just address character motivations, it obsesses over them.
Even as Andre suspects Marianne might have a dark secret, it remains a film about gut instincts—how sometimes trust and affection is not just found in facts but in something much more basic. As a romance, A Stranger in a Cab feels convincing and honest. Where the plot flounders a bit is in its suspenseful middle third, as Andre tries to piece together a crime scene that Marianne is clearly involved with but unwilling to shed any light on. But as an unlikely story of how two downtrodden strangers can learn to trust again, A Stranger in a Cab makes for a compelling film—and somehow it does it in a way that doesn't feel at all manipulative. There's not a single tear shed as the quiet characters slowly reveal more and more. And I always count it as a success when chemistry is caught with nuance rather than words. [Susan]
Screens Saturday, April 18th at 8pm
Short Films
WTI writer Michael Nazarewycz shares his thoughts on Cinéfranco's second short films program screening Saturday, April 18th. And don't forget to check out the first shorts program, also FREE, taking place on Thursday, April 16th at 6:30pm.
On Saturday, April 18th, at 11am, the Cinéfranco Film Festival will screen a collection of short films for free. With runtimes ranging from 6 to 22 minutes, the seven films in the collection share a common theme: relationships. Whether platonic or romantic, gay or straight, young or old, reciprocated or refused, every character has at least a little emotion on the line in each film. Catching this collection is well-worth the 85-minute combined runtime, not only because it's free, but because several of the films' directors bill participate in a 35 minute round table following the screenings.
Leading off the series is Anatomie (Anatomy), from director Patrick Bossé and starring Gilles Pelletier and Françoise Graton. This look at love and old age is delicate and measured, with an intensity borne of decades of desire.
Next is Le Piment (Pepper), directed by Patrick Aubert. The film takes place the morning after a lesbian couple invites a third woman to spend the night with them. The excitement of the night before quickly gives way to insecurity as truths are revealed. The film stars Chantal Bellavance, Frédérique Proulx, and Eloïse Tanguay Simard.
Ivy Yukiko Ishihara Oldford directs the third film of the day, Point de Mire (Fair Game). Alice and Ève are best friends on their annual hunting trip and alone in a cabin in the woods. Straight Ève thinks lesbian Alice has more than friendly feelings for her, and she tries to make Alice come clean … sometimes forcibly. Marilyn Castonguay and Sarianne Cormier star.
Another wooded setting lends its backdrop to Les Enfants Sauvages (The Untamed Kids) from director Renaud Lessard Ste-Marie. In it, Max and Ariane (Jean-Sébastien Courchesne and Carla Turcotte) spend quality alone time in nature getting to know each other. It's surprising what they have in common.
My screening of Chaloupe, directed by Sophie B. Jacques and starring Stéphane Breton and Rémi-Pierre Paquin, was unfortunately presented without subtitles. I watched it anyway, and from what I gather, two good friends are camping and carrying on what appears to be a simple conversation. During that chat, though, something significant happens. The offscreen finish sounds terrific.
La Canadienne Française (A French Canadian Girl) is the cutest of the bunch. A young couple meets in a laundromat. Terror strikes when the young woman realizes her bedsheets have been stolen. The young man—smitten at first sight—vows to find them. Directed by Charles Grenier.
Finally, director Marie-Ève Juste offers Plage de sable (The Sands). This 22-minute short is sensational, and one I wanted to see stretched into a feature-length film. When a young white woman brings her younger black boyfriend on a weekend getaway with a group of friends (again in the woods), racial and intellectual prejudices are exposed, taking their toll on the young man until he finds a misdirected outlet for his anger.