CFI Education Puts 10 Young Girls Behind the Camera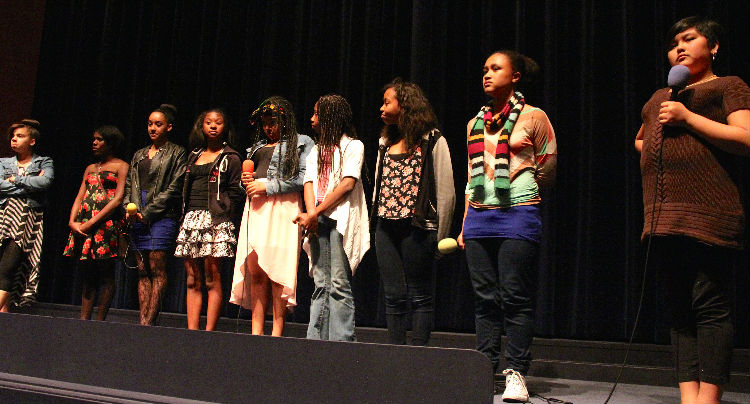 The California Film Institute screened 10 short films made by girls aged 11-14 at the Smith Rafael Film Center in San Rafael as a part of their "My Place/My Story" program.
Designed to familiarize the girls with digital tools like Final Cut Pro and Photoshop to tell a cinematic, autobiographical story, the program had fruitful results, as the ten films (made over the course of five days during the girls' winter break) were varied, inventive, personal, and engaging. Covering themes of friendship, loss, and even suicide, the girls bared their hearts on the movie screen to the delight of the audience, filled with friends, family, and community members.
The young filmmakers who participated in the program were:
Madeline Crawford (14, Willow Creek Academy)
Ta'Naejah Reed (12, Willow Creek Academy)
Nancy Hoang (11, Martin Luther King Academy)
Yamaecha Davis (13, Marin Horizon School)
Aliyah Jackson (13, Lovonya DeJean Middle School)
Shira Loggings (13, Pinole Middle School)
Talaiah Louis (14, Lovonya DeJean Middle School)
Nylah Rose Moore (14, Manzanita Charter School)
Cameron Vickers(13, Mira Vista Middle School)
Terra Wilson (13, Manzanita Charter School)
"The place you call your home could be [anywhere]. Even though the image of Richmond is bad, where you call your home is a safe haven for you," said Madeline Crawford, one of the young filmmakers, in response to a question about portraying her hometown of Richmond–typically viewed as one of the rougher cities in the Bay Area–in a positive light in her film.

This slideshow requires JavaScript.
The films are eligible for entry in the Mill Valley Film Festival's Youth Reel program. The 2014 festival runs from October 2-12.
CFI Education runs several youth-film programs throughout the year. For more info about CFI and their programs visit www.cafilm.org/education