Carey Mulligan-lead 'Suffragette' Has 2 New Trailers, Opening BFI London Film Fest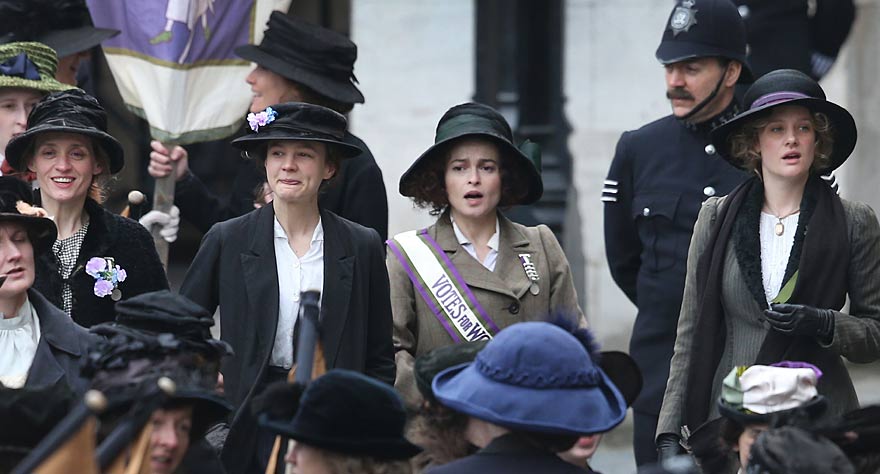 Following The Imitation Game last year and Captain Phillips in 2013, Sarah Gavron's Suffragette has set its European premiere date for opening night of the 59th BFI London Film Festival. A story of women fighting for women's rights at the end of the 19th century, the feminist drama will debut on Wednesday, October 7th at the Odeon Leicester Square with simultaneous screenings taking place throughout the UK. With Carey Mulligan, Helena Bonham Carter as well as Meryl Streep in main roles, Suffragette is among the most highly anticipated films slated to come out in 2015.
Along with the news of its BFI London Film Fest premiere date, Suffragette has revealed two new look slightly different looks into surprisingly explosive upcoming film. Mulligan plays Maud, a working wife and mother who gets swept up by the foot soldiers of a growing feminist movement. Bonham Carter and Streep play fellow members of the movement, while villainous authority figure Brendan Gleeson seeks to dismantle their organization. Fancy period costumes are abound. The two newly released trailers have overlap, though the UK trailer is less ham-fisted in its unveiling of information.
Suffragette is scheduled to be released in New York and Los Angeles on October 23rd, expanding to more cities in the following weeks. While its BFI London Film Fest premiere is scheduled for October 7th, it's worth noting that the gala has been advertised as Suffragette's "European Premiere," leaving the door open for an appearance at a North American-set fall film festival.
Check out the Suffragette UK trailer below: