Cannes 2014: Director's Fortnight & Critic's Week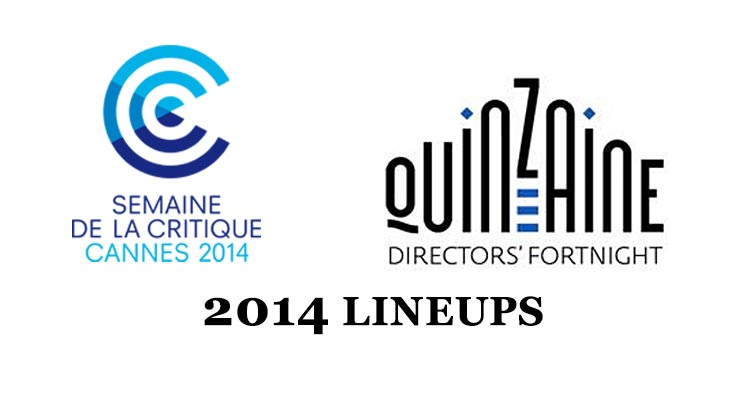 Barring any outside chances of more additions (…Roy Andersson, we're waiting…) from Fremaux and co., this year's Cannes lineup is complete. We're playing a little catch up with the news, so you may have already heard, but the two sidebar events – the 53rd Semaine De La Critique or Critic's Week, and the Quinzaine Des Realisateurs or Director's Fortnight – have released their selections and reminded the world how much better their names sound in French.
Going in line with their mission to seek out new and emerging talent, Critic's Week showcases a lot of first- and second-time directors (among them Shosanna herself, Melanie Laurent) so there's not a lot of room to comment on here. Director Andrea Arnold will be leading the jury this year and choosing one of seven features for the Grand Prize.
International Critic's Week lineup
Opening Film: Faire : L'amour (FLA) Dir. Djinn Carrénard
In Competition
Darker Than Midnight (Più Buio di Mezzanotte ) Dir. Sebastiano Riso
Gente de bien Dir. Franco Lolli
Hope Dir. Boris Lojkine
It Follows Dir. David Robert Mitchell
Self Made (Boreg) Dir. Shira Geffen
The Tribe (Plemya) Dir. Myroslav Slaboshpytskiy
When Animals Dream (Når Dyrene Drømmer) Dir. Jonas Alexander Arnby
Closing Film: Hippocrates (Hippocrate) Dir. Thomas Lilti
Special Screenings
Breathe (Respire) Dir. Mélanie Laurent
The Kindergarten Teacher (Haganenet) Dir. Nadav Lapid
And who better to explain the selections than Mr. Charles Tesson, the Artistic Director, of the Semaine.
Next up is the juicy Director's Fortnight and, like every year, there's more than a couple of gems.
Director's Fortnight lineup
Alleluia Dir. Fabrice Du Welz
At Li Layla (Next To Her) Dir. Asaf Korman
Bande De Filles (Girlhood) Dir. Céline Sciamma (Opening Film)
Catch Me Daddy Dir. Daniel Wolfe
Cold In July Dir. Jim Mickle
Les Combattants (Love At First Fight) Dir. Thomas Cailley
Gett – Le Procès De Viviane Amsalem Dir. Ronit & Shlomi Elkabetz
Kaguya-Hime No Monogatari (Le Conte De La Princesse Kaguya) Dir. Isao Takahata
Kkeut Kka Ji Gan Da (A Hard Day) Dir. Seong-Hun Kim
Mange Tes Morts (Eat Your Bones) Dir. Jean-Charles Hue
National Gallery Dir. Frederick Wiseman
P'tit Quinquin (Li'l Quinquin) Dir.Bruno Dumont
Pride Dir. Matthew Warchus (Closing Film)
Queen And Country Dir. John Boorman
Refugiado Dir. Diego Lerman
The Texas Chain Saw Massacre Dir.Tobe Hooper
These Final Hours Dir. Zach Hilditch
Tu Dors Nicole Dir. Stéphane Lafleur
Whiplash Dir. Damien Chazelle
I'll be sure to add more than a few of these on my schedule. The internet is a-buzz with veteran John Boorman's latest, the Sundance wonder Whiplash, the 4K restoration of (one of my personal favorite horror films) The Texas Chainsaw Massacre, and the LGBT representer Pride, starring a fantastic set of British actors in Dominic West, Bill Nighy and Andrew Scott. But what of Grave Of The Fireflies director Takahata? Then there's Bruno Dumont's new 200-minute miniseries in its entirety P'tit Quinquin, Frederick Wiseman's follow-up to the brilliant At Berkley, and Céline Sciamma's second outing since her soaring gender drama Tomboy.
Yes, it seems that my cup will runneth over with all of these magnificent selections. I'll be furiously blueprinting my festival schedule (with plans B, C, D.. at the ready) once the timeline becomes more conclusive. Until then, I'm still hoping for Fremaux to add Roy Andersson's A Pigeon Sat On A Branch Reflecting On Existence. The title alone should make it a shoe-in for the Palme.