Bill Murray Makes First Comic-Con Appearance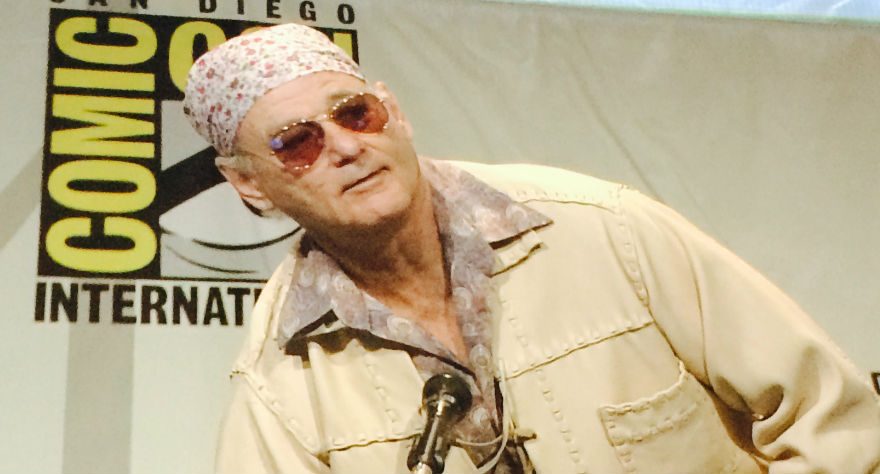 Open Road was by far the biggest wildcard of the day in Hall H as no one really knew which of the only handful of films announced by Open Road films was the most Comic-Con worthy. But by far the most Con-cloutiest of their upcoming stars is Bill Murray, who stars in the Barry Levinson helmed Rock the Kasbah. And he did not disappoint the fans, making his first Comic-Con appearance ever.
Murray entered from the back of Hall H to the tune of "Smoke on the Water." At first he appeared as his character in the upcoming film, Richie Lanz, a music manager who manages a musician (played by Zooey Deschanel) and travels with her for a gig in Afghanistan.
Mitch Glazer, the film's writer (who also wrote Scrooged starring Murray), joined him on the panel and spoke about Murray's tendency to "re-write" when acting. He dispelled the rumor that Murray goes rogue stating the actor makes only smart changes when improvising.
The film also stars Kate Hudson and Bruce Willis. Murray told a story about Bruce Willis and an past SNL connection Willis recently informed him of. Willis was once a page on the show, and apparently Willis lamented that Murray and Gilda Radner were the only ones nice to him.
In true chaotic Murray-fashion he stopped the panel at one point to get everyone to sing the song of their choosing for 30 seconds. A hilarious and very Bill Murray sort of moment.
With Rock the Kasbah's classic rock soundtrack there was much discussion around music. When asked about his favorites Murray surprised with old and new music recommendations. None so surprising though as Miley Cyrus, who Murray thinks "is really f***ing good."
As for future projects for Murray? He did confirm he's been working out, and is hopeful to be considered for the new Han Solo prequel role.