Bill Hader and Amy Schumer Prove Winning is Everything in Hilarious New Video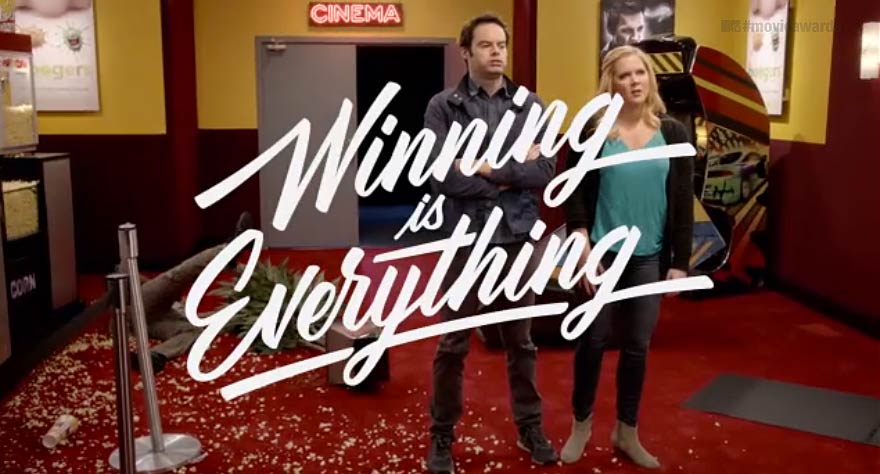 The new promo for the 2015 MTV Movie Awards has us rolling in the movie theater aisles. Just when you thought you've achieved the zen pinnacle of wisdom for peace in all things according to your childhood tee-ball coach, Bill Hader and Amy Schumer have arrived on scene to deliver the ultimate reality check. Of course winning is everything.
That is the theme of their campaign to have us all tuning in to the MTV Movie Awards on April 12th hosted by Amy Schumer which is traditionally filmed at the Nokia Theater and known for breaking all sorts of awards season rules. Judging by Schumer's particular shade of humor, this year is sure to hold a few comedic shockers.
Amy Schumer participated in the reality show Last Comic Standing on NBC and came in fourth place in their fifth season. She also came in second in Comedy Central's Reality Bites Back. She currently stars in her own show Inside Amy Schumer on Comedy Central.
Though Amy Schumer is starting to get quite a footing as a comedian in Hollywood, audiences are still on the fence. This will be her first foray into the world of hosting and she has some big shoes to fill. Last year's host was Conan O'Brien.
She also wrote and is starring opposite Bill Hader in the movie Trainwreck which is set to be released in July 2015. It looks like we will all be starting to see a lot more of Amy Schumer.
Be sure to catch the MTV Movie Awards with Amy Schumer on Sunday, April 12th at 8/7c and see Hader and Schumer destroy a movie theater below.