SAG Nominations Push 'Birdman' To Head Of Flock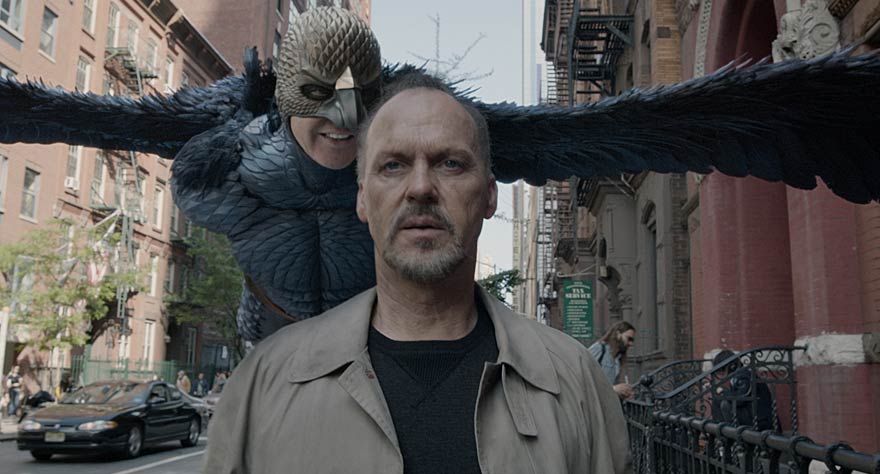 While we anxiously await tomorrow's Golden Globe nominations we can parse through today's Screen Actor's Guild announcements to see if there is any indication of how things may stack up. Birdman led with four nominations, including Outstanding Performance by a Cast. Boyhood, Theory of Everything, and Foxcatcher's actors all got recognition as well.
If the Hollywood Foreign Press focuses on performances, the SAG nominations will be a useful road map. Inherent Vice, American Sniper, and A Most Violent Year are noticeably absent. At any rate we're excited Jake Gyllenhaal is getting more traction for Nightcrawler, and Rosamund Pike for Gone Girl. Not to mention a big fat huzzah to J.K. Simmons for his role in Whiplash! We do have to wonder if Meryl Streep's Supporting Actor nomination for Into the Woods has something to do with some secret rule that Meryl Streep must be nominated for something in any given year. Not that we're sure she's not wonderful, but seeing her name on these things is as commonplace as punctuation. Also a strange addition to that category is Naomi Watts for her role as a Russian stripper named Daka in St. Vincent alongside Bill Murray. Considering how cookie-cutter her ditzy stripper was, not to mention how distracting her accent was, this is incredibly surprising. Especially with Laura Dern's amazing performance in Wild and Rene Russo's turn in Nightcrawler being considerably stronger nomination options. Seriously SAG?
Anyway, look for Way Too Indie's Best Performances list Monday, Dec. 15 to see our own picks for who wowed us this year.
The SAG Awards will air Sunday, January 25on TNT and TBS, live from the Shrine Auditorium in LA. See here for a more detailed list, along with television award nominations.
Here's the film-related nominations list:
21st Annual Screen Actors Guild Awards Nominations
THEATRICAL MOTION PICTURES
Outstanding Performance by a Male Actor in a Leading Role
STEVE CARELL / John du Pont – FOXCATCHER
BENEDICT CUMBERBATCH / Alan Turing – THE IMITATION GAME
JAKE GYLLENHAAL / Louis Bloom – NIGHTCRAWLER
MICHAEL KEATON / Riggan – BIRDMAN
EDDIE REDMAYNE / Stephen Hawking – THE THEORY OF EVERYTHING
Outstanding Performance by a Female Actor in a Leading Role
JENNIFER ANISTON / Claire Bennett – CAKE
FELICITY JONES / Jane Hawking – THE THEORY OF EVERYTHING
JULIANNE MOORE / Alice Howland-Jones – STILL ALICE
ROSAMUND PIKE / Amy Dunne – GONE GIRL
REESE WITHERSPOON / Cheryl Strayed – WILD
Outstanding Performance by a Male Actor in a Supporting Role
ROBERT DUVALL / Joseph Palmer – THE JUDGE
ETHAN HAWKE / Mason, Sr. – BOYHOOD
EDWARD NORTON / Mike – BIRDMAN
MARK RUFFALO / Dave Schultz – FOXCATCHER
J.K. SIMMONS / Fletcher – WHIPLASH
Outstanding Performance by a Female Actor in a Supporting Role
PATRICIA ARQUETTE / Olivia – BOYHOOD
KEIRA KNIGHTLEY / Joan Clarke – THE IMITATION GAME
EMMA STONE / Sam – BIRDMAN
MERYL STREEP / The Witch – INTO THE WOODS
NAOMI WATTS / Daka – ST. VINCENT
Outstanding Performance by a Cast in a Motion Picture
BIRDMAN
BOYHOOD 
THE GRAND BUDAPEST HOTEL 
THE IMITATION GAME 
THE THEORY OF EVERYTHING
LIFE ACHIEVEMENT AWARD
Screen Actors Guild 51st Annual Life Achievement Award
DEBBIE REYNOLDS