International Online Film Critics' Poll Announces 4th Bi-Annual Awards for Excellence in Film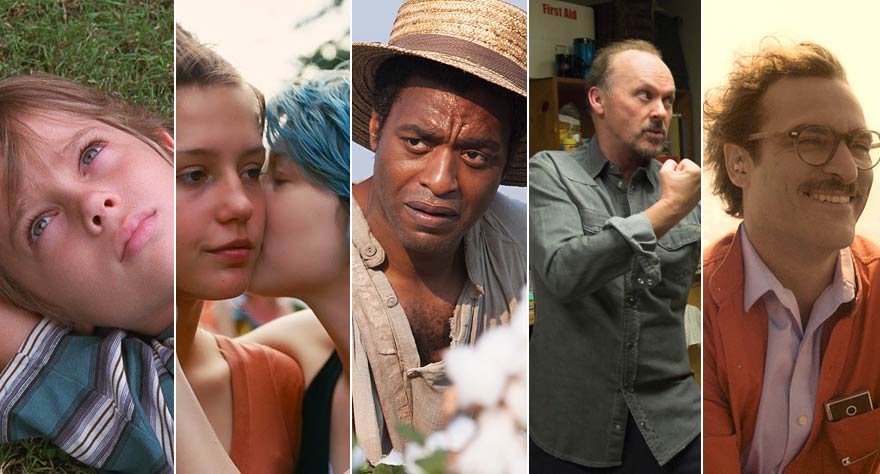 Among the many organizations dolling out awards for the best movies and performances of 2014, The International Online Film Critics' Poll this morning announced the winners of their biannual awards for excellence in film. These awards, now in their fourth cycle, allow for a comparison between different movie seasons to pick the absolute best of the biennium. The IOFCP was voted on this year by over 100 film critics from USA, UK, Italy, Spain, Canada, France, Mexico, Australia, India, Turkey, Kyrgyzstan, South Africa, Serbia, Poland, Romania, Estonia, Pakistan, Switzerland, Denmark and Sweden.
2014 awards front-runner Boyhood took home the IOFCP's award for Best Film. The film's director Richard Linklater and one of its stars, Patricia Arquette, won the votes for Best Director and Best Supporting Actress, respectively.
The other movies that won in three categories were The Grand Budapest Hotel (Best Ensemble Cast, Best Production Design and Best Original Score) and Gravity (Best Cinematography, Best Editing and Best Visual Effects). While The Grand Budapest Hotel was also nominated for Best Film, Gravity was not.
2015 Oscars frontrunners Michael Keaton (Birdman) and JK Simmons (Whiplash) won the votes for Best Actor and Best Supporting Actor; however, 2014 Oscar-winner Cate Blanchett won Best Actress for her performance in Blue Jasmine.
4th Bi-Annual IOFCP Awards
TOP TEN FILMS (alphabetical list)
12 Years a Slave
Blue is the Warmest Colour
Birdman
Boyhood
Her
Ida
The Grand Budapest Hotel
The Great Beauty
The Imitation Game
The Wolf of Wall Street
BEST PICTURE
12 Years a Slave
Birdman
Boyhood
The Grand Budapest Hotel
The Wolf of Wall Street
BEST DIRECTOR
Alejandro González Iñárritu – Birdman
Richard Linklater – Boyhood
Wes Anderson – The Grand Budapest Hotel
Paolo Sorrentino – The Great Beauty
Roman Polanski – Venus in Fur
BEST ACTOR
Michael Keaton – Birdman
Ralph Fiennes – The Grand Budapest Hotel
Mads Mikkelsen – The Hunt
Benedict Cumberbatch – The Imitation Game
Leonardo DiCaprio – The Wolf of Wall Street
BEST ACTRESS
Cate Blanchett – Blue Jasmine
Adele Exarchopoulos – Blue is the Warmest Colour
Rosamund Pike – Gone Girl
Julianne Moore – Still Alice
Marion Cotillard – The Immigrant
BEST SUPPORTING ACTOR
Edward Norton – Birdman
Ethan Hawke – Boyhood
Jared Leto – Dallas Buyers Club
Mark Ruffalo – Foxcatcher
J.K. Simmons – Whiplash
BEST SUPPORTING ACTRESS
Lupita Nyong'o – 12 Years a Slave
Emma Stone – Birdman
Sally Hawkins – Blue Jasmine
Patricia Arquette – Boyhood
June Squibb – Nebraska
BEST ENSEMBLE CAST
12 Years a Slave
Birdman
Boyhood
The Grand Budapest Hotel
The Imitation Game
BEST ORIGINAL SCREENPLAY
Birdman
Boyhood
Calvary
Her
The Grand Budapest Hotel
BEST ADAPTED SCREENPLAY
12 Years a Slave
Gone Girl
Snowpiercer
The Imitation Game
The Wolf of Wall Street
BEST CINEMATOGRAPHY
Birdman
Gravity
Ida
Nebraska
The Great Beauty
BEST PRODUCTION DESIGN
Gravity
Her
Mr. Turner
The Grand Budapest Hotel
The Imitation Game
BEST EDITING
Birdman
Boyhood
Gravity
The Grand Budapest Hotel
The Wolf of Wall Street
BEST ORIGINAL SCORE
Gravity
Her
Interstellar
The Grand Budapest Hotel
The Imitation Game
BEST VISUAL EFFECTS
Dawn of the Planet of the Apes
Interstellar
Gravity
Guardians of the Galaxy
The Hobbit: The Battle of the Five Armies