Boyhood Leads Gotham Awards With 4 Nominations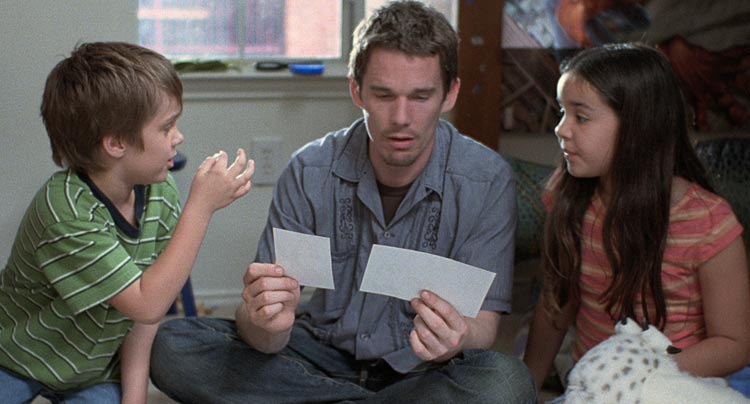 You might be thinking "Already?!" but yes, award season is already starting. Today, New York's Gotham Independent Film Awards put out their nominees, a list filled with pleasant surprises and some very obvious choices.
Let's start with the obvious choice: Boyhood. Any indie award would be insane to deny Richard Linklater's film, possibly the indie event of the year, some love, so Gotham understandably gave it four nominations: Best Picture, Best Actor (Ethan Hawke), Best Actress (Patricia Arquette) and Breakthrough Actor (Ellar Coltrane). Also unsurprising is Birdman nabbing three nominations for Best Picture and Best Actor (Michael Keaton). Expect to hear even more about Birdman in the months to come.
Because the Gotham Awards are about independent film, that gives some great underrated films and performances the chance for some exposure through a nomination. The biggest surprise might be Under the Skin and Scarlett Johansson scoring nominations for Best Picture and Actress. It'll be unlikely for Jonathan Glazer's strange sci-fi to get much love outside of critics' circles this year, so nominations like these are nice to see. Another great choice by Gotham: Giving Ira Sachs' wonderful Love is Strange a Best Picture nomination. Sachs' film, a quietly heartbreaking drama, seems bound to get left out this year once the awards race kicks into high gear (if Best Actor weren't so competitive this year, John Lithgow and Alfred Molina would have been locks). Any recognition for Love is Strange is a huge plus.
Read on below for the full list of nominees, including the nominees for Breakthrough Director and Actor. For those more interested in the bigger awards, take note of Oscar Isaac's nomination for A Most Violent Year. The film hasn't come out yet (it opens AFI Fest next month), so this nomination might be a hint of another shake-up in the coming weeks. And if anyone's wondering where current Best Actor frontrunner Steve Carrell is, Gotham decided to give Carrell and co-stars Channing Tatum and Mark Ruffalo a special award for their ensemble performances in Foxcatcher.
The Gotham Independent Film Awards will hold their awards ceremony on December 1st.
Best Feature
Birdman or (The Unexpected Virtue of Ignorance)
Boyhood
The Grand Budapest Hotel
Love Is Strange
Under the Skin
Best Actor
Bill Hader in The Skeleton Twins
Ethan Hawke in Boyhood
Oscar Isaac in A Most Violent Year
Michael Keaton in Birdman or (The Unexpected Virtue of Ignorance)
Miles Teller in Whiplash (Sony Pictures Classics)
Best Actress
Patricia Arquette in Boyhood
Gugu Mbatha-Raw in Beyond the Lights
Julianne Moore in Still Alice
Scarlett Johansson in Under the Skin
Mia Wasikowska in Tracks
Best Documentary
Actress
CITIZENFOUR
Life Itself
Manakamana
Point and Shoot
Breakthrough Actor
Riz Ahmed in Nightcrawler
Macon Blair in Blue Ruin
Ellar Coltrane in Boyhood
Joey King in Wish I Was Here
Jenny Slate in Obvious Child
Tessa Thompson in Dear White People
Bingham Ray Breakthrough Director Award
Ana Lily Amirpour for A Girl Walks Home Alone at Night
James Ward Byrkit for Coherence
Dan Gilroy for Nightcrawler
Eliza Hittman for It Felt Like Love
Justin Simien for Dear White People