2015 BAFTA Award Predictions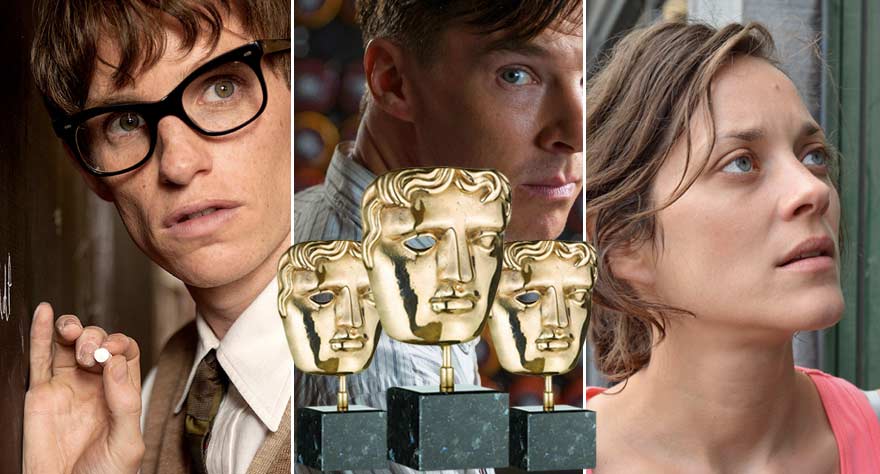 As we inch closer and closer to Oscar night, more guilds, organizations, critics and associations continue handing out gold trophies to the best of 2014 in film. With the BAFTA Awards happening this Sunday, Way Too Indie writers C.J. Prince (from Canada) and Eddy Haynes (from the U.K.) sat down to discuss the awards and give their predictions.
C.J. Prince: I guess it makes sense that a Brit and a Canuck should predict the BAFTAs. I'll be honest: I haven't really paid attention to the BAFTAs over the years, and I've been meaning to change that. But I gotta say, these nominations seem a little off to me. Why did Mr. Turner not get any nods outside of a few small categories? I'm sure my predictions will be horrible since I have no idea how the BAFTAs go, so bear with me dear readers (and Eddy). Maybe you can help me out here Eddy. Are the BAFTAs like the Oscars, in that they tend to go for a certain kind of film (ex. weepy biopics and the like)?
Eddy Haynes: The BAFTAs usually follow the Oscars with the odd exception every now and then just to rebel a little. There is occasionally a bit of controversy, like how the Outstanding British Film had some people up in arms about Alfonso Cuaron winning for Gravity last year (the film was shot in the UK, but the director and cast are not British). (Article)
I was not surprised to see Mr. Turner lose out for Oscar nominations, but I was disappointed to see the BAFTAs not nominate the film for any of the big awards, especially Timothy Spall for Best Actor.  The whole point of the BAFTA's is to celebrate British film, and it seems unjust to not acknowledge such a strong British performance. The same goes for missing out on a chance to give Mike Leigh a much deserved BAFTA for the film. The cynical part of me thinks as the film was released in the UK in October it has simply been forgotten about.
There has been a diverse range of films nominated this year, so it's hard to predict, although if anyones going to win the lions share of awards it might be Theory of Everything.
C.J.: Well since you introduced that nice opportunity to segue, let's start with the biggest category of them all:
BEST FILM
BIRDMAN
BOYHOOD
THE GRAND BUDAPEST HOTEL
THE IMITATION GAME
THE THEORY OF EVERYTHING
C.J.: Best film! I don't know if the Brits will handle this one differently, but looking at the US it's a battle between Birdman and Boyhood. I'm personally going to say Boyhood wins this one. I don't think the Hollywood/industry aspects of Birdman will work on BAFTAs as much as it has been for those in the US, so Boyhood will get the edge here.
Eddy: Yes, I agree. Although we may give it to Theory of Everything out of love for the Britishness of the film. It would be a bit of a shock, but I wouldn't rule out The Grand Budapest Hotel either. I am not sure about Boyhood. The BAFTAs usually tries to distance itself from the same decisions as the Golden Globes, even if it follows the Oscars.
C.J.: Well speaking of Britishness, let's look at Outstanding British Film.
OUTSTANDING BRITISH FILM
'71 Yann Demange, Angus Lamont, Robin Gutch, Gregory Burke
THE IMITATION GAME Morten Tyldum, Nora Grossman, Ido Ostrowsky, Teddy Schwarzman, Graham Moore
PADDINGTON Paul King, David Heyman
PRIDE Matthew Warchus, David Livingstone, Stephen Beresford
THE THEORY OF EVERYTHING James Marsh, Tim Bevan, Eric Fellner, Lisa Bruce, Anthony McCarten
UNDER THE SKIN Jonathan Glazer, James Wilson, Nick Wechsler, Walter Campbell
Eddy: I would love Under the Skin to get the BAFTA, but I don't think it is going to happen. It will probably go to The Theory of Everything. Pride might be a dark horse candidate. That would be a surprise.
C.J.: I have a feeling The Imitation Game will probably take this one because it has the prestige element behind its back, but Theory of Everything has been gaining a lot of momentum. In all honesty I'd prefer Under the Skin or Pride to win because a) Under the Skin is just plain weird, and b) I find the kind of gooey feel good qualities of Pride more enjoyable than "serious film" Oscar fare like The Imitation Game or The Theory of Everything.
Eddy: It is perhaps a little cynical, but there is also guilt in the UK about Alan Turing and how he was treated. He did get a royal pardon last year. I wonder if politics might lead to it getting the BAFTA (More Info Here, Warning Potential Spoilers).
C.J.: It's possible. I personally didn't factor that into my decision, but it could play a role in deciding its outcome in the category.
OUTSTANDING DEBUT BY A BRITISH WRITER, DIRECTOR OR PRODUCER
ELAINE CONSTANTINE (Writer/Director) Northern Soul
GREGORY BURKE (Writer), YANN DEMANGE (Director) '71
HONG KHAOU (Writer/Director) Lilting
PAUL KATIS (Director/Producer), ANDREW DE LOTBINIÈRE (Producer) Kajaki: The True Story
STEPHEN BERESFORD (Writer), DAVID LIVINGSTONE (Producer) Pride
Eddy: '71 was one of my favourite films of the year, and it stands a pretty good chance of winning, but I think Pride is probably the favourite for this one.
C.J.: Agreed. I haven't seen '71 (I'm dying to!), but Pride looks like it'll take this one. Huge crowd pleaser. If only every category was this easy to predict.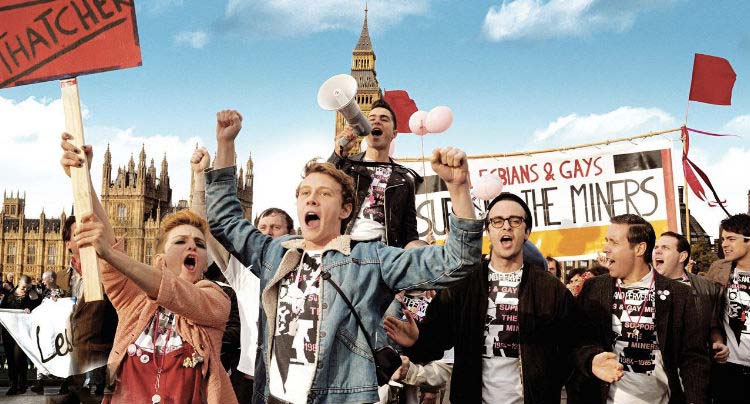 Pride
FILM NOT IN THE ENGLISH LANGUAGE
IDA
LEVIATHAN
THE LUNCHBOX
TRASH
TWO DAYS, ONE NIGHT
C.J.: I haven't seen Trash but come on.
Eddy: Yes, I haven't seen it either, but I wondered how much of a film has to not be English to qualify.
C.J.: I will research that (over 50% of the film's dialogue must not be in English in order for it to qualify). For me this is another easy category. I know Leviathan winning the Golden Globe put a little wrench in the system, but I think Ida will win. It's been getting every award under the sun for foreign film.
Eddy: I would rather have Ida win than Leviathan, which I didn't really connect with. I think Leviathan might win just because it would annoy Putin (Article). I think Two Days, One Night is the strongest film in the category, but I don't think it will win.
C.J.: Two Days, One Night is fantastic and should be the frontrunner. And thank you for not thinking Leviathan was all that. It's one of those "Serious Films" that was too straightforward for me. I found it kind of boring, gorgeous cinematography aside.
Eddy: I thought I was alone. Every critic seems to have fallen in love with it. Ida is one of the most visually stunning films this year, and if doesn't win here I hope it wins Best Cinematography.
DOCUMENTARY
20 FEET FROM STARDOM
20,000 DAYS ON EARTH
CITIZENFOUR
FINDING VIVIAN MAIER
VIRUNGA
Eddy: Well I thought Citizenfour was a strong film even if it was a little rushed at times. It's probably my favourite to win in this category.
C.J.: Yeah, I mean this category is a joke. You have a feel good doc about backup singers, Nick Cave's head up his own ass, a guy trying to profit off of a dead woman's photography collection, some dumb looking activist doc about gorillas (I hate most primates), and then a documentary about one of the most important things happening in the world today. If Citizenfour doesn't win, it'll remove any credibility from this category in the future.
ANIMATED FILM
BIG HERO 6 Don Hall, Chris Williams
THE BOXTROLLS Anthony Stacchi, Graham Annable
THE LEGO MOVIE Phil Lord, Christopher Miller
C.J.: An easy category since it has 3 nominees, and I've only seen one of them. I'm going with The Lego Movie on this. I love it to pieces, and the Oscar snub has people on its side.
Eddy: I am in the same boat. I think The Lego Movie will win, although part of me wants The Boxtrolls to win just to see Twitter explode.
C.J.: It's Twitter. That place is always exploding over something.
DIRECTOR
BIRDMAN Alejandro G. Iñárritu
BOYHOOD Richard Linklater
THE GRAND BUDAPEST HOTEL Wes Anderson
THE THEORY OF EVERYTHING James Marsh
WHIPLASH Damien Chazelle
Eddy: I think this is probably going to be between James Marsh and Richard Linklater. This one may go the same way as whoever gets Best Film.
C.J.: Yeah, Best Director and Best Film matching up is par for the course. Since I predicted Boyhood for Best Picture I'm going to say Richard Linklater takes this one. Ultimately I think the achievement of making the film over 12 years will trump the other nominees
Eddy: It will certainly give Linklater a lot to talk about in his speech.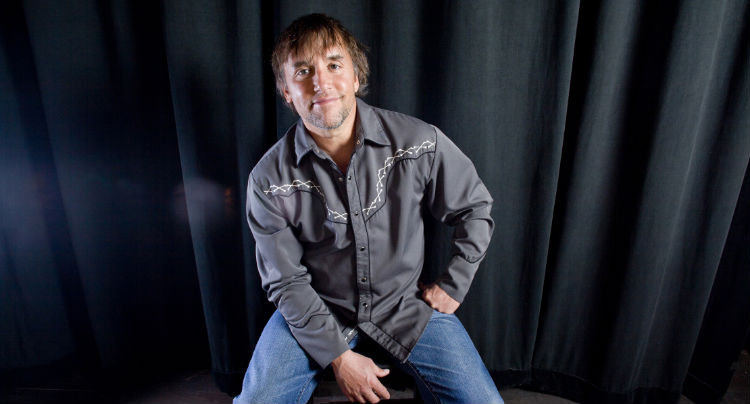 Richard Linklater
ORIGINAL SCREENPLAY
BIRDMAN Alejandro G. Iñárritu, Nicolás Giacobone, Alexander Dinelaris Jr, Armando Bo
BOYHOOD Richard Linklater
THE GRAND BUDAPEST HOTEL Wes Anderson
NIGHTCRAWLER Dan Gilroy
WHIPLASH Damien Chazelle
C.J.: First off, what a great selection. Nightcrawler, Whiplash and The Grand Budapest Hotel all have terrific screenplays. But for some dumb reason Birdman's dog shit script keeps winning, so I'm going to predict Birdman.
Eddy: Birdman would be the only winner whose opening line contains the phrase "Smells like balls." Nightcrawler should win, but I think it will probably go to Birdman. The Grand Budapest Hotel might stand an outside chance though. It has been praised for its clever script.
C.J.: How can anyone hear a line like "Smells like balls" and think it's some sort of brilliant piece of writing? Ugh. Anyway, I'll stop myself. I can rant about Birdman's awful script for hours.
ADAPTED SCREENPLAY
AMERICAN SNIPER Jason Hall
GONE GIRL Gillian Flynn
THE IMITATION GAME Graham Moore
PADDINGTON Paul King
THE THEORY OF EVERYTHING Anthony McCarten
C.J.: Adapted screenplay is a lot more interesting to me. I'm going to say The Theory of Everything wins this one.
Eddy: Yeah I am going to agree with you on The Theory of Everything. I would love to see the look on the academy's face if Paddington won. I think Gone Girl should win purely because the script is such an improvement on the book. It has been adapted rather well.
C.J.: I absolutely agree with you. Gone Girl would be my pick for what should win. Gillian Flynn did a great job adapting her own book.
LEADING ACTOR
BENEDICT CUMBERBATCH The Imitation Game
EDDIE REDMAYNE The Theory of Everything
JAKE GYLLENHAAL Nightcrawler
MICHAEL KEATON Birdman
RALPH FIENNES The Grand Budapest Hotel
Eddy: I think Eddie Redmayne is going to get this. I can't see anyone else getting it. I think only Michael Keaton stands a chance of stealing it from him.
C.J.: I'm really fascinated by how this category turned out. It was hyped up as one of the most competitive categories before the season started, and then Keaton became the frontrunner, only for Redmayne to slowly catch up and take over. I'm with you on this one. Eddie Redmayne will win. But let's give a special mention to Jake Gyllenhaal (my personal pick) and Timothy Spall (why the hell isn't he nominated??!?!)
Eddy: It is shocking about Spall, especially since he won at Cannes. I thought he was an odds on favourite to get nominated. Jake Gyllenhaal should win, but there doesn't seem to be a lot of love for Nightcrawler at the awards so far.
C.J.: Yeah, Nightcrawler is a very dark movie. I think time will ultimately work in Gyllenhaal's favour. It's a performance he'll be remembered for.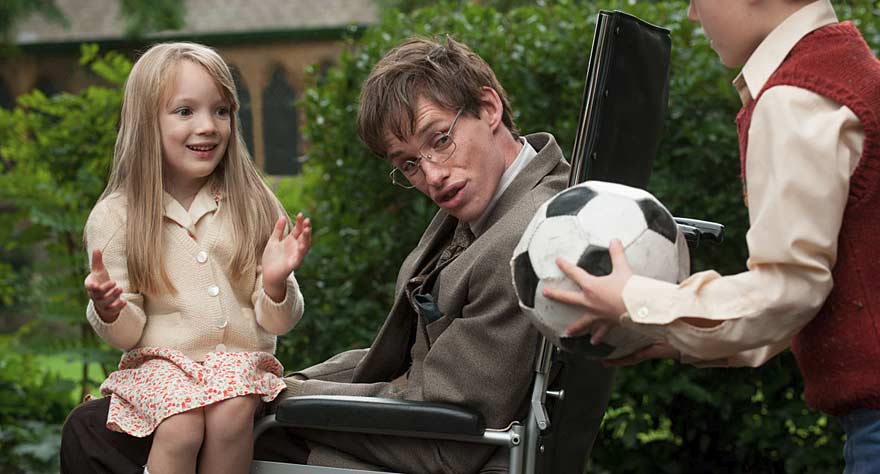 Eddie Redmayne in The Theory of Everything
LEADING ACTRESS
AMY ADAMS Big Eyes
FELICITY JONES The Theory of Everything
JULIANNE MOORE Still Alice
REESE WITHERSPOON Wild
ROSAMUND PIKE Gone Girl
Eddy: I think Felicity Jones will get this. I have yet to see Still Alice, but it has been getting a lot of buzz, so Julianne Moore might stand a good chance.
C.J.: I have seen Still Alice and it's bad. Moore will win this one though. She's a beloved actress, and this certainly feels like her time to win the big awards. I don't mind her winning. I love J-Mo. I just wish she won for a better film.
Eddy: Personally I loved her in Maps to the Stars and was hoping she would get nominated. A win for Still Alice might make up for it.
C.J.: I actually prefer her role in Maps to the Stars, but that movie is far too strange to get proper recognition.
SUPPORTING ACTOR
EDWARD NORTON Birdman
ETHAN HAWKE Boyhood
J.K. SIMMONS Whiplash
MARK RUFFALO Foxcatcher
STEVE CARELL Foxcatcher
C.J.: This might be the easiest acting category to predict, but it's easy because everyone agrees that one performance towers above the rest. J.K. Simmons will win.
Eddy: Yes I expect J.K. Simmons will. I find it odd that Steve Carell was nominated here, since I saw that role as a lead. It's a shame because he deserves recognition for that role.
C.J.: Yeah, that is strange. It could be a strategic choice since Best Actor was crowded this year. I think that nose will give him all the recognition he needs.
Eddy: It is one of the most disturbing noses in film.
SUPPORTING ACTRESS
EMMA STONE Birdman
IMELDA STAUNTON Pride
KEIRA KNIGHTLEY The Imitation Game
PATRICIA ARQUETTE Boyhood
RENE RUSSO Nightcrawler
C.J.: I guess this is another easy category to predict. It seemed a little wide open early on in the season, but Patricia Arquette has emerged as a frontrunner. Personally I want to high five all the BAFTA members who nominated Rene Russo.
Eddy: Yes! Rene Russo's performance was as good as Jake Gyllenhaal's, and the film wouldn't have worked without her. But I can't see Patricia Arquette losing this one.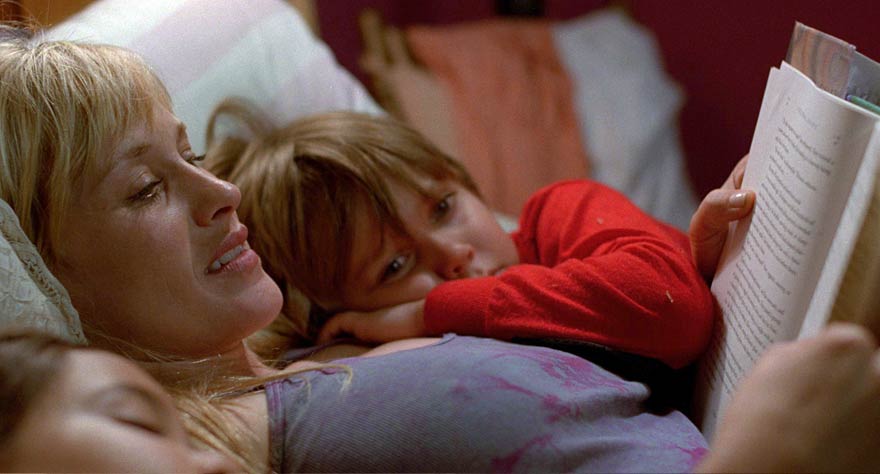 Patricia Arquette in Boyhood
ORIGINAL MUSIC
BIRDMAN Antonio Sanchez
THE GRAND BUDAPEST HOTEL Alexandre Desplat
INTERSTELLAR Hans Zimmer
THE THEORY OF EVERYTHING Jóhann Jóhannsson
UNDER THE SKIN Mica Levi
C.J.: Now we move on to the smaller, more technical categories, where I have no idea what to pick.
Eddy: I think Interstellar might stand a chance as they sometimes give the techs to big budget films that miss out at the main awards. The favourite to win is probably Birdman, though. It would be weird if Boyhood got it. I don't remember the soundtrack being that great.
C.J.: Wasn't Boyhood all songs? I don't remember it having an original score.
Eddy: It might have been picked because it was nominated for Best Film.
C.J.: Well for this category I adore Mica Levi's score for Under the Skin, but Birdman will probably win. Looks like we're in agreement on this one.
CINEMATOGRAPHY
BIRDMAN Emmanuel Lubezki
THE GRAND BUDAPEST HOTEL Robert Yeoman
IDA Lukasz Zal, Ryzsard Lenczewski
INTERSTELLAR Hoyte van Hoytema
MR. TURNER Dick Pope
Eddy: Ida was stunning, but Mr. Turner surely has to get something. Something tells me Birdman could get this award too.
C.J.: Yeah, Birdman is all show so it'll win. But personally I want Mr. Turner (Dick Poop!) or Ida to win.
C.J.: I actually don't care much for Ida as a film, but it has excellent cinematography. There were a lot of great looking films last year. I would even be happy with The Grand Budapest Hotel winning.
EDITING
BIRDMAN Douglas Crise, Stephen Mirrione
THE GRAND BUDAPEST HOTEL Barney Pilling
THE IMITATION GAME William Goldenberg
NIGHTCRAWLER John Gilroy
THE THEORY OF EVERYTHING Jinx Godfrey
WHIPLASH Tom Cross
C.J.: Amazingly, Boyhood wasn't nominated here since it seems to be the favourite everywhere else. I'm gonna say Whiplash wins this one. Birdman might be the odds on favourite, but I love love love Whiplash's editing.
Eddy: It's very odd that Boyhood wasn't nominated. Surely a film shot over 12 years would get some praise for its editing. If The Theory of Everything gets best film, it will also get best editing. They usually seem to be paired together.
PRODUCTION DESIGN
BIG EYES Rick Heinrichs, Shane Vieau
THE GRAND BUDAPEST HOTEL Adam Stockhausen, Anna Pinnock
THE IMITATION GAME Maria Djurkovic, Tatiana MacDonald
INTERSTELLAR Nathan Crowley, Gary Fettis
MR. TURNER Suzie Davies, Charlotte Watts
Eddy: I think Interstellar might get this, but I want Mr. Turner to get it. It needs some awards.
C.J.: I'm going to go with The Grand Budapest Hotel. I have no idea why. I remember being really impressed by the design of the hotel. Mr. Turner would be the only other competition in my eyes because it's a period piece. Like I said earlier, once we get down to these categories I get sort of lost.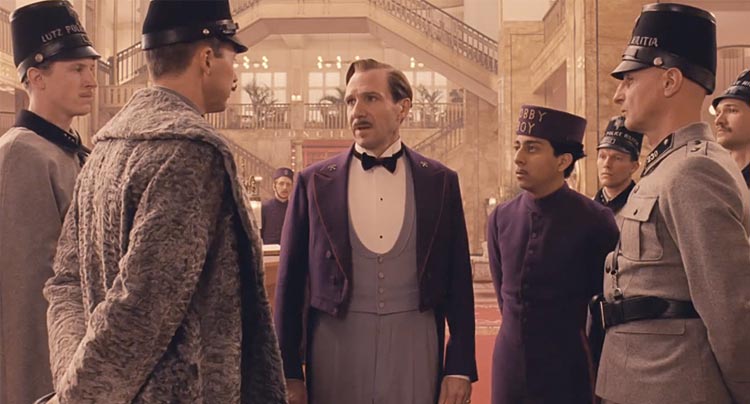 The Grand Budapest Hotel
COSTUME DESIGN
THE GRAND BUDAPEST HOTEL Milena Canonero
THE IMITATION GAME Sammy Sheldon Differ
INTO THE WOODS Colleen Atwood
MR. TURNER Jacqueline Durran
THE THEORY OF EVERYTHING Steven Noble
C.J.: For Costume Design, I feel like people just vote for whatever looks like it had the most work done. In that case it comes down to Mr. Turner or Into the Woods. I think Into the Woods will take this.
Eddy: I agree. Into The Woods will probably get it, although I will be happy if Mr. Turner gets it of course. I have no idea why The Theory of Everything has been nominated here, but it could win too.
MAKE UP & HAIR
THE GRAND BUDAPEST HOTEL Frances Hannon
GUARDIANS OF THE GALAXY Elizabeth Yianni-Georgiou, David White
INTO THE WOODS  Peter Swords King, J. Roy Helland
MR. TURNER Christine Blundell, Lesa Warrener
THE THEORY OF EVERYTHING Jan Sewell
Eddy: I'm going to pick Guardians of the Galaxy just because Zoe Saldana's skin was green, but Into the Woods will probably get it
C.J.: I wouldn't be surprised if BAFTA voters pick Guardians of the Galaxy for the same reason. I'm going with the same pick, and Into the Woods will be my back-up pick in case voters want to give the award to a more "worthy" (aka prestigious) film.
SOUND
AMERICAN SNIPER Walt Martin, John Reitz, Gregg Rudloff, Alan Robert Murray, Bub Asman
BIRDMAN Thomas Varga, Martin Hernández, Aaron Glascock, Jon Taylor, Frank A. Montaño
THE GRAND BUDAPEST HOTEL Wayne Lemmer, Christopher Scarabosio, Pawel Wdowczak
THE IMITATION GAME John Midgley, Lee Walpole, Stuart Hilliker, Martin Jensen
WHIPLASH Thomas Curley, Ben Wilkins, Craig Mann
Eddy: I enjoyed the sound work in Birdman, but Whiplash has to win this.
C.J.: I'll go with Whiplash as well. Part of me wants to go with American Sniper since usually these kinds of awards go to films with a lot of action, but Whiplash's sound is so essential to the film.
SPECIAL VISUAL EFFECTS
DAWN OF THE PLANET OF THE APES Joe Letteri, Dan Lemmon, Erik Winquist, Daniel Barrett
GUARDIANS OF THE GALAXY Stephane Ceretti, Paul Corbould, Jonathan Fawkner, Nicolas Aithadi
THE HOBBIT: THE BATTLE OF THE FIVE ARMIES Joe Letteri, Eric Saindon, David Clayton, R. Christopher White
INTERSTELLAR Paul Franklin, Scott Fisher, Andrew Lockley
X-MEN: DAYS OF FUTURE PAST Richard Stammers, Anders Langlands, Tim Crosbie, Cameron Waldbauer
C.J.: I'm going with Interstellar. In my eyes, they're just objectively the best special effects of this category. I think it'll be an easy win for the film.
Eddy: Interstellar will probably win, although the scale of motion capture work is impressive in Dawn of the Planet of the Apes.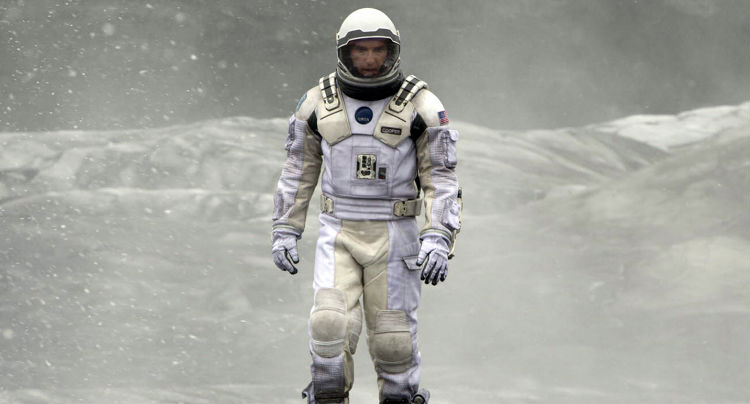 Interstellar
THE EE RISING STAR AWARD
GUGU MBATHA-RAW
JACK O'CONNELL
MARGOT ROBBIE
MILES TELLER
SHAILENE WOODLEY
C.J.: Now the final award, which gets voted on by the public. That means we could have actually voted on this one, I guess. I'm going to go with Jack O'Connell here. He really impressed me in Starred Up, and he seems to be making great choices for roles. But every person nominated here is terrific. I wouldn't be surprised if Shailene Woodley ended up winning due to her having a YA novel fanbase, thanks to her work in Divergent and The Faults in our Stars
Eddy: Jack O'Connell is my pick as well. He's been on great form recently. I will be interested to see who wins this one. Tom Hardy has won it previously, along with James McAvoy, so it can be good at predicting big stars. Then again, Shia LaBeouf was a winner too.
C.J.: Shia LaBeouf is a rising star. He's just rising from a much lower place than everyone else!
Okay, so that wraps it all up. Any final thoughts before we see what happens this Sunday?
Eddy: Overall, other than Mr. Turner I find myself generally happy with the nominees this year. There have been some fantastic films from 2014, and there have been some quirky films like Birdman, which wouldn't traditionally be considered awards bait. The only sad thing is that, in such a strong year, some films like Nightcrawler seem to fail to pick up all the nominations it deserves.
C.J.: Yeah, I think the BAFTAs have some weird choices and snubs, but after going through them like this I think they're pushing more in the right direction than the Oscars. The Nightcrawler nods are great, as well as Damien Chazelle getting nominated for Best Director. Mr. Turner and Selma not showing up in major categories is pretty strange though. Ah well. I mean after all of our predicting I still feel pretty confused and unsure about the whole thing. Guess we'll have to wait until Sunday to find out!