April 2015 Criterion Collection Releases Include Sturges, Renoir Blu-Ray Upgrades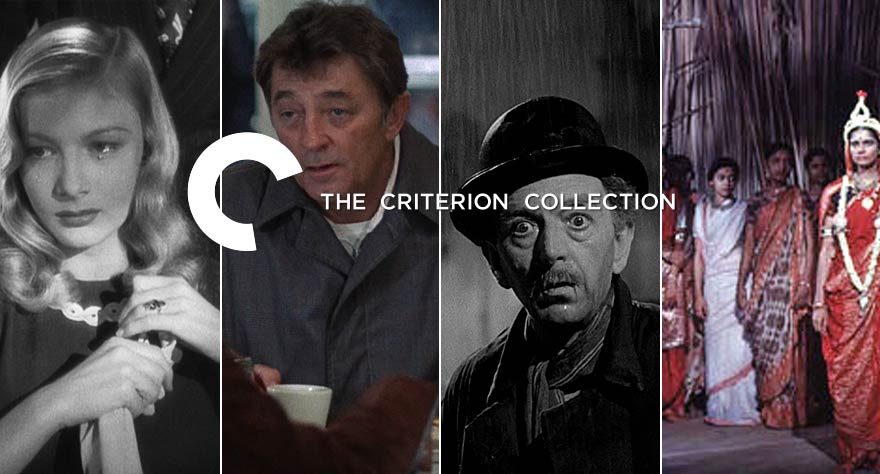 The Criterion Collection has made a huge effort of upgrading some of their very best releases to Blu-ray (who says the Blu-ray medium is dying?). The next few months will see Hoop Dreams (still bitter about the Oscar snub…) and Ozu's An Autumn Afternoon upgrades, and now April 2015 features three more.
Sullivan's Travels
Preston Sturges – Available April 14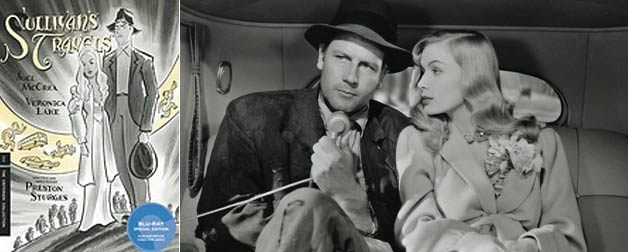 One of my favorite movies of all time, I have great memories of watching my Criterion DVD of Sullivan's Travels. Now, it receives a worthy upgrade to Blu-ray. Preston Sturges, Hollywood's first writer-director, is at the top of his game, merging slapstick comedy with incredible pathos. The film features a knockout duo in Joel McCrea ans Veronica Lake as a famous filmmaker and failed actress, going on the road to get first-hand research of the human condition for a serious new film. Sullivan's Travels is a great insight to early Hollywood and why we love movies.
Special Features:
New 2K digital restoration, with uncompressed monaural soundtrack on the Blu-ray
Audio commentary from 2001 by filmmakers Noah Baumbach, Kenneth Bowser, Christopher Guest, and Michael McKean
Preston Sturges: The Rise and Fall of an American Dreamer (1990), a 76-minute documentary made by Bowser for PBS's American Masters series
New video essay by film critic David Cairns, featuring filmmaker Bill Forsyth
Interview from 2001 with Sandy Sturges, the director's widow
Interview with Sturges by gossip columnist Hedda Hopper from 1951
Archival audio recordings of Sturges
PLUS: An essay by critic Stuart Klawans
Odd Man Out
Carol Reed – Available April 14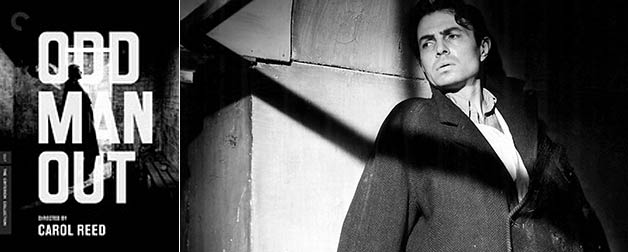 If you can't pony up the $300+ for Carol Reed's OOP Criterion Blu-ray of The Third Man, the new release of his earlier film, Odd Man Out is a much cheaper alternative. Starring James Mason on the run after a failed robbery attempt, it is a prime example of classic UK noir.
Special Features:
New high-definition digital restoration, with uncompressed monaural soundtrack on the Blu-ray
Postwar Poetry, a new short documentary about the film
New interview with British cinema scholar John Hill
New interview with music scholar Jeff Smith about composer William Alwyn and his score
Home, James, a 1972 documentary featuring actor James Mason revisiting his hometown
Radio adaptation of the film from 1952, starring Mason and Dan O'Herlihy
PLUS: An essay by critic Imogen Sara Smith
The River
Jean Renoir – Available April 21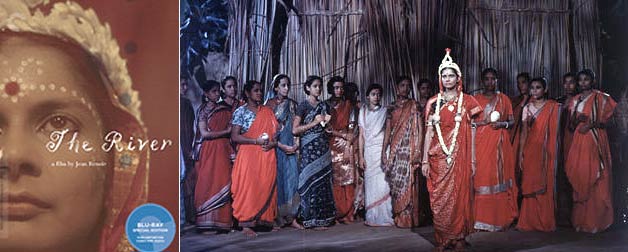 One of Jean Renoir's underseen gems, The River takes the master French filmmaker to beautiful, exotic India. It is the best example of late-period Renoir, wonderfully shot in gorgeous color with the master's typically magical style. It might be a pretty outdated view of India, but it is a pretty fantastical outsider's look at a strange land through a light and funny love story.
Special Features:
High-definition digital transfer from the 2004 Film Foundation restoration, with uncompressed monaural soundtrack on the Blu-ray
Archival introduction to the film by director Jean Renoir
Around the River, a 60-minute 2008 documentary by Arnaud Mandagaran about the making of the film
Interview from 2004 with Martin Scorsese
Audio interview from 2000 with producer Ken McEldowney
New visual essay by film writer Paul Ryan, featuring rare behind-the-scenes stills
Trailer
PLUS: An essay by film scholar Ian Christie and original production notes by Renoir
New cover by Kathleen Cantwell
Le silence de la mer
Jean-Pierre Melville – Available April 28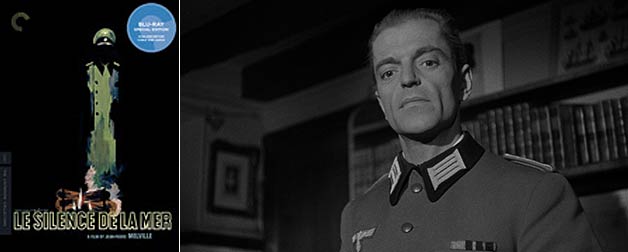 If Renoir's film is too light for you, Criterion has counter-programmed with you in mind. Melville's feature debut, La silence de la mer, isa sobering morality tale based on an underground novel from the Nazi occupation of France. The film involves a Nazi officer who boards with a French man and his daughter, who deal with his presence with silence. Any fans of Melville's more popular work will definitely want to check this out.
Special Features:
New high-definition digital restoration, with uncompressed monaural soundtrack on the Blu-ray
24 Hours in the Life of a Clown (1946), Melville's seventeen-minute first film
New interview with film scholar Ginette Vincendeau
Interview with Melville from 1959
New English subtitle translation
PLUS: An essay by critic Geoffrey O'Brien
The Friends of Eddie Coyle
Peter Yates – Available April 28
A believed example of late American film noir, The Friends of Eddie Coyle is a great pairing with Reed's Odd Man Out as two different takes on cringe and punishment. Starring Robert Mitchum in one of his best roles, it's a great example of 70's Hollywood autuerist cinema. After career criminal Eddie gets popped and faces an extended jail sentence, he is forced to contemplate ratting out all his friends. It is also one of the best depictions of crime in the city, showing of the grotesque underbelly of '70s Boston.
Special Features:
New, restored high-definition digital transfer, approved by director Peter Yates, with uncompressed monaural soundtrack on the Blu-ray
Audio commentary featuring Yates
Stills gallery
PLUS: An essay by critic Kent Jones and a 1973 on-set profile of actor Robert Mitchum from Rolling Stone
New cover by Michael Boland
Eclipse Series 42: Silent Ozu-Three Crime Dramas
Yasuojiro Ozu – Available April 21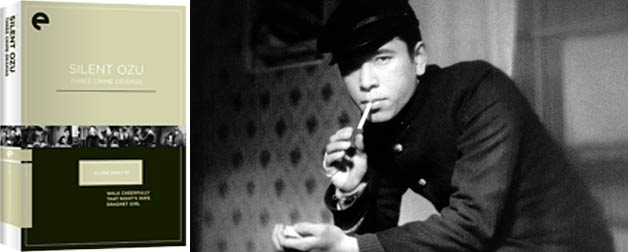 Fans of the Criterion Collection may or may not be familiar with their Eclipse DVD series, which offers great box-set collections of lesser known films otherwise not available on video. In April, the series is releasing three Ozu silent films from the early 1930s: Walk Cheerfully (1930), That Night's Wife (1930) and Dragnet Girl (1933). Holding up to the Eclipse philosophy, these are three films that are completely in my blindside. Ozu is one of my favorite filmmakers and I've always appreciated his silent films, so these should be a treat. This is the third Eclipse set to dip into Ozu's filmography.