Another Hole in the Head Capsule Reviews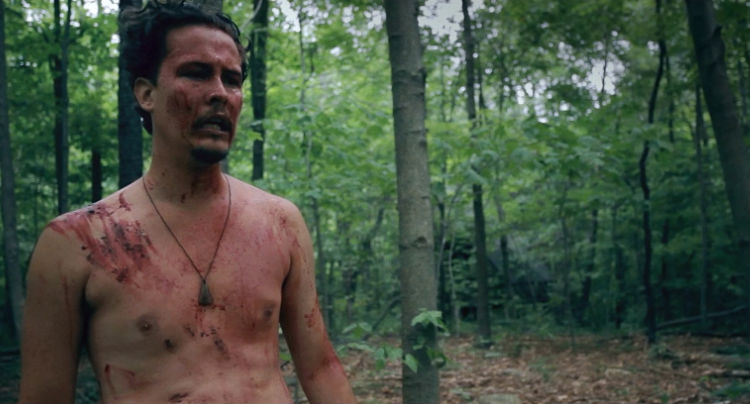 Another Hole in the Head–San Francisco's 10-years-young independent genre film festival–finished up its run at the Balboa theater last night, with a screening of the supernatural high school thriller, All Cheerleaders Die, which got a great response (and a round of applause) from the happy festival-goers. Starting tonight, Another Hole moves to New People Cinema in Japantown for the remainder of the festival (which runs through December 19th.)
With two more weeks of bloody goodness left in the fest, there are still a lot of great movies to check out and enjoy with like-minded fans of fantasy, horror, and sci-fi films. These movies are as independent as it gets, and one of the great joys of being a member of the indie film community is seeing films like these first and spreading the word so that others can discover these hidden blood-soaked gems.
Here are a few capsule reviews from the festival so far. Stay tuned for more festival coverage!
All Cheerleaders Die
Two parts Mean Girls, one part The Craft, and a dash of Buffy the Vampire Slayer, All Cheerleaders Die takes the best elements of the aforementioned high school femme-flicks and stirs them into a delicious dish of R-rated, bitchy girl-power fun. When Maddy's (Caitlin Stasey) friend Alexis dies in a freak cheerleading accident in junior, she transforms herself from a plain-jane nobody into a pretty-princess cheerleader type heading into her final year of high school (for devious reasons best revealed in the movie.) The cheerleader bitch club (the "b" word is a term of endearment for the troupe) accept Maddy as one of their own, which forms a rift between she and ex girlfriend Leena (Sianoa Smit-McPhee), a novice wicca who inadvertently introduces dark magic into the angst-y teenage drama.
The movie begins like any other store-brand high school movie, but once the supernatural story elements get introduced, it's a lot of trashy (in a good way) fun. Directors Lucky Mckee and Chris Sivertson elevate the horrors of high school through the lens of the dark arts (there's that dash of Buffy I mentioned) and don't shy away from the fantastical, the absurd, the hyper-violent, or the melodramatic. Everything's turned up to 11, and those with a taste for zany excess will no doubt be frothing at the mouth for more after the tantalizing cliffhanger ending. [Bernard Boo]
Evil Feed
Up there as one of the most bizarre synopsis that I have read in a while, Evil Feed is a comedy/horror (in that order) film about an underground Chinese restaurant that kidnaps martial artists to fight each other with the loser getting cooked up and served for consumption to wealthy restaurant goers. Yes, it is just as crazy as it sounds. But the film is only out to have fun with the genre and that is exactly what makes this over-the-top violent and raunchy horror film so enjoyable to watch. For every bloody cage match fight there is a hilarious campy scene to balance it out.
Everything about the film screams grindhouse throwback, the most obvious way being the picture chock-full of artificial scratches and film reel artifacts. For a film that is not supposed to be taken seriously at all (dick jokes are frequent punch lines), the production value found here is shockingly high; the cast deliver their lines with conviction (no matter how ridiculous they are) and the fight sequences look professionally choreographed. If you are easily offended by crude sexual humor, people eating human body parts, or cage fights where people's throats are ripped out, then Evil Feed is definitely not for you. But for others Evil Feed is wholly entertaining with its exaggerated ridiculousness. [Dustin Jansick]
Face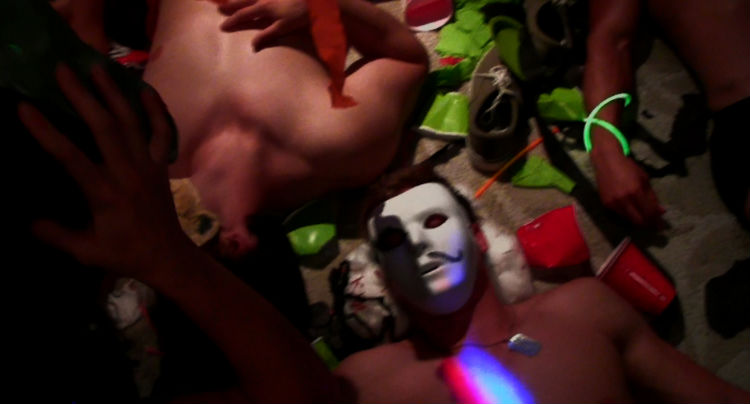 Face opens with the disclaimer that what you are about to see is supposedly found footage from leaked police evidence of the "Halloween Fear Factory" competition between a fraternity and sorority that went horribly wrong. The rules of this annual scare competition are simple and are explained early on by a group of stereotypical frat partiers; the first side that calls for help or leaves the house loses. The penalty of losing is that you are forced do anything that the other team wants. It is a classic boys versus girls revenge story with each side confident they outsmarted the other.
The film eventually becomes tiresome when we are forced to re-watch the entire beginning of the night all over from the perspective of girls. At first this is admittedly intriguing because it exposes the fact that the girls had a plan when they seemingly did not, but the novelty soon wears out and becomes redundant. For the majority of its runtime Face is like a lovechild between The Blair Witch Project and Spring Breakers—capturing the recklessness college kids partying on a continuously moving handheld camera. That is until all hell breaks loose in the nightmarish final 10 minutes when suddenly the title of the film becomes horrifically apparent. [Dustin Jansick]
The Battery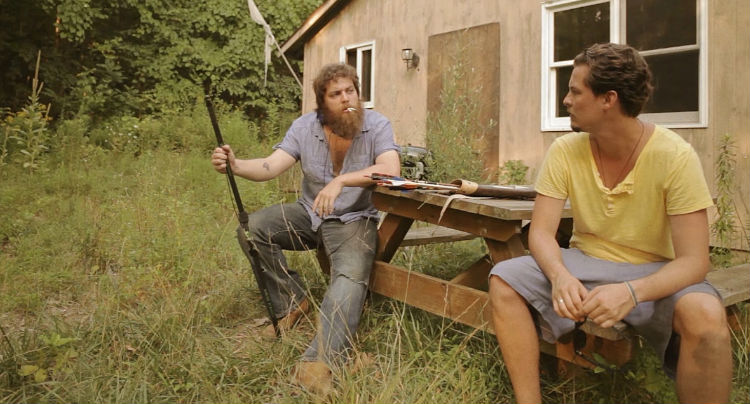 Despite its premise–a pair of former baseball players trekking across a zombified New England–Jeremy Gardner's The Battery is far from the silly bash-em-up you'd expect. It's way smarter than that; this is a grounded character piece, about lost hope, clashing personalities, denial, and camaraderie, cut from the same cloth as Robert Kirkman's The Walking Dead. The zombies act as both backdrop and MacGuffin, propelling the characters forward on their journey whenever things start to settle. It's really funny, too, with the leads pulling off the odd-couple chemistry so well that you'll laugh, and laugh, and laugh with them until suddenly…they feel like your best friends. You're screwed–stakes are high; chances of survival are low; intense drama ensues.
The humor starts of light and quirky, but where the film ends up is startlingly grim and unsettling. Gardner, who wrote, directed, and stars in the film (alongside Adam Cronheim, who plays the second baller), is ambitiously artful (especially for this genre), using ungodly lengthy takes (the climactic single shot of the film had to be at least 8 minutes long), lots of slick nature shots of the muggy backwoods, and a twangy guitar soundtrack that makes his New England feel like the bayou. Gardner's wise-ass, zombie-smashing, lovable dude-bro works well with Cronheim's paranoid, jumpy killjoy, making the 100-minute runtime brisk. Like Shaun of the Dead, The Battery accomplishes the rare zombie-movie feat of making the live characters more entertaining than the dead ones. A gem of a zombie flick, especially when you consider the $6,000(!) budget. [Bernard Boo]