2013 SF Indiefest 2nd Weekend Wrap-up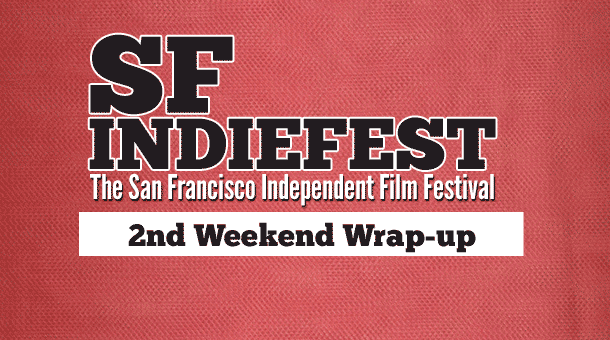 It was a huge weekend at SF Indiefest, and we've got some equally huge coverage from the festival to bring to you all week. Stay locked-in to Way Too Indie this week for reviews, interviews, and our top 10 lists for best features and best shorts. There are only four days left in the festival, and we're going to keep the train rolling until the fat lady sings!
Friday night at SF Indiefest provided a ton of retro-centric fun to kick off the second weekend of the festival. I popped into the festival's popular Roller Disco party at the Women's Building just a couple blocks away from the festival's epicenter, the Roxie, and found a group of enthusiastic roller-skating machines having a hell of a time skating circles around me (my uncoordinated ass had big-time roller-skating envy.) Dressed in sharp 70's garb, the disco-skating crowd continued to keep the party rolling as I headed back over to the Roxie to catch a screening of The Ghastly Love of Johnny X.
I was greeted at the box-office by a large camera and boom mic stuck in my face, and a man dressed in 50's-esque attire (at this point I felt like I was falling backwards inside a time warp) who asked me what movie I was going to watch. I told him I was there to see Johnny X, he smiled, shook my hand, and introduced himself as the director of the film, Paul Bunnell! He was a very nice guy and I told him I looked forward to watching his film. The 50's, 60's, and 70's-inspired film turned out to be a lot of fun and was projected for us in gorgeous 35mm. After the film, Paul and a few members from the cast participated in a playful Q&A that kept the crowd laughing. All in all, the night was a fun blast from the past that turned out to be the most unique evening of the festival so far.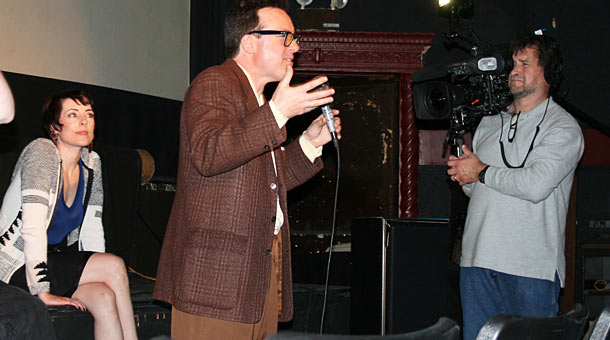 One of my favorite moments of the festival so far was on Sunday when a huge group of local Bay Area filmmakers took the stage for a Q&A after a presentation of their short films. As a Bay Area native, it was a proud moment to see such an impressive array of home-grown talent on display. There was a huge turnout for the program, which made it a lot of fun to be a part of.
I saw a TON of films this weekend, which included the festival's centerpiece film, Days of Grace, a violent look into Mexico City's seedy underbelly, Amy Seimetz's bittersweet (mostly bitter) Sun Don't Shine, the McManus brothers' hilarious coming-of-age story, Funeral Kings, Leslie Zemeckis' documentary about a couple of famous Siamese twins, Bound by Flesh, a cautionary tale of the dark side of the porn industry in Mia Donovan's Inside Lara Roxx, mumblecore king Joe Swanberg's All the Light in the Sky, and MANY more.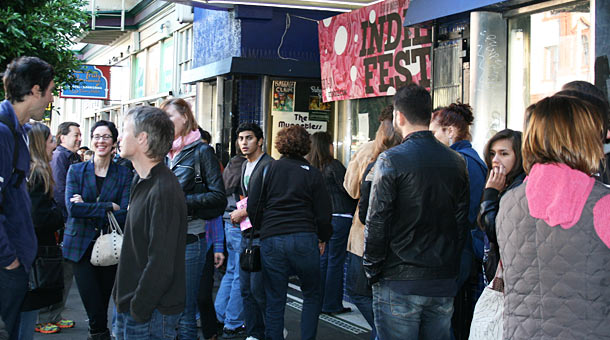 We'll have reviews for all of these films coming up in the next few days, but we'll start off with our review of Paul Bunnell's The Ghastly Love of Johnny X.
The Ghastly Love of Johnny X (capsule review)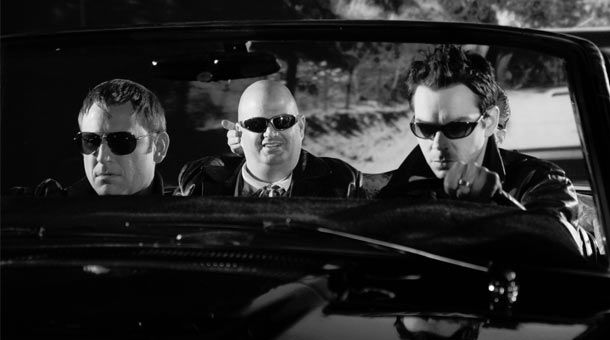 A decade in-the-making, The Ghastly Love of Johnny X is a retro-tinted window into the mind of director Paul Bunnell, mashing together influences from sci-fi B-movie flicks like Flash Gordon and musicals like The Rocky Horror Picture Show and Grease. The combination of the two genres (with touches of various other eccentric influences) works well, though it's not quite as explosive as it should be. There are some pacing and narrative issues, but ultimately Johnny X is an enjoyably wild and surprisingly slick-looking adventure that is worth a look, especially if you're a fan of over-the-top, genre filmmaking.
Read full review of The Ghastly Love of Johnny X
Also, STAY TUNED to Way Too Indie for an extended interview with director Paul Bunnell incoming soon!