2013 Berlin Film Festival Day 6: The Broken Circle Breakdown & Concussion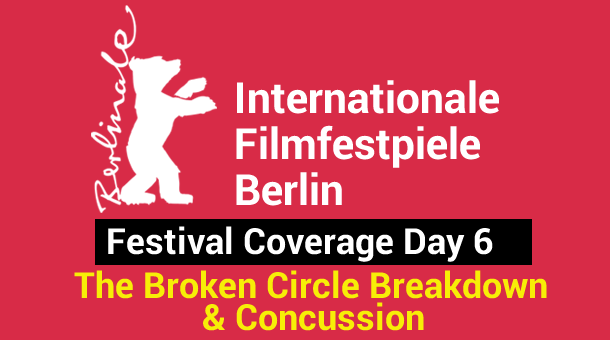 I was finally able to attend the lecture on short films presented through the Berlinale Talent Campus. The forum was moderated by the curator of the Berlinale Shorts Program, with the panel consisting of shorts programmers from festivals throughout Europe. The discussion was very interesting, and really told a lot about not only the process, but also just how diverse the selection process can be from festival to festival. One in Sarajevo only has one person on the selection committee, where others functioned as teams in completely different ways. Certain festivals have restrictions on premiere status, or the time frame when the film was produced–like Berlinale–where the festival in Finland welcomes everything and anyone.
What was most enlightening, and something that all of the programmers agreed upon, was that they did not necessarily select what they felt to be the best films; rather, they try and build a program that shows new directions in film, diverse ways of telling stories, as well as just plain good shorts. They build a diverse program that offers a collective pool of the type of talent that is out there, and then allow the juries of the festivals to decide which ones are the best. This does a lot to explain why, at times, a shorts program might not meet the standards of most viewers as far as representing what they might consider to be "good cinema."
I was able to make it to another program of shorts before the attending the panel. What was apparent at this screening, and further emphasized by the programmers, is that typically the programs are made of groups of film that seem to draw on a similar theme–be it alternative storytelling, stories based in reality, or young and upcoming film makers. I will say I enjoyed the second program of shorts better than the first one I attended. The first program fell along the lines of alternative methods to bring a true tale to life. The second program was more along the lines of traditional short film. If you attend a festival where the shorts are divided into separate programs, try and attend a number of them to get a feel of the overall diversity.
The Broken Circle Breakdown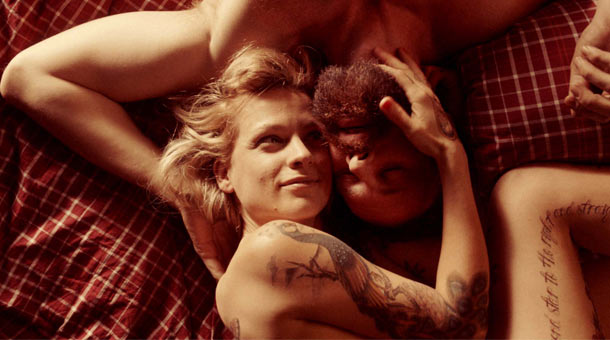 As Americans, we sometimes tend to believe that Europeans can have a fairly negative view of us. The fact is, for the most part they only take issue with our politics, but absolutely love our culture. This idea is clear in Felix van Groeningen's The Broken Circle Breakdown. The Broken Circle Breakdown tells the story of Didier, a Dutch bluegrass playing atheist who loves America; and Elise, a tattoo artist and catholic. The two fall in love and have a child. At the age of six, the daughter of Didier and Elise begins a battle with cancer. Didier ends up taking strong convictions that religion is to blame for the fact that better medicine is not available for his daughter, which causes friction between him and Elise. To avoid spoiling the film, I will leave out the details of this friction, but the struggle pushes both characters to the very edge of their relationship.
The story is not told in chronological order, with regular jumps back and forth over the span of seven years. The story has a strong presence of American cinema, even though it takes place in Holland. Didier lives in a very "country" setting, with horses and a pick-up, and the soundtrack is made up of lively bluegrass. Even the love between Didier and Elise has a very American feel to it, which ends up taking the focus of the film over the initial story of battling cancer. This is the idea that our convictions are often all we have in a crisis, but that–in the end–we really have no control, regardless of what we believe.
The Broken Circle Breakdown is a beautiful picture in both appearance and story. Van Groeningen uses the presence of harsh light to present a strong and telling image throughout the film, both in the fields around Didier's house as well as on the stage when he and Elise are performing bluegrass, and it works to draw comparison to the two facets of their lives together. The film received tremendous audience approval during the Panorama screening, and–while the story deals with some very serious issues and moments–there are comical elements that often help to relieve some of the tension.
RATING: 8.7
Concussion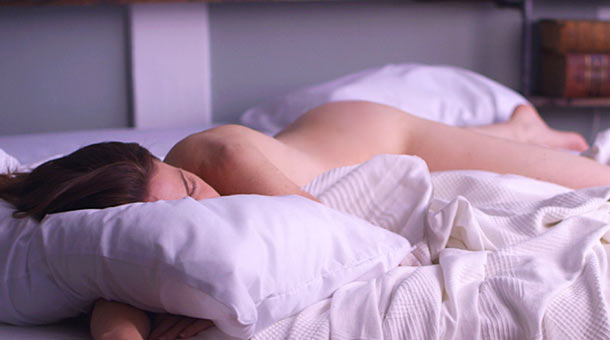 Concussion is a love story, beautifully told by director Stacie Passon. The film opened big at Sundance, and was snapped up very quickly for future distribution by the Weinstein Company. Concussion plays on a lot of themes: self-discovery, love, age, and forgiveness–not just forgiveness of others, but of ourselves as well. While it is considered Queer Cinema, it is universal to anyone who has ever known love, which I believe to be the overall point of Queer Film.
After suffering a concussion, caused by getting hit with a softball accidentally by her son, Abby is left feeling as though she is missing something in her life. First she decides to go back to work flipping apartments. Next she visits a prostitute. Then she decides to become one herself, using the newly renovated apartment she has been working on as her place of business. She decides to service only young women who are looking to better understand themselves and their lives, and later she works with women her own age who are also at a point of confusion in their lives. Through helping these women, Abby is able to get perspective on her own life and what might be missing. In the end, she gives up the practice and returns to her life as a wife and mother with a new sense of drive and determination.
It is no mystery that the concussion in the beginning is a metaphor for a midlife crisis, and Abby's actions that follow are those that could accompany such a turning point in one's life. Abby's prostitution is never seen as a bid for independence or money, as she already has both. In a Q and A following the screening, the director made the statement that–though they decided to leave the notion somewhat ambiguous–each of the women Abby helps is really an extension of herself, and by showing these women the way to understanding, she is showing herself the way. The overall idea that the film wishes to show is that it is possible to have these crisis' in the midst of our lives, and they can serve to change us, but they do not have to destroy us–as is so often seen in films that tackle this subject matter.
Concussion is a wonderful and engaging story that anyone can learn from as well as enjoy. It is a genuine slice of life that feels true and whole, and was brilliantly executed. I felt engaged throughout the entirety of the film, and have a feeling this is just the beginning for Stacie Passon. I would not be surprised if she becomes a mainstream filmmaker within the next couple of years, and I cannot wait to see what else she has to offer.
RATING: 9.2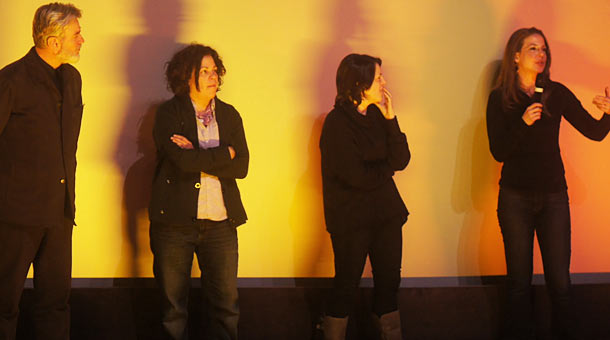 From Left to Right. The Curator of the Panorama Program, Producer Rose Troche, Writer/Director Staci Passon, and Actress Robin Weigert, who portrayed Abby in the film.
COMING UP: Tomorrow we will get a look at the serious side of Paul Rudd in Price Avalanche, the latest film from David Gordon Green. I have not seen much billing around town for this film, but the press screening is occurring in the Berlinale Palast with the presence of the Grand Jury, so I think we can expect something great from this film.