11th Annual Big Apple Film Festival Announces Lineup & Honorees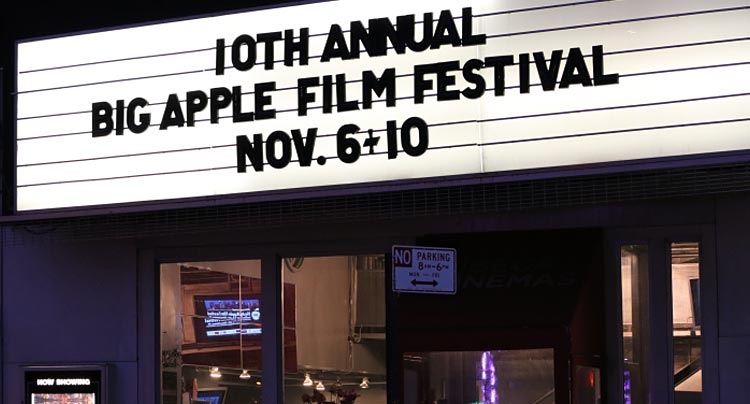 Beginning on November 5th, the 11th annual Big Apple Film Festival descends on the Tribeca Cinemas with a slate including 129 feature-length and short films from a variety of filmmakers. This year's festival will feature Q&As with a group of filmmakers and talent in attendance at the screenings, as well as special guest discussions and receptions on both opening and closing night of the festival.
The fest starts with opening night film Manhattan Romance, a romantic comedy from writer/director/actor Tom O'Brien (Fairhaven) starring Katherine Waterston (Paul Thomas Anderson's upcoming Inherent Vice), Gaby Hoffmann (Transparent), and Caitlin Fitzgerald (Masters of Sex). Following the screening, Katherine Waterston will be in attendance to receive the festival's "Emerging Talent" award, previously given to actors including Mike Vogel, Jesse Eisenberg, Louisa Krause and Aaron Stanford.
Another standout film in this year's Big Apple Film Festival is director Steve Monarque's Simpler Times, a comedy short starring Jerry Stiller, his wife Anne Meara, and their daughter Amy Stiller. Jerry Stiller will be BAFF's receipient of the "Golden Apple Award," an honor previously bestowed on Cuba Gooding, Jr., Morgan Spurlock, Anthony Bregman and Alan Cumming.
"We're thrilled to once again offer audiences an opportunity to see groundbreaking independent films, from an exciting group of established talent and rising stars," commented Jonathan Lipp, the founder and director of the Big Apple Film Festival. "Now in our second decade, this year's festival boasts our strongest lineup yet."
There will be a slew of screenings throughout the early November weekend at the Tribeca Cinemas in New York City. Find out more about the 11th annual Big Apple Film Festival and see the complete schedule at their official website.