'Win!' Documentarian Justin Webster on Bringing Vérité-Style Filmmaking to NYCFC's Founding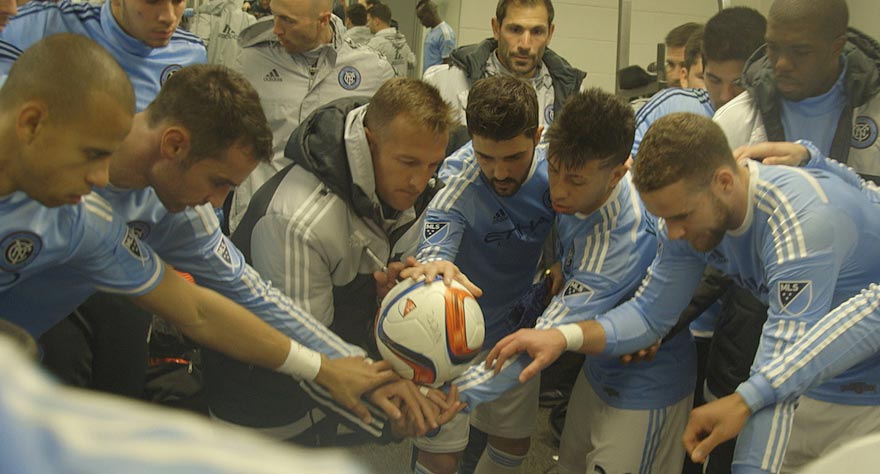 As a Brit who lived for many years in Spain before coming to America during New York City Football Club's inaugural season, documentarian Justin Webster's background mirrors that of many of the players on Major League Soccer team rosters. Benefiting from his personal connection to the City Football Group, as well as some fortunate timing, Webster found himself preparing to start a new vérité-style film project right as City were ready to announce their entry into America's 20-year-old soccer league. Yet, the final result of Win! is about as far from PR promotional product as one could imagine. Using unprecedented access to locker rooms, player retreats and board rooms, Justin Webster's new documentary gives an intimate look into the lives and struggles of a professional soccer organization going through the ups and downs of its founding.
In his sit down interview with Way Too Indie from the 2016 Tribeca Film Festival, Win! director Justin Webster talks about getting access to world-renowned superstars like David Villa and Frank Lampard, the challenge of vérité-style documentary filmmaking, and making calculations about how much information to make explicit.
How embedded did you want to become in this process? How day-to-day was your involvement following the birth of NYCFC?
Justin Webster: For viable, practical reasons, and budget reasons, we couldn't follow the whole thing for a year and a half every day. So we had about four and a half months of filming and I had to choose when to go. It was spread out to try to capture the twists, stories and the characters. Sometimes things happen that needs to get covered by somebody else. But as this style of filming isn't that easy to do, that was a challenge, too. So to get somebody else to film while we weren't there wasn't the ideal situation. My production team is highly trained and highly skilled in this kind of filming.
The vérité style really lends a really immersive aspect to Win! It gives an unfiltered look at professional athletes that isn't often on display. Was it tricky to coordinate, or to get these athletes to open up and allow themselves to curse or say something off-color on camera?
Sure. There's a whole art to this observational filming, done well. Part of it is explaining very carefully and then filming an awful lot. Because when they trust you and they ignore you, then you're in the position to start getting some real scenes.
And you may not [get good footage], you may be filming for hours and hours and hours and nothing gets into the cut. The team filming has to be on the same level of attention the whole time. When it comes to the players, we got along very well. They very, very graciously ignored us.
And enough to get some of those really candid, interesting moments that anyone interested in the sport wants to see. Those little interactions between a coach and a player or a coach and a manager aren't normally for public consumption. Was part of your interest in capturing those moments that might seem minor but reveal bits of personality?
I couldn't put it better myself, in fact. People ask me, "What was the message of the film?" and in a way the message of the film was the style. You see what you think you know, but you don't really know until you see it. It's like they're acting. They're not acting, but if an actor glances one way, or twitches some way, or looks up, it becomes much more revealing. You see everything in a slightly different light. It's like actually being there, and that's stimulating for you to think about what you thought you knew. I think you put it better. Those little details can be very revealing.
There's a version of this movie that could be made where you explain the MLS rules of the expansion draft, or the protected players clauses; however, a lot of it is left for the viewer to piece together. How much of a calculation is that for you? Explaining the complexities of a world without become bogged down by those intricacies?
Well, that's a really interesting point when it comes to making film. You need to tell enough that it's not confusing, but if you start telling too much it becomes boring. Things like the expansion draft, even Claudio and Jason when we interviewed them said, "I'm not sure we can explain it completely," it's so complicated. You just have to know enough so you're not confused. So you know the in expansion draft they're competing to get some players, actually American players. That's the important thing.
I'm hoping, and it was a calculation, you're right, that I put in the right layer of information so that it helps the story, because there is a storyline about how this is the tipping point of soccer in the US, for instance, and the pressures around that.
You pick up that this is this post-World Cup wave, but it's only a few clips in the actually movie where we see them. Is that something you decide to include in post or is this something you feel you have a natural felt would be part of the story?
I have a boring, kind of [mantra] I repeat again and again. I always say that you have to have two opposing ideas in your mind at the same time and still maintain the ability to function, which is a quote from F. Scott Fitzgerald. The two ideas are, "this is the script," "there is no script." So you start off with an idea. And so those sort of ideas about the World Cup and where we were, I think they're always there.
Of course, just a little is enough. Threading in the right level of information, the longer cuts were around 2.5 hours. I started editing fairly early on. It's a process. With any luck you end up with everything in the right kind of proportion.
You mentioned that you lived in Spain, and you get some really great access with David Villa in the documentary. Was your ability to speak with him or relate to him part of what facilitated getting some of those honest, revealing moments where you see him frustrated with his inability to communicate?
I think so. It'll be very interesting to see what he says. It wasn't necessarily easy to film closely with anybody, and he opened up steadily. The fact that we speak Spanish – not just me but the director of photography, my assistant director and producer, the sound person, we're all bilingual Spanish-English. We talked a lot with David's father, as well, when he came to training sessions. I think it all helped; building trust like that was essential.