Sally Field and Michael Showalter Talk 'Hello, My Name Is Doris,' Gender Inequity in Show Business
It's been some time since Michael Showalter's Hello, My Name Is Doris premiered at SXSW 2015, where the film's seasoned star, Sally Field, made waves with an outstanding performance as the titular, socially invisible cat-lady, who we follow as she lusts after her significantly younger co-worker (Max Greenfield). As would be expected considering Showalter's resume (he co-wrote the great Wet Hot American Summer), the film is exceptionally funny; watching awkward Doris stalk her prey is adorable and awkward and hilarious. But what's special about the movie is that Field not only makes us laugh, but finds incredible depth in a role that, ostensibly, is a walking cliché. One of the sad realities of the movie business is that actors of age as gifted and experienced as Field are rarely afforded meaty starring roles. But, thanks to Showalter, we've got this terrific little film that showcases Field and her talent full-force.
We sat down with Showalter and Field in a roundtable interview to talk about the film, which hits theaters today!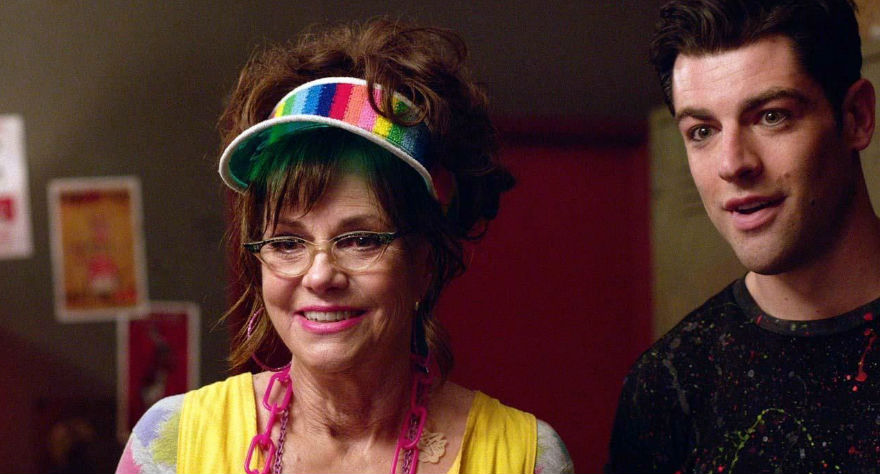 I love Doris as a character. Sally, what was your immediate reaction to her?
Sally: When I read the screenplay, I loved it. I said to my agents, "I want to do this." They said, "You should meet Michael. What if you don't like him?" We met, and immediately he said…
Michael: It was about the comedy.
Sally: We were addressing how you can blend both of those arenas.
Michael: The big question for her was, how are you going to do all this slapstick, screwball comedy stuff—the ball pumping scene, the dancing—with this really intense, sad stuff? I don't want to water either one down to make it a fine line. I want the comedy to go all the way. We want to play every level as loud or as soft as we want. She did ultimately map out a way. She's crying her eyes out in the scene where she gets drunk, but it's this sort of dramatic, feeling sorry for herself kind of crying. In the scene where the brother-in-law comes to the house, that's a different kind of crying. That's all the way deep down in her. It was about figuring out all these different shades of this character and how to piece it all together so we weren't repeating ourselves.
The film feels like a perfect antidote to the kind of issue that was addressed in the Inside Amy Schumer sketch that gave that shout-out to you and your career arc. I was wondering if that was a part of the appeal of this character. Here's a character who's not defined as a wife, as a mother. She's discovering her vitality, really.
Sally: The appeal of the screenplay and the character wasn't in that it's a "not." It was such a unique person. A three-dimensional character that really talked about how there are all these stages in life. People always think, "Well, there's the childhood stage—we know what kind of development goes on there. You don't know where to put your feet down because you're a child. Then, there's adolescence…everyone knows what a tough stage that is. Then, there's young adulthood—you've got relationships and children and a career." The thing is, those stages go on into your 30s, your 40s and 50s and 60s and 70s and 80s and 90s. Every one of them is this new place that you arrive. When you're older, society doesn't let you feel, "I don't know what I'm doing! I don't know where to put my feet! I'm brand new and I'm too old to be this new!" That is, in a lot of ways, what this film is.
That is, in a lot of ways, what this film is. She has arrested development, yes. And she's in her sixties, having a kind of adolescence, a birth of her own voice, her own vision of who she is, what she wants. It has to do with her mother passing away, so her life is just changing whether she wants it to or not. That is something that I really responded to, as well as the fact that age is such a weird thing. Inside, whether you're 20, 30, 40, 50, 60…you're still who you are. Who you are is lodged there. Human beings need to make contact with other human beings, so sometimes they don't match, chronologically. If [Doris had] been the man and he'd been female…
Michael: It'd be Bad Grandpa.
Sally: [laughs] It'd be an Audrey Hepburn movie.
Michael: There's a line from the movie Grey Gardens where the mother is in bed and Edie's doing something and the mother says something to the effect of, "I lived my life." The implication was, I may be crazy and living alone in this crazy house with a million cats, but she's even worse because I actually had a life! I didn't start living this way until I got way older. But Edie never even had a life! I did stuff, so I have an excuse to be this way. It's so sad for Edie. It's such a dig at her. That line resonated for me, and a lot of that is in this story. What Doris sacrificed for her mother was her whole life! It wasn't just that—I think you learn in the brother scene that there were gender politics, but these were not areas the movie was going to delve into. But it was very real.
Sally: I always thought Doris was predisposed to be a hider anyway. I always saw her mother as being a big personality who took all the air out of a room. So Doris got smaller and smaller. Her mother was much more of a hoarder, so she'd bring home this stuff to please her mother. There was an injured part of Doris that preferred to hide. I recognized that, and sometimes it takes change to force you out of your own comfort zone. I don't think she's, like, a victim within it because I think in a lot of ways she was predisposed to be this way, and they were her choices. She could have walked away. She could have said, "You know what, Mom? Let's see if I can earn enough money and get someone to look in on you. I've got some dating to do." But she chose not to for a reason. Part of her couldn't heal.
I think, right now, mean-spirited comedies are sort of fashionable. The humor in your movie is more classic, screwball stuff. We laugh at Doris, but it's out of recognition. Like, when she's daydreaming about her crush, we laugh because we've all been there. We've all liked someone like that. It's good-natured.
Michael: The comedies I loved were not mean-spirited. I grew up on the comedies of the 70s and early 80s, which were silly—Steve Martin movies, Python, Woody Allen, Airplane! My comedic sensibility is really just silly and light and broad. Physical comedy. I love slipping on a banana peel and stuff like that. That's always been my sensibility. I just really like silliness. It's just my own aesthetic.
We mentioned the Amy Schumer sketch earlier in which she used your career to comment on how a female actor of age's value is unjustifiably tied to her age. Do you find that perception to be accurate?
Sally: Of course. I feel like that's accurate in show business and accurate in most of society. In this country, ageism for women, not necessarily for men, is a deterrent. You're talking about show business, but it's hard for women in every arena. It's not getting any better. If you add any other ingredient on top of being female, like being of color, and then you add age…The statistics on all of that, of those who participate and whether they be in front of the camera or behind the camera, are pretty horrifying. They do not reflect where we are in society. I think the world has something to work on when it comes to empowering and bringing women to the table. Unless we can do that, the whole world will not heal. We're out of balance.