Pratibha Parmar Talks 'Alice Walker: Beauty in Truth', Capturing the Essence of the Author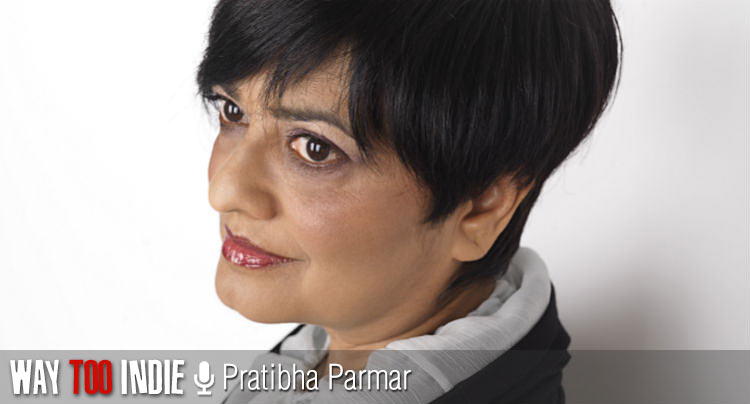 For many of us, our knowledge of Alice Walker begins and ends with her tenth, Pulitzer Prize-winning novel, The Color Purple, and Steven Spielberg's subsequent film adaptation.Documentarian and longtime friend of Walker, Pratibha Parmar, tells the story of Walker's remarkably rich and incomparable life, in Alice Walker: Beauty in Truth. It's a layered, visually stunning profile of one of the most significant figures in American literature (though she doesn't get the credit for it, an injustice that sparked the idea for the film.) Walker, now nearly 70, has broken boundaries her whole life, shattering black and female stereotypes, freely dating both men and women, rushing to the front line of protests, and countless other feats of strength and audacity.
Parmar spoke with us about why so few of us are familiar with Walker, the challenge of addressing in the film Walker's estrangement from her daughter, the importance of visual storytelling in documentaries, whether Walker has changed over the years, and more.
Alice Walker: Beauty in Truth is the closing night film at Third I's 11th Annual San Francisco South Asian Film Festival this Sunday night, November 10th.
Before I left to meet with you, my wife asked me who I was going to interview. I said I was interviewing Pratibha Parmar, and that you'd made a documentary about Alice Walker. She had no idea who Alice Walker was. Why do you think so many people are unfamiliar with Alice despite her accomplishments and contributions to society?
I think there are several reasons why many young people don't know who Alice Walker is. One of them is that there's a kind of deliberate erasure of women history-makers, particularly woman who have been outspoken, and Alice has always been outspoken on so many different issues. There's also an incredible gender and racial bias in the teaching of history and English literature, so that the white male literary cannon is always at the top of the reading lists. Unless there are educators who have an awareness and commitment to ensuring that women of color and women from the South are represented in their reading lists, the default will always be the white male cannon. The two can be inclusive, because Alice Walker is very much a part of American literary cannon. She's written over 30 books. What she has written about has started cultural discourses around sexuality, race, and the experiences of Southern Black women, specifically.
What's most inspiring to me about Alice is her fighting spirit; she's not afraid to stand with people who are in danger. It's in her nature but, as her friend of 20 years, do you find that sustaining that kind of strength and bravery is difficult for her at times?
I think it would be difficult for her not to do those things. It would be going against her essence. In the film, Howard Zinn says, "Alice goes her own way." That says multiple things about who she is, one of them being that if she believes in something, she will speak about it. She will write about it. She will go out there and stand with the people. She literally puts her life on the line for what she believes in.
So, it's easy for her. She doesn't think twice about it.
She is human, so I think she would think twice. Well, maybe that's not the correct way of saying it. She'd give a lot of thought to any action she takes. She would understand the consequences of the actions she's taking.
She's turning 70 soon, correct?
Yes, she's turning 70 in February.
That's amazing. What fuels her? She seems to be almost if not as busy as she ever was in terms of her activism.
She rests a lot. (laughs) She has some very beautiful homes. I don't think I've ever known anyone who takes as much care of themselves as Alice does. I sometimes wish I could learn that level of self-care from her. I think she has become very mindful of the balance between physical and spiritual well-being, and how if there's a balance there, it can help you do your work effectively.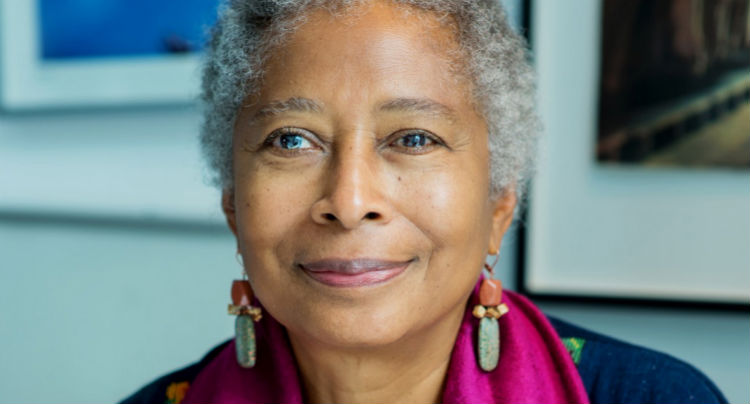 There are some gorgeous, serene shots in the film of Alice at her home in Mexico, sweeping leaves and thoroughly enjoying the beautiful, hilly landscape around her. Talk a bit about Alice'c connection to nature.
I think Alice's connection to nature was particularly amplified when, at the age of 8, she was shot in one eye [with a bb gun] by her brother. She didn't lose the eye, but she lost vision in the eye. There was a lot of scar tissue, and at school she was bullied. She escaped into nature, into the trees and the fields. That's where she felt comforted. There's also an interesting thing she says in the film: where she grew up, in this shack on a plantation, way, way out from the road or anywhere, for miles around, trees were much more familiar to her than people.
Interesting!
I thought it was a really interesting idea.
Who is the film aimed at? Young women? Women of color? Everyone?
My desire would be that the film is seen by all ages and all ethnicities and all kinds of communities. I think it's important that whether you're a 60-year-old white male, or a 14-year-old African American girl, that you see a story of an inspirational woman who has literally–through her talent and strong will–forced her way out of that vortex of Southern segregation and racist violence and fashioned this life for herself where she's managed to be so creative and visionary.
Going back to the young people; absolutely, one of our aims is to get this film out to every school and college across the U.S. Alice's story isn't just a story of this individual woman. Her story is very much a part of the history of African American people. The civil rights movement, the Black Power movement. I think her personal personal history and political history are inextricably linked. Young people can learn about their history through a story like Alice's. We're going to be releasing an educational, special edition DVD next year with lots of extras, and it's going to go out to every school and college in this country.
How long have you been friends with Alice?
Over 20 years.
Now seems like the perfect time to make this film. Why do you think it's the perfect time?
When I first thought of making the film, which was over five years ago, it didn't occur to me that it was the perfect time. I just thought it would be really interesting to make this film about her life. It's only now I realize that this is a perfect time for her to reflect back on her life.
Does she enjoy reflecting?
She definitely has done that for the film. I think yes. She's kept journals for forever, and I had an email from her the other day saying that she was going through her journals from many years ago and that she's going to be publishing them. I think she's aware of her own legacy. One of her literary ancestors, Zora Neale Hurston, died completely poor, her books out of print. This is an African American woman in the 1920's. Alice is ensuring that her legacy and writings survive after she's gone.
Unlike a lot of documentaries these days, your film is quite visually striking. Your use of color is so vibrant and matches Alice's story so well.
When I started making documentaries, one of my aims always was that documentary films should be visually and aesthetically beautiful to view and experience as any narrative film. Often, particularly in the U.S. documentary tradition, the emphasis is always weighted on the observational storytelling. I didn't go to film school. I've been influenced by so many different things, including my passionate engagement with visual arts. As a filmmaker, I'm nourished by looking at paintings; the way in which perspective develops, the way Van Gogh painted his self portrait. It's so vibrant. What makes it so vibrant? I work with a fantastic director of photography. I'm all about how you frame someone, what the balance of the frame is. It's not just about creating a visual aesthetic for the sake of it. It's about, "how does this help me to tell my story."
A lot of documentaries these days show their movement with cleverly animated stats and pieces of data flying across the screen, but you work cinematically. You move your camera. It seems good camerawork is a little undervalued in modern docs.
That's really interesting. I have a European sensibility, having grown up in England and being completely immersed in French New Wave cinema, going every Sunday afternoon to some flea pit to watch art house movies. I deliberately exposed myself to discussions and commentary around how you make a film, what elements make a film not only beautiful, but help tell the story most effectively. Within the European tradition, in documentary as much as in narrative, there is a sense of capturing beauty, but with a cinematic eye and a cinematic vision. It's about how the mise en scéne emerges, not about hammering and leading your view like you're an idiot.
As a filmmaker, was the section of the film about Alice and her estranged daughter Rebecca difficult to construct?
Absolutely. Absolutely. I'm glad that you instinctually picked up on it. (laughs) It was incredibly tough, for so many reasons. I did ask Rebecca if she would give us an interview, and she declined. I respected her decision. Alice had never really spoken about how she felt about the estrangement. As a friend, I had seen her go through her grieving, pain, and angst around it, but as a filmmaker, I had to go there. I didn't want the film to be a puff piece on Alice. I wanted to show someone who has made incredible contributions to culture, but at the same time, has suffered in her personal life. It's not in the film as much as I'd like, but I wanted to explore why it is that mothers are always blamed, particularly women who are trying to find their creative muse. Male authors have done it and been completely absent for their children, but nobody judges that or thinks it's wrong. When women follow their muse and, as a consequence, the children feel abandoned, the women get picked on as "bad mothers." All they're doing is trying to follow their muse. Not all women get it right, but look at what's stacked against them.
In the film, when speaking about her sexuality, she describes herself as "curious." I love that.
I love that, too. I think it's brilliant. Alice has always resisted any kind of pigeonholing or labeling. She says she wants to be a free human being, and in terms of her sexuality, that's fluid. It changes. She's married a man, been in long relationships with men, but when she fell in love with women, she fell in love with women. She's always resisted people saying she's a lesbian or straight or bisexual. Her response is that she's curious, curious about people no matter what genitals they have. It's about the spirit of a person.
Are you excited to be the closing night film at the Third I festival?
I'm really excited about that. It's a great festival, and we agreed to screen the film there because they wanted to honor me as a South Asian filmmaker. I'm very much looking forward to it. People should definitely come to Third I this Sunday, but we are also going to be doing a celebratory screening at the Grand Lake Theater on the 18th of November. Alice will be there and we'll be doing a Q&A onstage.
You've known Alice for 20 years. Have you seen her evolve as a person over the years, or is she still the same woman she was when you first met her?
As a human being, as she's gone through so many different experiences over the last few decades that I've known her, I've seen her grow, I've seen her suffer, I've seen her speak out about things even when she knows it won't make her popular with people. Through all of that, I would say that there is an essence that's never changed. She has a very strong inner core and will. That's powered her through her life.
We made a film together about female genital mutilation in 1994 [Warrior Marks], and we came under a lot of flak and criticism from some quarters, saying who are we to make this film, because we aren't African women. I at one point got upset about it, and she said to me, "Pratibha. Teflon." She said I had to develop a skin like teflon. She's had to have done that to survive.
For more information, visit alicewalkerfilm.com.