Olly Alexander Auditioned For 'God Help the Girl' on a 'Shitty' Keyboard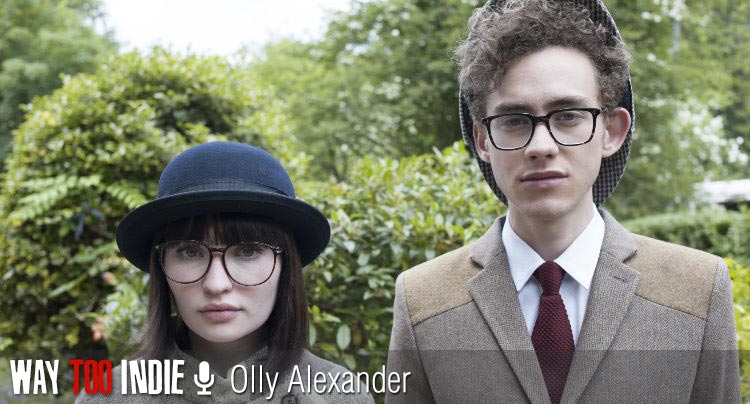 Belle & Sebastian frontman Stuart Murdoch's indie-pop fantasy God Help the Girl is a musical that's been in the works for a good decade or so. In 2009 he finished and released a concept album of the same name he'd been working on since 2003, and now with the film (his directorial debut), he's brought his vision to life visually as well as sonically. The film follows three young musicians in Glasgow (played by Emily Browning, Olly Alexander, and Hannah Murray) who form a band and spend a summer writing songs, playing random gigs around town, and ruminating about the virtues of artistic integrity.
In our conversation with Alexander (the lead singer of his own band, Years and Years), we talk about the fun he and his co-stars had on set, having the best job in the world, landing the role with a "shitty" keyboard, where being an actor and musician intersect, his songwriting process, and more.
Thanks for taking the time to chat, Olly! I know you guys are having a really busy afternoon.
Olly: That's okay! It's quite exciting.
Oh good! So you like talking to press?
Olly: I don't normally get to do this, so it's quite fun!
Speaking of having fun, I interviewed Hannah as well, and she was saying that you guys had a lot of fun making this movie.
Olly: We did! Too much fun. I feel like it's probably wrong to have that much fun at work. I can't really think of another film I've done where I've looked back on it with such fondness. Everyone always says, "It was such a great group of people," or "The script was so good," but I feel like they're lying a lot of the time. Making movies is sometimes really hard and depressing, but this one was so fun all the way through. I'm just happy I got to be in it, really.
What was the chemistry like on set between yourself, Emily, Hannah, and Stuart? Tell me about some of the fun you guys had.
Olly: We hit it off instantly. I'd known Hannah for a few years prior, and the three of us met on a train up to Glasgow for rehearsals. We got a bit drunk and talked about our love for Belle & Sebastian. Our sense of humor is quite similar, so we have a lot of in-jokes and we're probably terrible to be around. [laughs] We're just laughing all the time. Also, if your job is just singing and dancing, that's pretty much the best thing ever. I can't think of a more fun thing to do, you know?
That is a cool gig, my friend.
Olly: Right? I'm not having to break down or play some tortured, abused person. It's just fun!
Stuart said that casting you three was one of the hardest decisions of his life.
Olly: He's been living with this movie for 10 years, so it must be hard to find the right people. I'm hoping he feels like he made the right choice. [laughs] Stuart told me that the reason I got the part was because the other guys who auditioned for James did these guitar covers of Springsteen or Bowie or Bob Dylan or whoever. I wrote my own song and played it on my tiny, shitty Casio keyboard, and he said that that was something James would have done. He intended for James to be way older, so I'm glad I got it!
You're a musician and an actor. Where do the art forms intersect for you? In other words, what creative tools do you use in both?
Olly: That's a good question. I'm still trying to figure that out. When you're acting, the idea is that you're creating the character, and emotions, and stories. But you have a much more direct relationship with that when you're a musician, because you're writing the music. You're performing on stage. You're the writer, director, and producer all at once. I feel like it's a much more instant creative satisfaction than acting, in a way. Actually, the more and more I act and play music, the more I feel like they're really different. [laughs]
Because of your background as a musician, I'm sure you were able to pull from your own life experiences quite a bit when acting out scenes like the fight with the drummer and passing out fliers to recruit band members.
Olly: Oh yeah. I never did the flier thing, but I've definitely played a lot of shows where stuff has gone wrong. I haven't gotten into a fight on stage, though! [laughs] But I've played lots of shows where the audience isn't really into you and stuff. I get that frustrated musician thing, because that was my life for a long time.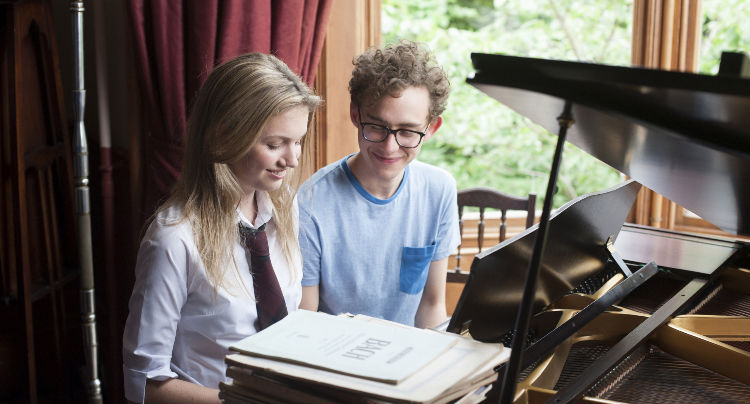 Talk to me about Stuart as both a director and a musician.
Olly: What's really great about Stuart is how relaxed he is. I imagine making your first movie is a pretty terrifying experiences. I'd be having daily nervous breakdowns. But he was so calm, and that really filters down to the rest of the crew. He's so easy to be with and work around, and he also trusted in what we were doing, so we could just do what we wanted. [laughs] He's also quite instinctive. I wish I'd picked his brain more on his songwriting process, but as a musician, I think he's so prolific and instinctual.
What's your songwriting process like? Do you start with the chords or do you start with the melody?
Olly: I start with chords and sort of vocalize a melody over it. I write on piano.
Piano is the best songwriting instrument, I'd say.
Olly: Yeah, definitely. It's the most forgiving songwriting instrument for sure.
I miss movie musicals. I wish there were more of them. Do you feel the same way?
Olly: I do now, but I have to be honest; I wasn't a fan of the musical film genre. I just wasn't. I haven't seen Grease or Cabaret…I just haven't seen that many musicals. But now that I've been in one and seen how fun it can be, I want there to be more, definitely. I feel like people love them, right? This one's sort of different because it isn't a glossy, high-production-value musical. I mean, I think there's a part of everyone that thinks life would be better if you could just burst into song and dance. They're right! [laughs]
In your opinion, is the film emblematic of a music genre, a time period, or Stuart himself? What does it represent?
Olly: It's very much Stuart's vision. I think people will know what to expect if they're Bell & Sebastian fans. Why I love the movie so much is that it's Stuart's story–all the films he loved growing up, living in Glasgow, creating a band–it's all an expression of him.