Lola Bessis and Ruben Amar On 'Swim Little Fish Swim' and the Price of Artistic Integrity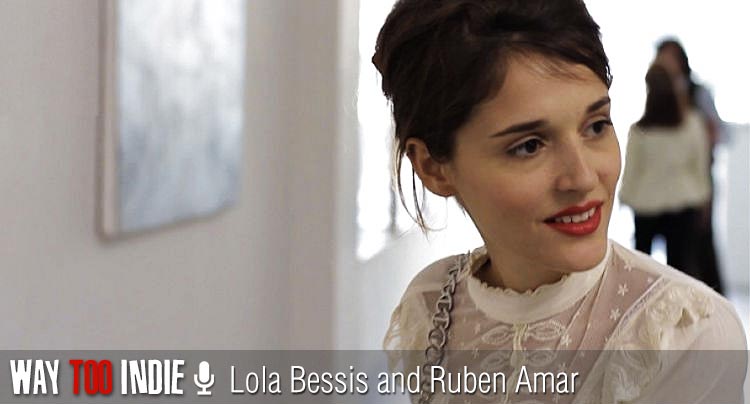 First-time filmmakers Lola Bessis and Ruben Amar's Swim Little Fish Swim is a sweet, idiosyncratic indie set in New York City that follows Lilas, a young artist from France (Bessis) who temporarily moves into a couple's tiny apartment. Lilas befriends Leeward (Dustin Guy Defa), a struggling musician, but her presence begins to widen the rift between Leeward and his wife Mary (Brooke Bloom), a nurse whose main concern is taking care of their daughter Olivia and keeping the family's financials afloat. A film about familial tension and the price of artistic integrity, Swim Little Fish Swim touches the heart while showcasing the peculiar beauty of NYC's bohemian artist culture.
In our chat with Bessis and Amar, we talk about the long road the film's taken from SXSW 2013 to now, making a film in very little time, creating film's unique tone, the first draft of the script having no dialogue, finding their lead actor at a party, the magic of New York City, and more.
Swim Little Fish Swim is available on VOD now and playing in limited release.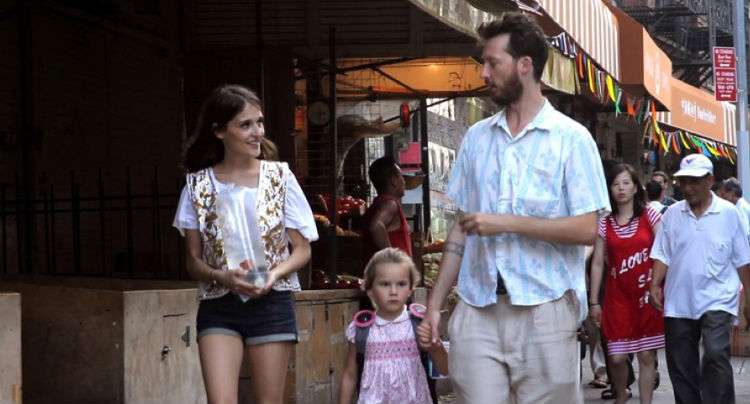 The film premiered at SXSW last year, and it's available on VOD and in select theaters now. Talk to me about the journey the film's taken.
Lola: Since SXSW we did around 60 other festivals. It did very well in France. It's opening in Greece, it did well in Brazil. We sold it to HBO in Europe.
Ruben: Many good things have happened.
Lola: The U.S. release is very important to us because we shot the film here. It's important to us to share the film with the New York audience and the American audience.
This is your first feature film. What are the best and worst things about that?
Ruben: Most of the time we were scared, but that happens.
Lola: It was very hard because we didn't have any money or time. We had visa issues like the character in the film, so we knew we'd only be in New York for a short time. We wanted to capture something about New York and make a movie in that small amount of time, so we shot mostly in our own apartment, with friends, with film students. It was very hard; we had a small crew, we were directing and writing it, and I was acting in it. We did the costumes ourselves, and there was no make up. It was very hard, but after doing it, we're ready for the next project. Having so many issues at the same time and dealing with them made us stronger.
Do you view the movie as a comedy or a drama?
Ruben: We were really obsessed with the idea of capturing New York, so we didn't think so much about the tone of the movie. It's a comedy with dramatic moments. We were really guided by the actors.
Lola: We wanted the movie to be entertaining, but at the same time we wanted it to deal with real issues between the couple. Family issues. How do you do what you love in life and still make a living? We were asking ourselves the same question at the moment.
So you were addressing some of the questions you were asking yourselves at that time in your life. Are you in the same headspace as artists now that the movie is done?
Lola: No. This movie opened a lot of doors. We're a little scared.
Ruben: We're like the character of Leeward, I think. [laughs]
Lola: We have new issues now that we didn't have before, and we have to deal with those. We'll always have issues. [laughs]
How many people in the movie were actors, and how many were musicians?
Lola: I think the only professional actor is Brooke Bloom, who plays Mary. We saw her in another movie and we liked her a lot, so we managed to contact her. Dustin is a filmmaker, and we met him through friends at a party by chance. When we wrote the character of Leeward, we were inspired by an actual musician, but the guy wasn't an actor and didn't want to play the part. We had to think of someone else, and we remembered meeting Dustin at the party. We thought he'd be perfect. We did some tests with him, and he was great. I'm not an actor, but since we wanted it to remain a tiny crew, we wanted Ruben to direct and for me to interact with the other people. It was simple at first, but then we started writing a more complex story as it went along.
Simple stories like the one you've created ask that the actors carry a lot of the weight as far as conveying a message.
Lola: Our will to make a movie this way, here in New York came from two reasons. We wanted to capture the magic of the city, because we fell in love with it. At the same time, we had a short film going around festivals, so we saw a lot of great indie American movies. We were very impressed by the acting in these movies, so we really wanted our actors at the center of the process. That's why we made such a simplistic story. There was no dialogue in the first version of the script. We did a lot of workshops with the actors in order to build the dialogue with them.
Why do you love New York so much?
Ruben: So many things. We saw New York in movies from the '70s and '80s, so we were really attracted to the city.
Lola: When we moved here, we felt like everything was a movie! All of the people here looked like film characters. [laughs] We shot a lot of things with our iPhones, random daily things. When we looked at the videos, we thought, "How can this happen in real life? It's so crazy!" There was a crazy old guy feeding birds in the street. He left, and then he came back five minutes later. He did this, like, ten times! These things seem mundane, but to us it's all very new and very cinematic.