The Lisinac Brothers Talk 'Along the Roadside', Celebrating Californian Diversity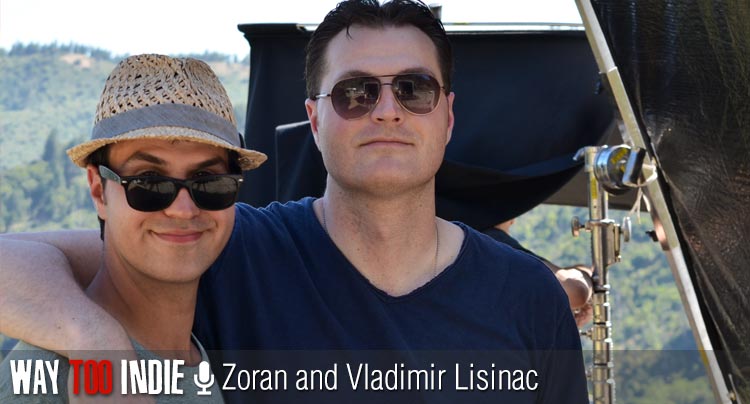 In Along the Roadside, the debut feature by Zoran Lisinac, a young man from the Bay Area (Iman Crosson) and a colorblind German tourist (Angelina Häntsch) accompany each other on a road trip to a big music festival in Southern California, learning about themselves and each other as their vastly different cultural backgrounds clash.
The film made its North American premiere at this year's Mill Valley Film Festival, where we spoke with Zoran and his brother, Vladimir (who produced the film), about writing the screenplay at a hotel desk, moving to California from Serbia, the beauty of diversity, the advantages of casting Youtube stars in the film, how they plan to explore Youtube culture further, and more.
Along the Roadside screens this Saturday, November 23rd, at the Roxie in San Francisco as a part of the San Francisco Film Society's 'Cinema by the Bay' series.
What inspired you to make Along the Roadside?
Zoran: We both grew up in Serbia during the wars and economic collapse, so coming here was a journey on it's own. Once we got to California, I was completely fascinated by the diversity that I found here and the tolerance that is probably unrivaled in the world in terms of people who look, sound, think, and act different. Somehow, everybody seems to coexist and live in harmony. To me, that was a big internal motivator to come up with a story that exposes California, racisms ugly face, and kind of sends a message. We come from the Eastern Bloc, where there's some serious growing up to do. That was one of the motifs.
So, you built the story around that idea.
Zoran: Yeah. The main character is a black guy from Oakland, and we pair him up with a colorblind German tourist. Her being colorblind is a metaphor; she's the only pure character in the film. All these other characters that they encounter along the way kind of bite at each other, but that's just one aspect of the story.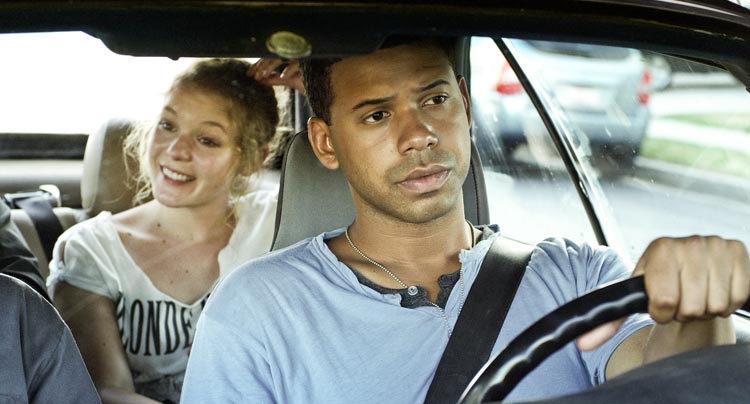 How long have you lived in California?
Zoran: 8 1/2 years. I didn't speak much English when I came here, though.
You learn quick!
Vladimir: We learned to write in English, which is a whole different challenge! First, you need to learn to speak it, then you need to learn to write it. Then, you need to learn to write well, which is a whole new ballgame. I admire Zoran. He excelled fast and put in the time. Screenwriting is a process that takes work, dedication, and experience. It takes a routine, and I think he found it.
Zoran: I found it in a hotel. I wrote the script at the front desk of a hotel, while working. I had all this down time; on the busiest days, you'd put in about two hours of accumulative work. The guys next to you is on Facebook, the other guy is gambling online, so it's like, "Fuck it." I downloaded Final Draft and started banging away. The managers were super supportive and I didn't have to hide anything.
How does it feel to have your film playing at the Mill Valley Film Festival?
Zoran: I love it, and I'm very honored. It legitimizes our effort, and it feels great to be in the company of these other films.
Vladimir: We're extremely proud, because the film is very personal. We wanted to shed light on the place that we call home, Serbia. Like Zoran said earlier, it has a little growing up to do in terms of being progressive and liberal, accepting different cultures, ethnicities, backgrounds, genders, you name it. This is one place on our planet that has growing up to do, but we're very familir with it and wanted to show our film with a Serbian star in it and how he understood where we're coming from and came to America to work on the film for free. He really wanted to help us, understood our point of view, and understood the screenplay. He wanted to help spread the message in Serbia. I think his actions speak volumes. It all started with Zoran's idea.
Zoran: That's just one side of the whole story. Judging from what we've said, you'd think we'd made a fucking documentary! It's just one of the layers. This is a story about two people from different parts of the world who cross paths on a journey of self-discovery to a big music festival in California. It takes place over the course of 48 hours, and it takes on issues, like taking life on it's own terms. A lot of people seem to not do that, therefore, they escape it. They run away from it. I deals with that aspect of character internal conflict.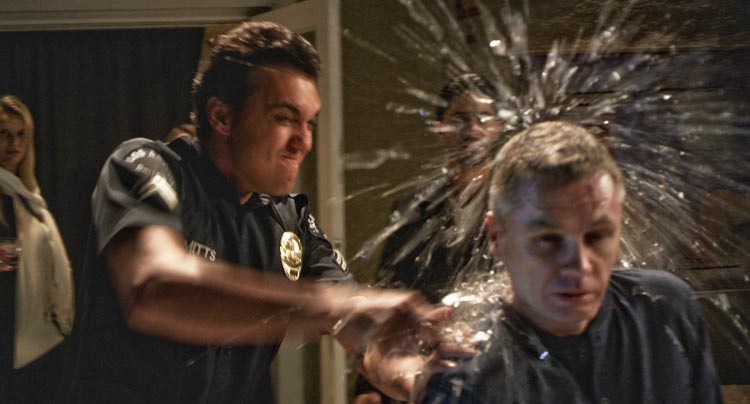 Living in the Bay Area all my life, it's surprising to me how little this community is represented in cinema. No one shoots in Oakland. Hell, a lot of people have no idea what Oakland's like. But, your main character is from Oakland.
Vladimir: Another underlying theme is fatherhood and what it really takes to want fatherhood. It speaks to the staggering number of single mothers, particularly in Oakland. That's why we put our main guy there. He's at a crossroads; he's always wanted a certain lifestyle, and when this big news is broken in his face–that his girlfriend is pregnant–he completely flips and doesn't know what to do. He wasn't ready for that. He needs to let go, accept some responsibility, grow up, and want to become a father. It's a big deal to me. I'm a father, and I understand that. We wanted to shed light on it. African-American culture in the States, especially in the city of Oakland…the statistics show that there are way too many single mothers struggling to bring up their children. Fathers are simply goners. We wanted to say, it doesn't have to be like that. You can be present. You don't have to marry the woman, you don't have to be the greatest dad on the planet, but you need to be there.
Zoran: It comes down to accepting life on its terms, not trying to set your own rules. It's kind of impossible. That's summed up in the ending of the film.
This is a great moment for you guys, screening here at the festival. Looking forward, are you excited about your next project? Do you have a lot of ideas swimming around your heads?
Zoran: We stumbled onto this film with this unique (by other people's account) situation where we cast a number of Youtube stars in the film along with some mainstream stars. It gives us a prominent social media presence. With today's landscape of indie movies, that means everything. It's really coveted to have 300,000 views on Youtube without spending money on advertising. It's interesting. We dipped our toes into this Youtube culture, and in our second film, which we plan on hopefully shooting in January or February, we plan to cannonball into that sphere of digital media. As I like to say, bloggers are carving into digital stone for our descendants to interpret. At this point, they're expressionists. People don't know how to pin them. They're not making short films, per se, and they're not making features. It's new. It's driven by pure passion, and it's definitely found its response globally. We think it's precious.
So, your casting of Youtube personalities in this film was strategic, in terms of marketing.
Vladimir: Very much so. There's only maybe one other film that's done this, but it's a horror genre film. It doesn't have a social side to it, and it's more for fun. But, it's done well. What we're trying to do is be very strategic with it, longterm. With this film and the following two films we have in development, we want to make a big splash with it. We want to shed light on the talent that aren't mainstream actors in Hollywood. Folks on Youtube are extremely talented, not only at creating content, but at several other things: they're courageous; they do editing; they do marketing; they do business. They do everything.
Zoran: Most importantly, they build a relationship with their fans.
Vladimir: Exactly.
Zoran: That's the future.
Vladimir: We like the direction we're headed, and we're excited.
For more info, visit www.metakwon.com