J.P. Chan and Cast Talk 'A Picture of You'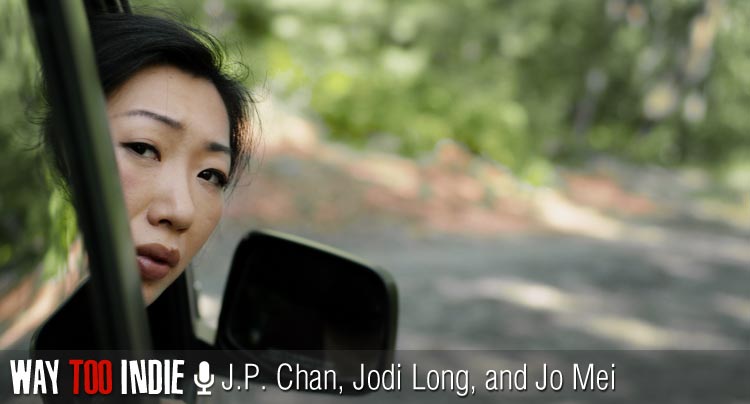 In A Picture of You, a brother and sister (Andrew Pang and Jo Mei) return to their rural childhood home in Pennsylvania to sort through their recently deceased mother's belongings. They discover shocking photos that change their perception of their mother (Jodi Long) entirely. The siblings process and reckon with the startling discovery in radically different ways, and together they venture down the rocky road toward the truth, clashing the whole way. The film also stars Teyonah Parris and Lucas Dixon.
More refined than your typical domestic drama, A Picture of  You transcends the label of "Asian Film", portraying its protagonists as siblings, flawed souls, and emotionally textured human beings, a treasure in today's movie industry, which typecasts Asian Americans rampantly. The film is funny, well-written, relatable, and at times gut-wrenching, and director J.P. Chan exhibits an impressive measure of finesse in his debut feature.
We spoke to Chan and his cast after the film's screening at this year's CAAMFest, discussing the personal inspirations behind the film, what it's like to discover old pictures of your parents, CAAMFest, Asian American roles disappearing, a woman thinking the film was shot in Japan (seriously), and more.
For more info, visit apoyfilm.com. Stay tuned for Part 2 of our interview, coming tomorrow.
Let's start off with the most basic question. What was the inspiration behind the film?
JP: There was a combination of inspirations for the movie. It's emotionally based on my grieving for my mother when she passed away a few years ago and how it affected my family dynamic, especially with my brother. Also, I realized at that point that I only knew a portion of her. She was so much more than just my mom; she was someone's wife, someone's best friend, someone's co-worker. There was such a fuller picture of her than I realized. Not what happens in my movie, of course, [laughs] but more than I realized.
Can you remember a time when you were rifling through old family stuff and found a picture of your parents that you'd never seen before? How did that feel?
Jodi: I found this picture of my parents sitting on a dock. My mother was spraying the water with her feet. My dad was really into her, and she looked like, "I'm not sure about this." [laughs] They were in bathing suits in the '40s.
Jo: My parents immigrated from China, so there's a big divide in the pictures between when they were young in China and when they immigrated and came to the US. Their younger pictures are black and white. Any time I see pictures of them in black and white, they just look like entirely different people. I think of who they were before me, before moving their lives to the US. They were different people.
How was the screening at CAAMFest last night?
Jo: The challenge of an indie film coming to a small festival is that you're always worried about how much outreach you can do or how much it's going to connect with the audience. I was really happy that we filled up the theater and people stayed for the Q&A.
Jodi: I thought it was great. There wasn't this mass exodus after the screening ended! [laughs] Everyone pretty much stayed. People were laughing and crying.
Did you get the laughs you were looking for, JP?
JP: Oh yeah. This is only our third festival, so not many people have seen the movie, but enough people have seen it for me to feel confident that it works for the audience. I feel like my job now is mainly to get people in the seats and make sure the picture is in focus. The folks at CAAM have been great.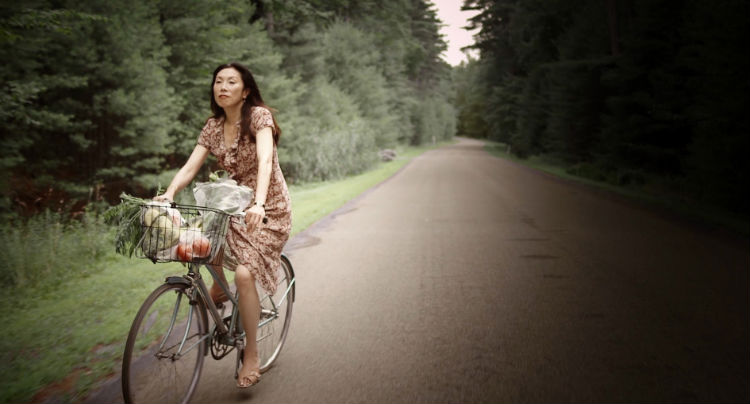 This is a tiny cast, so you had to get the right people to fill those roles, since they're all important. How did you assemble your actors, and for Jodi and Jo, what was the dynamic like on set?
JP: Jo Mei and I have worked on several shorts before. We knew a bunch of the actors personally. Andrew Pang was someone we knew from the New York Asian American theater scene. He's done a lot of smaller roles in big movies and TV. I've wanted to work with him for a long time, so it was amazing. Jodi came on because people have been saying for years that Jo Mei looks like a young Jodi. She was our first choice for the mother role, so we're really lucky.
Jo: At first we were worried that she would ignore us! [laughs]
JP: Teyonah was the lead in one of my shorts, before she did Mad Men.
Jo: Teyonah and I went to Julliard together, and Andy and Lucas are Yale grads. I knew of Lucas through my friends at Yale, and he was the perfect type of actor we wanted.
The neighborhood you shot the film in looks gorgeous.
JP: The house is actually owned by a friend of mine and his partner. When they bought the house, they told me that if I ever wanted to shoot a movie there, I could use it. I wrote a script set in his house, and in 2012 showed up at his house with it. We had free access for three weeks.
Jodi: It's also a really interesting house, architecturally. It's another character in the movie. The architect designed an upside-down house. It's really modern. Usually, you walk in and it's the living room, the kitchen, whatever. In this house, the office is downstairs, then the bedrooms are upstairs, and the kitchen, living room, and dining room are on the top floor, where the best views are. I got to stay in the master bedroom!
JP: Knowing that we had that location nailed down, it allowed us to create the story around it. It really enhanced the story. The clean lines of the house really relate to what the characters are going through, and it's a nice juxtaposition to the nature outside.
What has your experience been as an Asian American in cinema?
Jodi: JP doesn't bang the Asian American thing over the head. The characters have this sister-brother relationship, which everybody has. The house is so modern, so indicative of where we've come as Asian Americans.
Jo: In the film, we address the fact that we're Asian, but it's not the point. We joke about it, because we recognize that we're in a rural, white town in Pennsylvania in the movie. But we don't talk about our race over breakfast! We're human beings. As somebody who's coming out of school and trying to break into the business, there are circumstances where people are aware that we don't have to cast Asian actresses as the nail salon worker, or the newscaster, or the waitress, so they give it to somebody else. They're not expanding those roles, so those little roles are disappearing.
JP: I feel like I would be dishonest if I wrote the film any other way. You could have made the argument, before we hired the cast, that if we hired non-Asian actors, the film would have wider appeal. That may be true. But there's an inability in the indie film world to process what a film like ours looks like. We don't think it's particularly Asian American. I've had plenty of white folks come up to us and say, "This isn't that Asian." People see Asian faces on a poster and think, "This isn't for me." It's crazy. If I don't put my work out there the way I want to, then I'm part of the problem. If we white-wash our own movies, we're fucked!
Jodi: This movie couldn't exist without all those movies before that focused on being Asian American. It's an evolutionary process. I mean, I did Flower Drum Song on Broadway, and people still look at that play as the "Asian play." People were hearing this at the ticket booth. "Do you want to see the Asian play?" This is Rodgers and Hammerstein! Oh my god. Can we ever get beyond this?
JP: In the indie world, I think if people see Asian faces, frankly, they tend to be Asians, and the film is about Asia, or they're victims of men. I don't think they know how to process an Asian American, middle-class family drama. At one of our Q&A's, in Bend, Oregon, a woman that had seen the entire film raised her hand and said, "Was the entire film shot in Japan?" We had a great premiere there, and I wasn't offended, but to me, that struck me. There's nothing to indicate that the film takes place anywhere other than America in the present day, but because this woman saw Asian faces, she thought it was in another country.
Jo: In mainstream cinema, they don't acknowledge the existence of Asian Americans in society. You're in a hospital, and all the faces are black and white. Even if we were extras, it would at least acknowledge that we exist. When this begins to happen more, women like the one in Oregon wouldn't think that Asians only exist in Asia.
Jodi: We have to tell our own stories in movies and include faces like ours. Otherwise, we'll never get into the mainstream. Even if this movie only does an eighth of what X-Men does…
JP: I'd be happy with an eighth! [laughs] I'd be happy with one eight-hundredth!
Jodi: [laughs] You know what I'm saying!